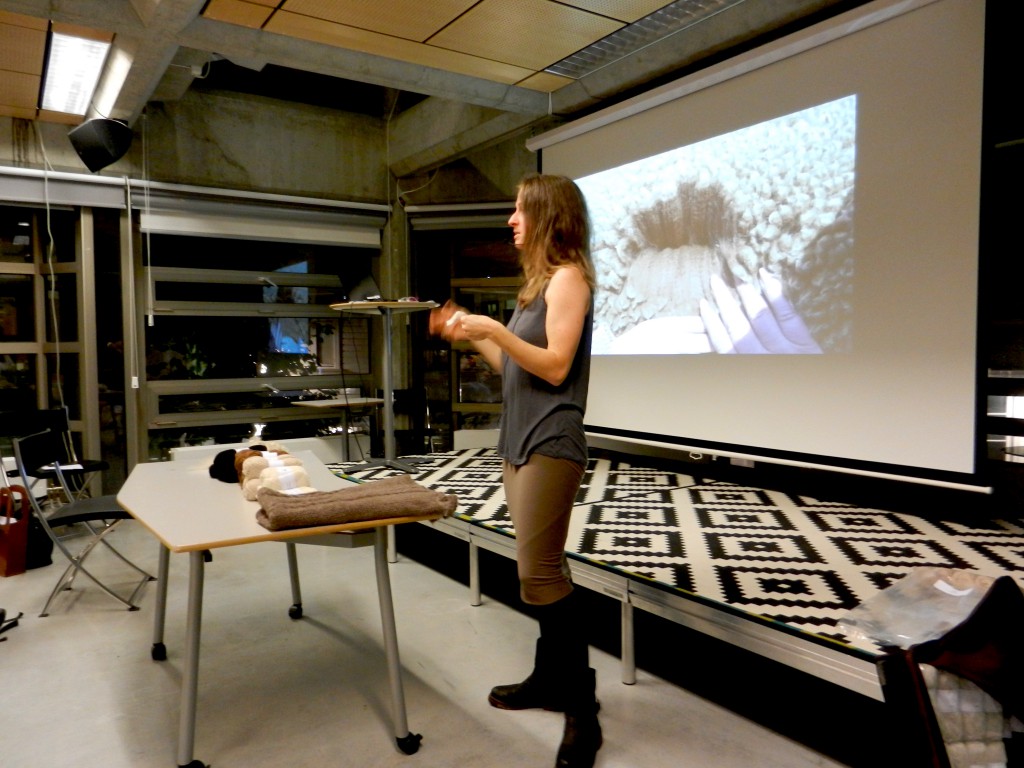 Yes, I have had yet another superb weekend in Stavanger, in south west Norway. I have spent most of the time teaching two workshops; Japanese Patterns and Lace Knitting at the Stavanger Bibliotek/library – the very heart of the city. I flew in on Friday afternoon and was met by my knitting friend and host Anja Præsttun Smith – yes, her husband is English too – at the airport. After a quick sushi dinner we ran to take part in the Stasjonsstrikk/Station Knit event at the library, where seven of us taught a knitting technique to seven moving groups of four knitters. I explained and taught tucks, while Anja taught the magic loop method, designer Charlotte Kaae taught Intarsia and Tone Cecilie Nystrøm taught I-cord bind off – wearing my design the Lyre Bolero – just to mention a few. The 10 minutes at each station went quickly and left us with sweaty hands and hot knitting needles. Afterwards there were talks and I was keen to meet as well as to hear Kari-Helene Rane talk about her design background and co-ownership of Purl Alpaca Designs in the UK, where she lives. Above you see her explaining about the alpaca hairs. Next on the program was Read & Knit with author Eskil Aasmul, then the knit café where a new hat was made for the real estate developer Olav Thon well known for his orange knitted hat. Here is a link to the full program: strikkehelgstavanger.
You can see Anja knitting, third from the right, and be impressed by her speed if watch the brief video interview with her and Gunnhild Marie Hagen, who taught the entrelac method of knitting. See their grinning faces – so characteristic of them both – below, and watch the video here: aftenbladet.no.
Saturday night there was a knitting party at the Røde Sjøhus/Red Seahouse. I was so happy to be seated next to the Danish designers: Charlotte Kaae, Lene Holme Samsøe, (wearing a traditional kofte), Bente Geil and the Swedish designer Anita Grahn (wearing a pink shawl). Bente has her own yarn company, Geilsk, and know a lot about our desperate need for more yarn, she revealed and gave us new ideas for how to bring it into our already well stocked yarn stash: Leave it in the car for a day, then it becomes old yarn and can easily be moved into the house. You can see her talking below. We had tapas but chatted, laughed, and knitted more than we ate. A band played while we knitted – some where even smart enough to bring their headlamps so that they could see properly! The winners of the lottery was drawn, and they were all very happy knitters indeed.
My lace knitting workshop, the day after, was held in the Glasshuset/Glasshouse which was more like a glass cage, since there were only 4 signed on and we could just squeeze in. The Strikk & Drikk/Knit & Drink organizer Monica Haga selected us as one the television crew from Tv Vest could film, so below you can see the top of my head in the front.
Even if you do not understand Norwegian the video from Tv Vest gives you a good impression of the event itself: tvvest.no/eldorado-for-strikkere. If you know my designs well, you might have spotted that Bodhild Peerstøe (in white) is wearing the Jacket in Cross from my book. Instead of using the original Valley Yarns Tencel she choose a thin crochet cotton yarn and sewed on a button at the end of the tie to close it at the back instead of tying it at the front. See the photo I took of her below. I was thrilled to see it and how well it suited Bodhild! Thank you!
With little time not knitting nor teaching, I had a magnificent time in Stavanger just as I did last year! Thank you to all the organizers and to Anja for letting me stay with her and her lovely family again!