Isabella Mach, aka Isa, offered to take us back to Vienna directly to our hotel from Steinschalerhof and we obviously accepted in a flash. We arrived in a wet Vienna, unpacked and then located designer Hanna Maciejewska + husband, before we headed out for dinner and a long walk through the city centre of Vienna. We are all staying at the Hotel Wien in the 2.nd District with a walking distance to the city centre, recommended by Austrian Yarn Club organiser Irene Brenner who live nearby. Above is a photo of the landmark, St. Stephen's Cathedral
Irene and her husband took us sightseeing on our first day in Vienna. They are in the centre of the photo above. Of course we meet up with Ursula Koll – notice her love of bright colours, see pink shawl above – and then later on Teresa Schinwald, as well as the German visitors Betta and Andrea for coffee and cake at a famous café – as you do.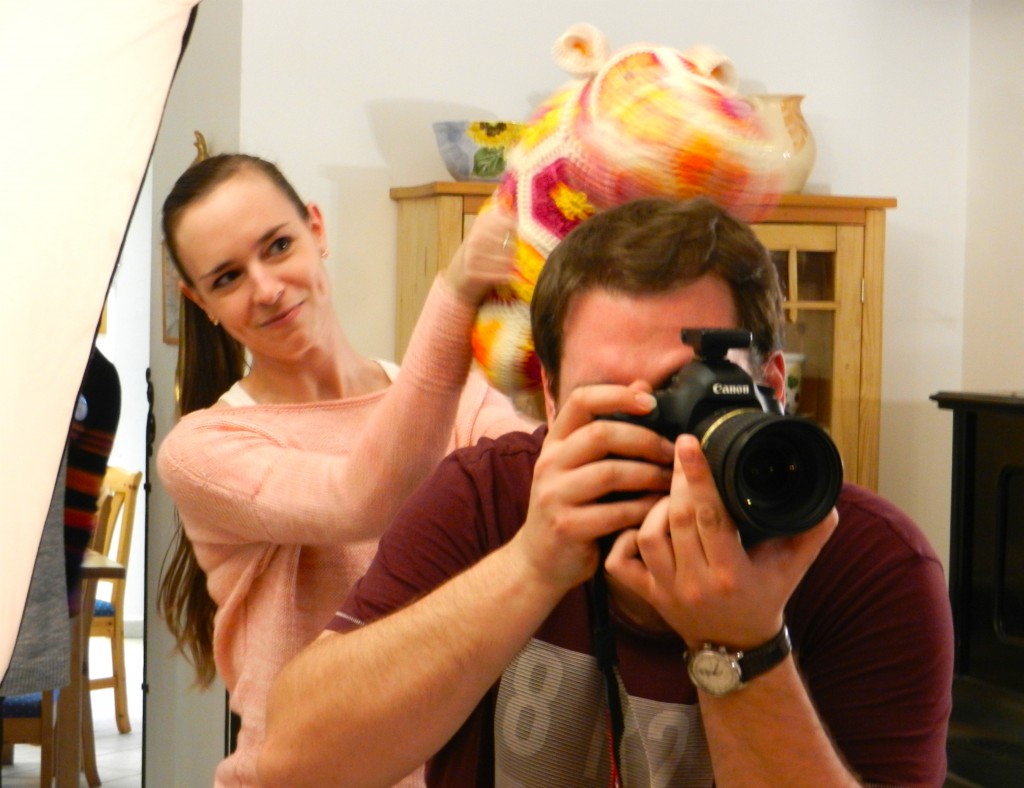 Before we left Steinschalerhof, we had a session with photographer Dominik Matyas who took a number of group photos. Isa was helping out, doing a hilarious hippo dance in the background. We will have to wait a couple of weeks to see all of his photos, since he was busy taking numerous project photos for most of the knitters present.
Above is one of the workshop photos he took of my Professional Finishing Workshop, part II. At the rail you can see a few of my designs I had brought to show off and to wear at the venue.
There was a yarn market at the Wollness Weekend, where knitters could destash and yarn shops display their yarn and knitting gadgets. Despite the fairly small room the selection was overwhelming!
Above is the stunning modified Gyda – from a jacket into a sweater with a wonderful deep square neck knitted by Ursula Koll, aka Grinsekatz on Ravelry. Yet another of my designs I spotted at the Wollness Weekend, to my utter delight. At the moment Ursula is finishing her Hennika, this time not only in pink but in a fluorescent pink. I cannot wait to see the finished result.
Yesterday, we went to visit Suncica Wilhelmer, an architect and a yarn shop owner who lives in the Rufer House designed by the architect Adolf Loos. Not only did we want to see her house but Hanna and I also wanted to check out her yarn selection and fondle some yarn. The name of her yarn shop is Wollsalon Sunshine Loop, and we were both tempted into buying several skeins of yarn. The yarn shop is located in the former kitchen, and I loved the fact that the owner wanted not only a window facing the street but also one facing the indoor staircase so he could spot the visitors from his office. In the evening Hanna and I were at their knit night. We finally managed to do some more knitting…