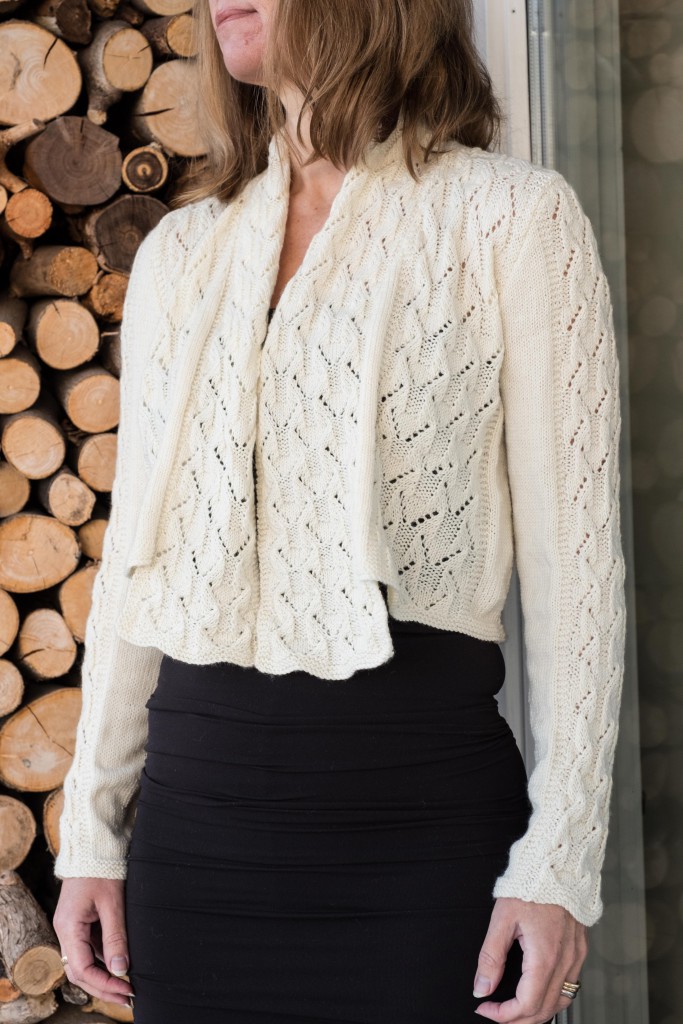 The luxurious softness of the Mondial Gold yarn, a mixture of wool and cashmere, together with its crisp stitch definition made it a favorite for this bridal collection I have made to match Judith Bech's stunning bridal gowns. So this time the yarn came first and the stitch pattern second. I opted for the beautiful reversible lace pattern called Obstacles, and want to emphasize that the meaning of its name does not reflect the knitting experience of it. Like my previous bolero Hennika I wanted a scarf collar but this time decided to add its width to the width fronts so that it can hang folded like you would wear a scarf. The bolero is named after the giving of the laurel; the crown of victory. Perfect, when you see model Alexandria Eissinger wearing it over Judith Bech's "Secret" wedding gown in felted wool. The Norwegian pattern will be published in Familien Håndarbeid, a special issue, out in March, while the English pattern will be test knitted in my Ravelry group late spring next year, then released.
Mondial Gold is 80% wool, 20% cashmere with 175 meters/191 yards on a 50 g skein with a 26 stitch and 34 rows gauge in stocking stitch using a 3 mm/US 2.5 needle. The yarn was kindly sponsored, and it is Grete Jenssen, aka ma9 on Ravelry, who knitted this bolero in just a week, in time for the photo shoot. The body of the bolero is worked in pieces, while the sleeves are worked in the round, all from the bottom and up. I wanted seams to make it more tailored, and for it to hold its shape. The sample is knitted using Annie Modesitt's Lovely Left Decrease method, see videolink on this page: anniemodesitt.com/videos/.
The bolero is slightly tapered. The collar width is in additon to the front and bust circumference so that it can be folded and pinned as desired. It is knitted in two parts that are joined and then attached around the neck, with extra length to hang loose. For sizes L, XL and 2XL, I suggest adding a pattern repeat to the width of the scarf collar to make the proportions work better. The bolero could easily be adjusted in length if you would prefer a longer version. Above you can see me wearing size S over a black tube dress – photographed by my husband – but it does look gorgeous on Alexandria worn over Judith Bech's wedding gown. You wait and see!