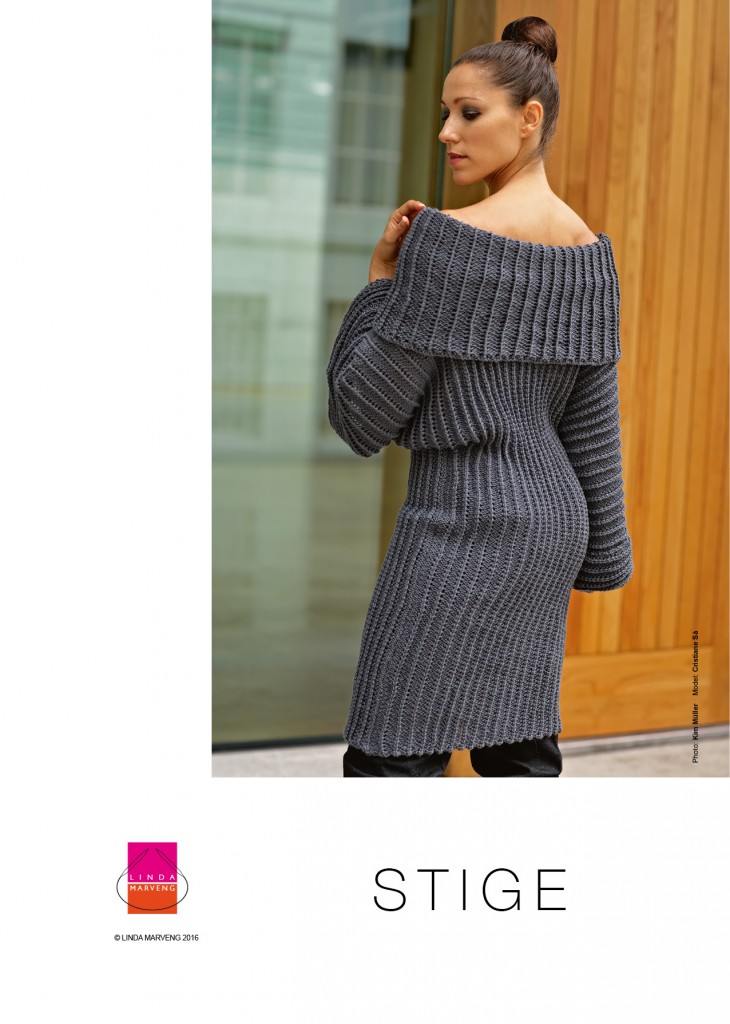 I am pleased to release another of my patterns from my Norwegian knitting book in English. The Stige pattern has been revised, tech edited and given a schematic. My husband suggested I shorten its long Norwegian name "Oversized Stigehull Genser"/Ladderlace Sweater simply to "Stige" meaning "ladder", and I did. The sweater is worn by Nasjonalballetten's dancer Cristiane Sà with hair & make up by Line Sekkingstad, and captured by photographer Kim Müller at National Museum – Architecture in Oslo. Here is my introduction to the pattern: A sweater inspired by Donna Karan's style. I wanted to design a comfy yet trendy maxi sweater with a large collar that could be folded down on your shoulders. The yarn I chose has a subtle sheen and fabulous drape, made by Valley Yarns, and knitted double. The sweater is knitted in one piece so that the stitch pattern creates flattering vertical stripes casting shadows. A matching pair of wristwarmers is essential.
Size: One Size
Finished measurements:                                                                                                       Bust circumference: 117 cm/46″                                                                                                    Length: 82 cm/32.25″                                                                                                                      Sleeve length incl turn up: 42 cm/16.5″ (34 cm/17″ + 8 cm/3.25″)                      Wristwarmers: 34 cm/13.5″ long, 24.5 cm/9.75″ width.
Yarn: Valley Yarns, Colrain Lace (50% Merino wool, 50% Tencel, 249 g cone, 1408 m/1540 yds). Sample is knitted in Steel:                                                                             Sweater: 3 cones; 4141 m/4529 yds. Wristwarmers: 1 cone; 396 m/433 yds. http://www.yarn.com/index.cfm/fuseaction/product.detail/categoryID/3DE2C30C-6D95-43DD-8AB5-B8DB265D6674/productID/09524FC9-99A1-49B6-B68D-23A9FC6DE02A/
Note: Yarn is held double throughout.
Yarn alternative: Green Mountain Spinnery, Sylvan Spirit (50% Wool, 50% Tencel, 57 g, 165 m/180 yds). http://www.spinnery.com/shop/products.php?cat=13                        Hand Maiden, Lady Godiva (50% Wool, 50% Silk, 100 g, 250 m/273 yds). http://handmaiden.ca/product/lady-godiva/                                                                               BC Garn Silkbloom Extrafino (55% Merino wool, 45% silk, 50 g, 300 m/328 yds) held double. http://bcgarn.dk/pi/SILKBLOOM_EKSTRA_FINO_2976_8.aspx                              Or another DK/8 ply held single or a Lace/2 ply held double.
Needles: 4 mm/US 6 circular needle (100 cm/40″). 4 mm/US 6 circular needle (80 cm/32″). 3.5 mm/US 4 circular needle (80 cm/32″) for neck and collar. 5 mm/US 8 circular needle (80 cm/32″) for collar. Adjust needle size as needed to match gauge.
Notions: Stitch holder or extra circular needle, stitch markers and yarn needle.
Gauge: 22 sts and 32 rows in st st using 4 mm/US 6 and double yarn measures 10 cm/4″ square after blocking.