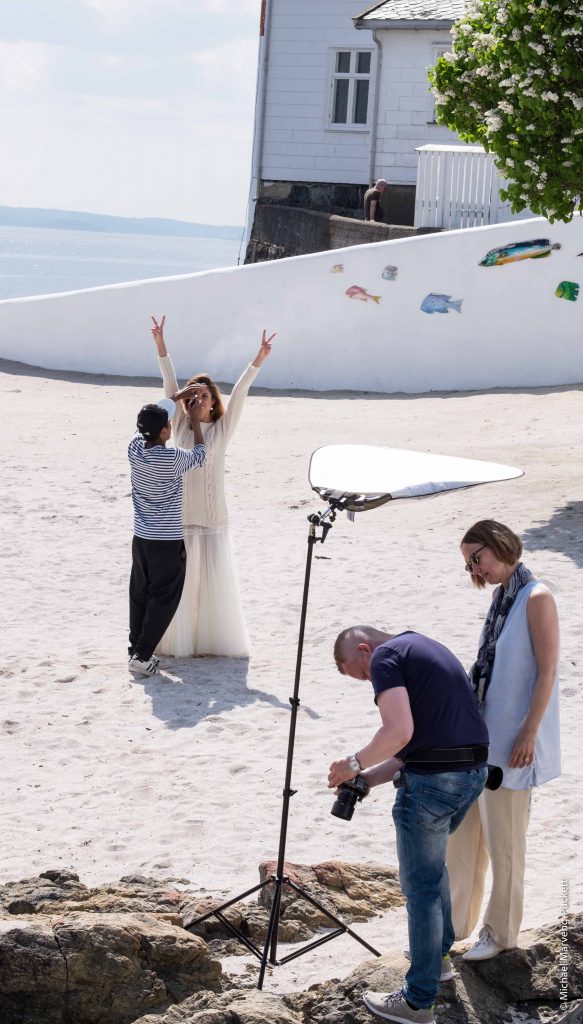 On Wednesday we had a wonderful photoshoot at Villa Malla, approximately 50 minutes south of Oslo. Yes, it was a sweltering day, reaching 30 degrees celsius in the afternoon. So not ideal for photographing woolly knitwear. But professional model Alexandria Eissinger/Nordic Model Agency flew in from Copenhagen, via train from Malmø, and admitted she preferred this to photographing swimwear in the Scandinavian climate. Photographer Eivind Røhne picked her up at Oslo S train station, while make up and hair artist Jens Johan Wiker caught a lift with my husband and myself. Jens came highly recommended by Sissel Fylling who had a full calendar. He has won Hair Stylist of the year, 3 years in a row now, so no wonder I had to promise to ask Sissel again next time.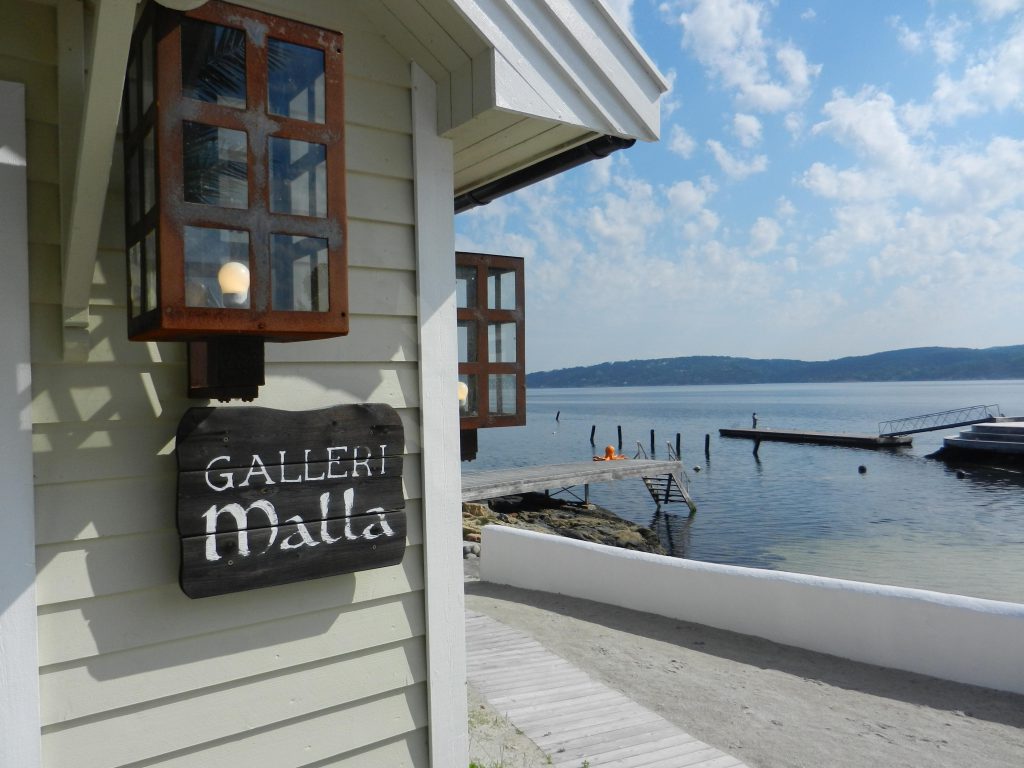 We were made very welcome at Villa Malla and asked if we wanted to use the Gallery for the day. It was perfect for us and meant we did not have to camp out in the restaurant itself with all our suitcases with knitwear collection, shoes, make up & hair products and photographic equipment. So while Jens was doing Alexandria's hair and make up base for the day we went to look for possible backdrops. There are many at Villa Malla, and we knew we had to focus on a few selected ones. Finally I was able to have a few beach photos. This has been the plan previously but the weather has not allowed for it. I had borrowed several dresses and two skirts from marvelous designer Judith Bech, but when I tried it on at home I realized that only the skirts fitted together with the knitwear. Above is one of the two pullovers I had to photograph again for my own usage; Inverness Sweater was first published in English in Interweave Knits Winter 2016.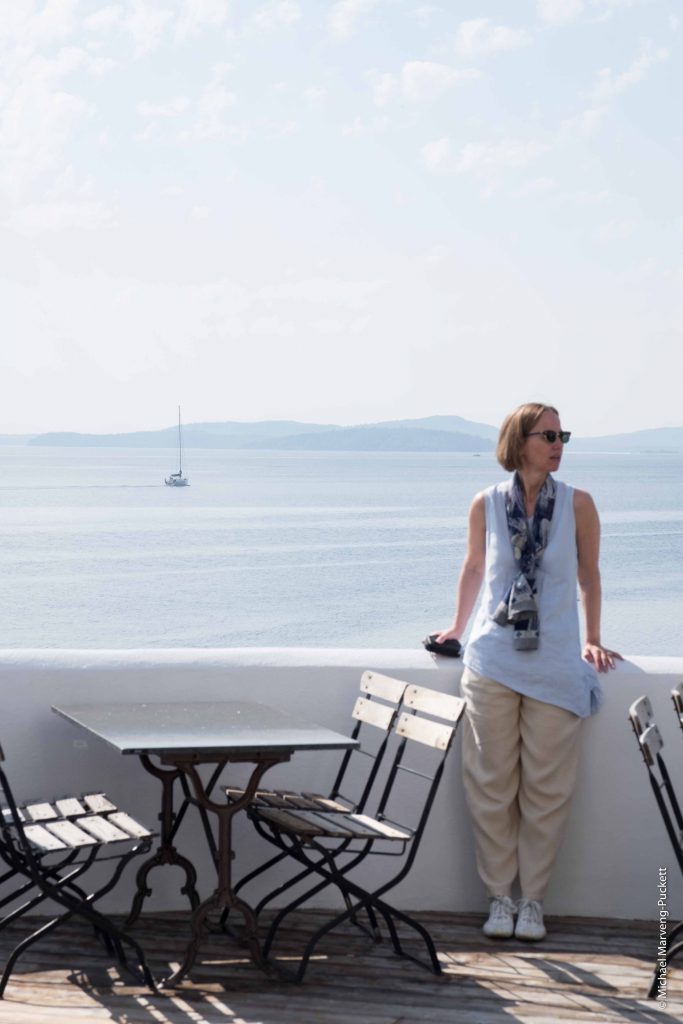 Here we are testing the view of the Oslo fjord from the terrace. You could be forgiven for thinking it was somewhere by the Mediterranean Sea. It was a backdrop I wanted to use, but Eivind suggested a clever move towards the staircase instead. See the photo below and Eivind's arm. We did spend some time waiting for the sailboat to come into view just as we waited for the sun to re-appear from behind the clouds. With several reflectors to hand and an extra above Eivind's camera we made the hard sunlight work. Eivind nailed it, and stopped at nothing as usual; working dangerously close to the end of the pier, balancing on rocks and lying under the tables on the terrace just to mention a few…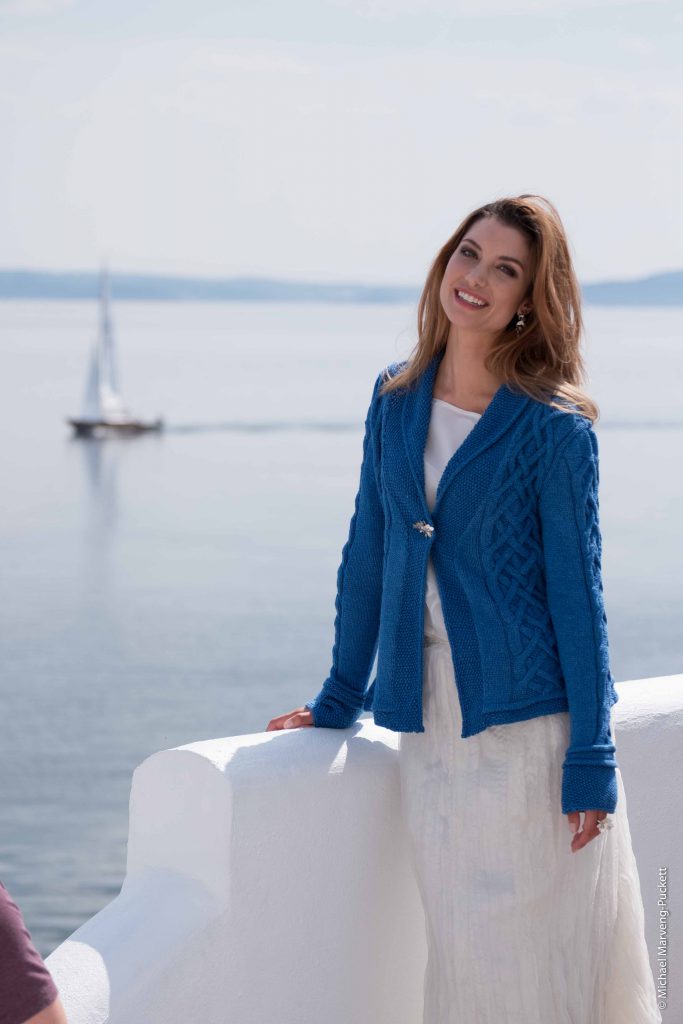 Above is Michael's photo of Alexandria wearing Kori, a fitted cable jacket, knitted by Airin Hansen, aka Teodor on Ravelry. It came out slightly bigger than I had planned, but that is because I choose the wrong chart for the cables – the one with the wider cables instead of the narrower ones. Oh, well it did make the cables totally rule over the jacket. More details on the design will come. If you recognize the jewelry, you are right. Again, I borrowed a box filled with amazing jewelry by Kaja Gjedebo Design.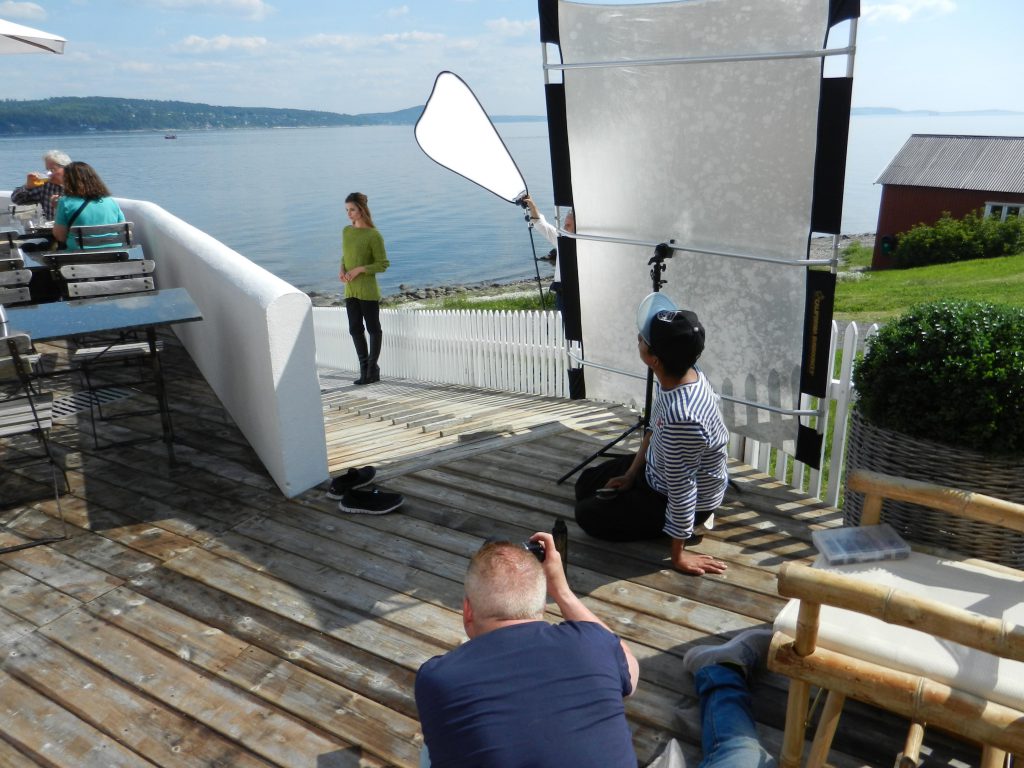 This is before Eivind crawled under the table to take the next round of photographs, and one where Michael is holding the only reflector. For once Jens was sitting down too, because most of the time he tended to pop in and out of the photos fixing Alexandria's hair or make up. Both Alexandria and Jens offered to work without a lunch break, but that does not work for me. So we had lunch on the terrace below in the shadow. Villa Malla's buffet lunch is delicious and worth craving – as I did. For desert we all had to have some ice-cream, as we tried to cool down. A total of 11 garments were photographed, of those 2 have previously been photographed by Interweave Knits and 9 are new designs. 5 of those new designs including Kori and Shalana (above) will be published in Norwegian in Familien Strikk while the remaining 4 are for yarn kits for Hillesvåg Ullvarefabrikk. All the English patterns will be test knitted in my Ravelry group before they are released. I so look forward to showing you more photos but first I need to finish off the last patterns, and select photos from Eivind. It is not an easy task, I can promise you that.