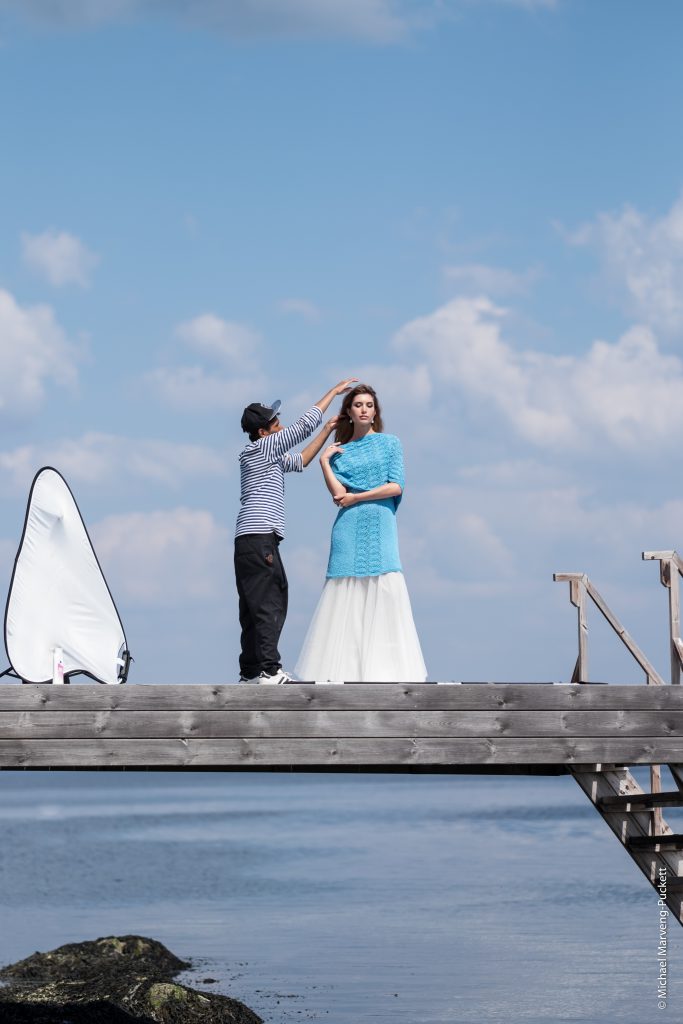 I wanted to share some more of the magnificent photos from our photoshoot at Villa Malla on the 1st of June. Above you see Jens Johan Wiker in action, doing some last minute finish to gorgeous model Alexandria Eissinger/Nordic Model Agency wearing my design Githa with cowl together with a tulle skirt by Judith Bech Design and jewelry by Kaja Gjedebo Design. I wanted the blue water as a back drop to this top and suggested using the pier, which photographer Eivind Røhne agreed to. But he ended up with only the sky as the background, like the photo below by Michael.
However, this made the photos quite iconic in my opinion. Alexandria is standing on one reflector, the second is on its stand and to provide enough light at the right spot, I held the third reflector when Eivind started shooting. We photographed 11 garments, 6 for the Norwegian Familien Strikk out in late August and 4 for yarn kits for Norwegian yarn producer: Hillesvåg Ullvarefabrikk – to be launched at Oslo Design Fair in September – and 1 for Ravelry.
The Yellow Gold Pullover, first published in Interweave Knits Fall 2015, was photographed again this time for my use and it will be published in Norwegian in Familien Strikk and in English in my Ravelry store. I decided to style the sweater with beige trouser and wanted the beach as the backdrop. It worked so well with the jewelry from Kaja Gjedebo Design.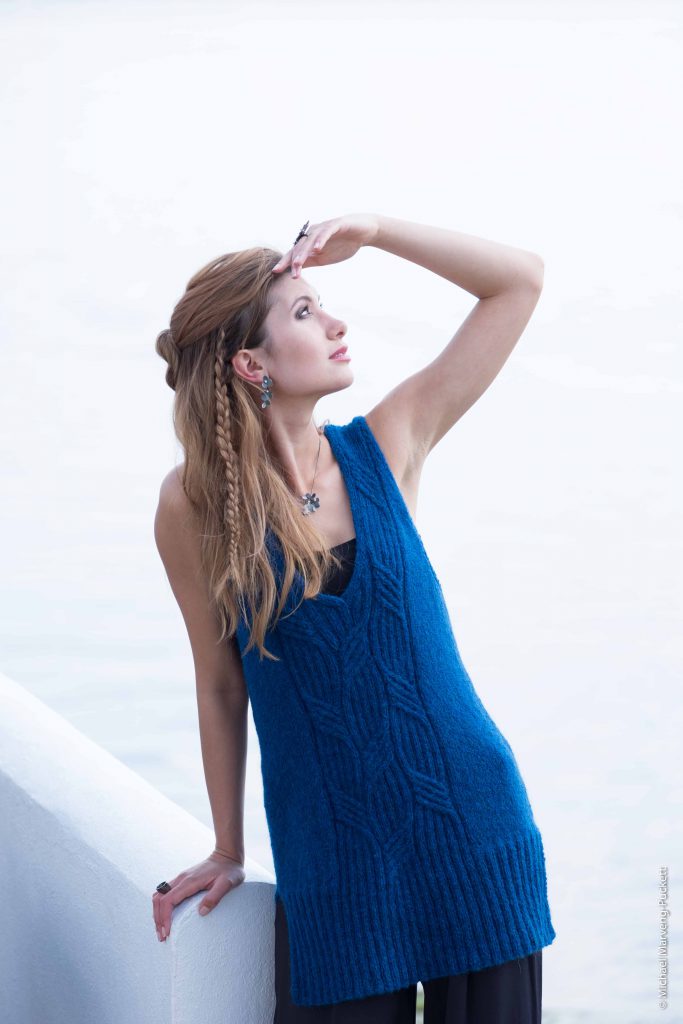 Here is a sneak peek of a new design: Hel to be published in Norwegian in Familien Strikk in August. This is the only design, of the 9 new ones, that I actually knitted this time, in the new and lovely Rowan Alpaca Merino DK. Hence it was finished the day before the photoshoot. It has a slight a-line shape, vents and a v-neck that fits both ways; on the front or on the back. Hence you have two options and the meaning of Hel in Norwegian is complete. In addition the Norse Hel ruled over nine worlds…
More details on this new design will follow. I can also reveal that I have chosen my favorite photos from the huge selection Eivind sent me, and cannot wait to show you those in time.