Finally, I can begin to show you my latest designs and first out is Gaylia. A textural cross cable adorns this a-line sweater with vents. The cable ends in two smaller cables that continue along each side of the v-neck. A check pattern that resembles playful cables adds texture to the sleeves. Gaylia is Norse for jovial, and perfect for this everyday sweater knitted in Dale Pure Eco Wool. The Norwegian pattern will be printed in Familien Kreativ in March next year, together with 3 other new designs, while the English pattern will be test knitted in my Ravelry group before its release.
I wanted to test this new yarn called Dale Pure Eco Wool, and House of Yarn kindly sponsored it. It is made of 70% wool, 30% alpaca with a 112 meters/122 yards on each 50 gram ball and takes a 4 mm/US 6 needle with a gauge of 21 stitches and 30 rows to 10 cm/4″ square. I fell in love with the dark brown melange colour named Espresso 1207. Since I was busy knitting another sample, I asked Airin Hansen, aka Teodor on Ravelry to knit this for me. It is beautifully knitted, as always. Thank you, Airin!
You know how much I love accessories to go with my sweaters, and because I live in a climate where you have to dress in layers I made a short scarf with the same Check pattern as on the sleeve to crown the sweater so to speak.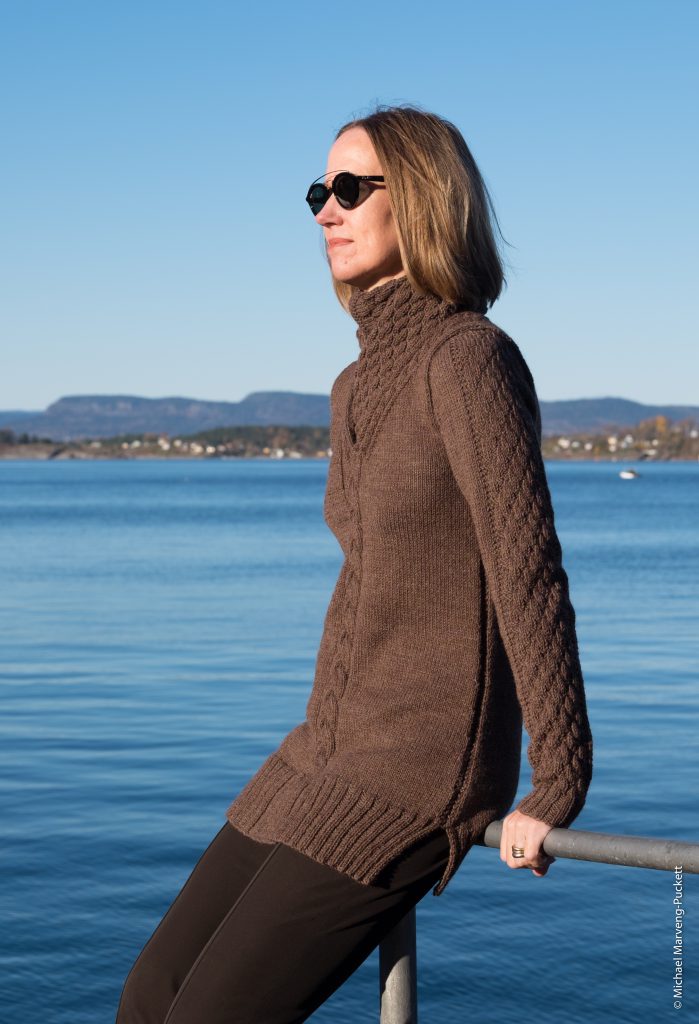 The front and back are worked back and forth while sleeves are worked in the round. Each side has a few garter stitches as a side band and the sleeve has a false seam made of garter stitch. Scarf is worked in two parts ending in garter stitches and then bound off using a 3-needle bind-off.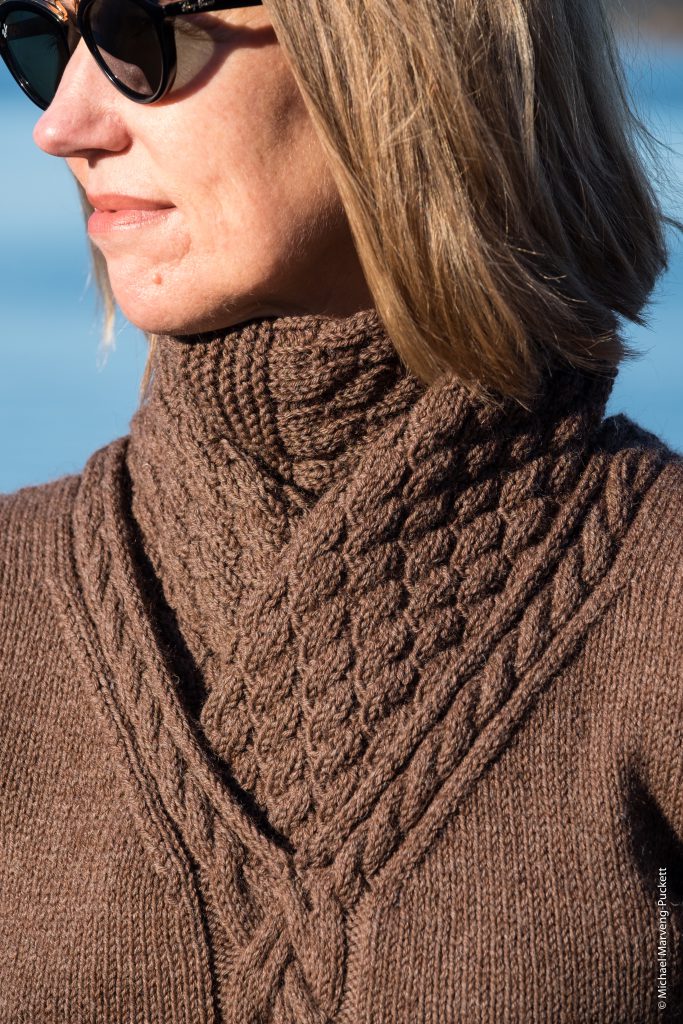 Here is a detail of the v-neck and the join on the scarf which is made in two parts so that the Check pattern leans to one side each just as on the sleeves. Instead of having what appeared as a loose rib facing each other on the scarf, I choose to use garter stitch.
The opposite side of the scarf looks even more like checks than the front. Above you can also see the 3-needle bind off edge. The scarf is one size, but can easily be adjusted to a larger or a smaller size by adding or removing pattern repeats, while the pullover is graded in sizes XS to 2XL with bust circumferences from 84 to 126 cm/33 to 49.5″. I am wearing size S with no ease around my bust. The hip circumference is 14 cm/5.5″ wider than the bust. My husband photographed me on a lovely autumn day in October at Ormøya by the Bunnefjord, close to where we live in Oslo.