My collaboration with Hillesvåg Ullvarefabrikk that started last autumn continues and I was delighted when they asked me to make four new designs for yarn kits to be launched at Oslo Design Fair at Lillestrøm 30. August to 2. September. The result is one shawl, one poncho, one pullover and one jacket, each with character of its own. First out is Wa:  A shawl turned into a vest with a back piece, named Wa; Eskimo for "here it is". A large Celtic Cable adorns the center with Round cables on each side and small framing cables, on both parts; the shawl and the back piece which is sewn onto main piece at the end. Wear it as a vest, a wrap or a generous shawl around your neck.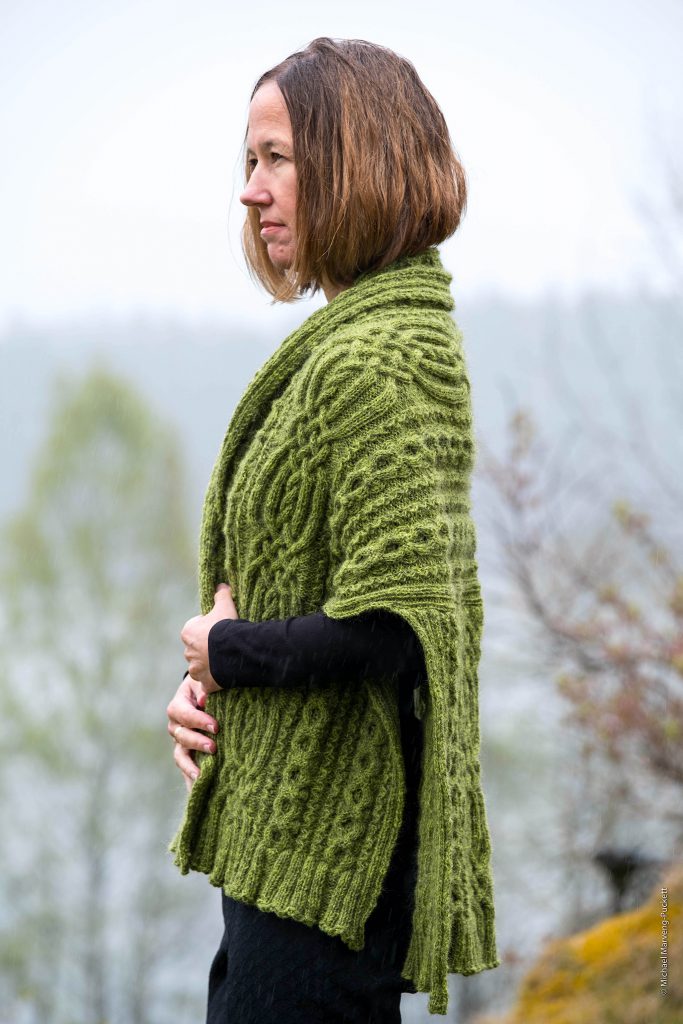 I know the wet-look is not best suited to show off knitwear, but what do you do when the rain pours down day out and day in. I am wearing Wa as a vest, photographed by my husband in our front garden in mid May. In these top photos I am just using my hands to hold it close.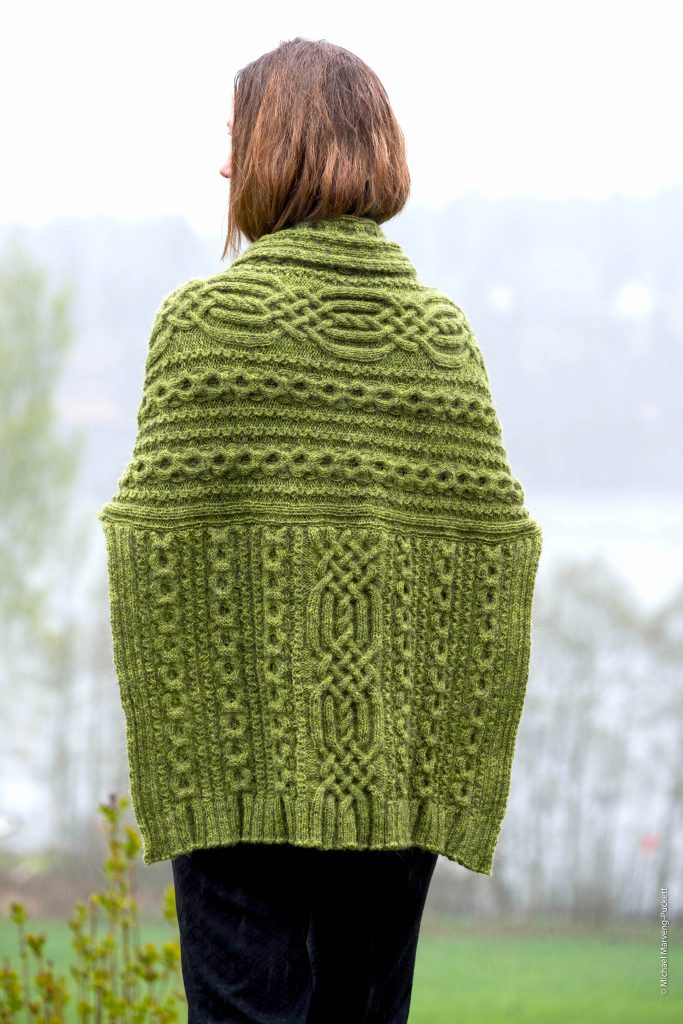 Wa is knitted in the luscious Norwegian pelt wool yarn called Tinde Pelsull from Hillesvåg Ullvarefabrikk in the divine shade called Lime 2107. Yes, it is not the first time I have used that colour, it is an addictive shade. I used it in my sweater Mistale. Each 100 gram skein has 260 meters/284 yards and is made of 100% pelt wool. The sample is beautifully knitted by Kristin Nygård, aka Quiltefeen on Ravelry and Instagram, using a 3.5 mm/US 4 circular needle due to the number of stitches. Kristin suggested a change to the edges from garter stitch to rib, and it was an improvement. Thank you, Kristin!
Above you see the shawl worn crossed at the front and pinned together using a shawl pin. Yes, our grass did appear close to a shade of lime green for a short while and seemed to grow several centimeters each time we looked at it. I am happy to report that the rain did take a break on our photoshoot day, we were blessed with warm sunshine. And the weather has improved since but is still very unpredictable, like most Norwegian summers are. The pattern is in one size with the shawl measuring: 50 cm/19.75″ wide and 156 cm/61.5″ long, and the back piece measuring 60 cm/23.5″ wide and 40 cm/15.75″ long. You can adjust the width by removing or adding cable repeats and/or adjust the number of side stitches in rib.
Here you see it worn as a generous shawl. If you study this photo closely you can probably also see the rain has started to drip from my hair.  So it was a good thing that it was the last of the photos taken at home. The Norwegian pattern will only be available in the yarn kits to be launched in early September. While the English pattern will be test knitted in my Ravelry group, it is scheduled to start 4th of September and will be released approximately 6 weeks later. Do join us. In the meantime you can look forward to seeing this worn by gorgeous model Alexandria Eissinger (for a sneak peek check out the funny video photographer Eivind Røhne made on Instagram) as well as more new designs. Stay tuned and keep knitting!
SaveSave
SaveSave
SaveSave
SaveSave
SaveSave
SaveSave
SaveSave
SaveSave
SaveSave
SaveSave
SaveSave
SaveSave