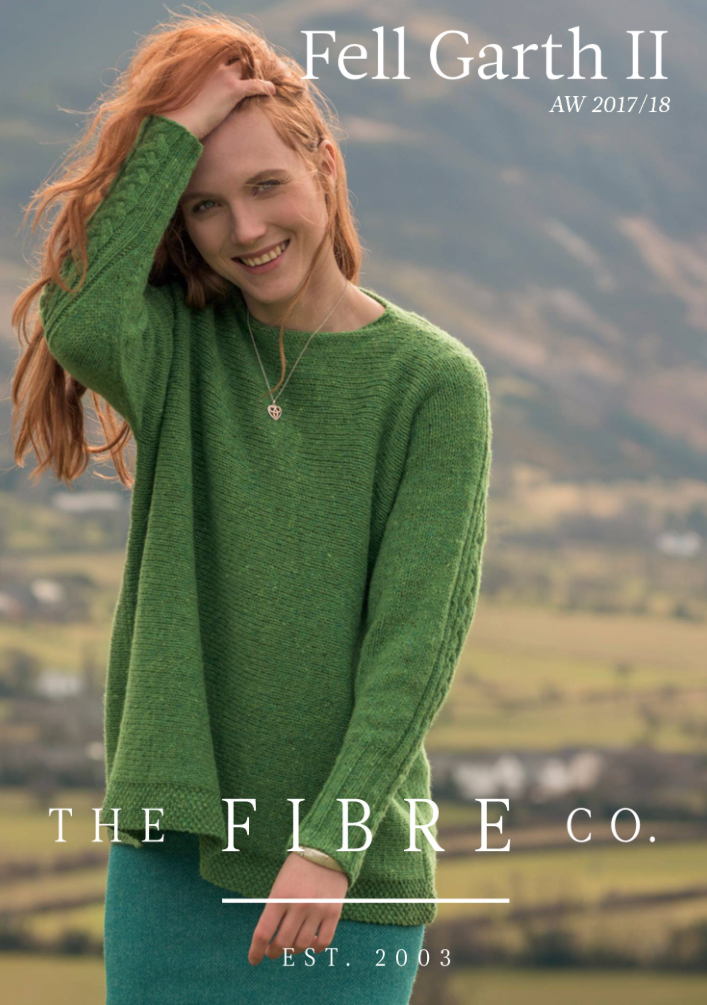 I am so proud to be one of the ten designers selected to be part of the Fell Garth II collection by The Fibre Co. Prior to this I had designed a kimono using one of their gorgeous yarns, Acadia for knit.wear Fall/Winter 2016 and greatly admired their other yarns, designs and stunning photography by Tommy Martin with a breathtaking scenery in the Lake District in the UK – the homestead of The Fibre Co.
The collection has nineteen designs by acknowledged designers such as fellow Norwegian Kari-Helene Rane, Marcela Chang, Holli Yeoh, Emma Welford, Francesca Hughes, Cecilia Flori, Sarah Hatton, Fiona Alice and Clare Devine. Clare was also the technical editor and quickly spotted my mistakes, I am pleased to say. On the cover is the stunning Skiddaw by Kari-Helene Rane. One of my favourites along together with Binsey and Mirehouse (see photo above) by Fiona Alice as well as Armathwaite by Cecilia Flori. I could go on, but like most knitters I do not have enough time to knit as much as I want to. Check out the lookbook and the instagram/facebook video or join the Fibre Co newsletter (with discount offer): Fell Garth II Lookbook.
The story began with a submission call back in November last year. First I had to express my interest and introduce myself and my designs. Second I was shortlisted and received the design brief as well as yarn in the post. Daphne Marinopoulous, founder and owner, had done her homework (read: worked her magic, she knew exactly what yarn, needle size and colour I prefer) and already chosen the yarn she wanted me to use to make 4 to 6 ideas by the deadline 23. December. I think it is enough to say that I managed to make 4, and did my Christmas shopping on the 23. December. A week later, on New Year's Eve, 2 designs where accepted and the knitting began shortly after. One heavily cabled pullover and an a-line cardigan with cables on the collar and on the cuffs, took quite a bit of time to knit. Yes, I did need to have the samples, sent by courier but luckily Iain Stanley at The Fibre Company sorted me out.
My design Beckside, is a classic cabled sweater initially named after the ruins in Hawkside, with basket cables adorning the center front and back, framed by a braid on each side. Stockinette stitch fills the background to allow the cables to shine. A saddle shoulder allows the center sleeve cable to continue to the neck. The pullover is knitted in the new and lovely tweed yarn Arranmore Light using 3.75 mm/US in Orla, the same deep bright orange as I worked my swatch in and comes in 6 sizes.
Here is the introduction to Beckside written by The Fibre Co.: "In every knitter's wardrobe we would hope to find a timeless cabled sweater, rich in texture and beautifully twisted stitches. We believe that Beckside is everything we need from a classic sweater: rich cabling, a slightly boxy shape but with all the finishing that make it crisp and easy to wear for most occasions. The deeply textured centre panel is flanked by softer, undulating cables to add something just a little soft to this otherwise unisex style. Worked in pieces from the bottom up, Beckside is seamed for a stronger, more flattering shape. The tubular cast on gives the finished garment a polished look. For a boxy fit as shown, opt for 5-10 cm (2-5 in) positive ease, Beckside would be equally flattering as a more fitted sweater with less positive ease."
My second design, is Dash Falls, initially named Cartmel after the Cartmel Priory, is this a-line long jacket with an architectural cable adorning the collar and the sleeve cuff. Stockinette stitch covers the body of the jacket to offset the cables. The jacket is closed with a shawl pin. The reversible cable is one of the many inspiring ones found in Norah Gaughan's Knitted Cable Sourcebook. Just like Beckside, this is knitted in Arranmore Light using a 3.75 mm/US 5 needle.
The improved introduction written by The Fibre Co. to Dash Falls reads like this: "Wrap up against any stormy weather ahead with this sweep of a cardigan. Long lines combine with soft flowing cables along the front bands, drawing the eye down. Worked in pieces from the bottom up, this seamed garment offers the interest of more textured sections with the soothing safety of stockinette for the main body. Longer in length, this open front a-line cardigan can be worn as a sweater coat in milder weather or offer the ultimate layer in colder times when its comforting texture is needed. This garment was designed to be worn with 2.5-10 cm (1-4 in) positive ease at the bust."
You can see the remaining designs on both The Fibre Co's website and on Ravelry, and all the individual patterns are available to buy now. Here is a list of Stockists for their lovely yarn. Yes, I do have more designs coming in two other yarns from The Fibre Co., so all you have to do is test it to become as addicted as me. I want to thank The Fibre Co. for selecting me, Tommy Martin & photoshoot crew and all my fellow designers for the incredible journey this has been, so far!
SaveSave
SaveSave
SaveSave
SaveSave
SaveSave
SaveSave
SaveSave
SaveSave
SaveSave
SaveSave
SaveSave
SaveSave
SaveSave
SaveSave
SaveSave
SaveSave
SaveSave
SaveSave
SaveSave
SaveSave
SaveSave
SaveSave