I spent both Wednesday and Thursday at Oslo Design Fair this time, since I tend to meet more and more people I know. Jewellery designer Kaja Gjedebo Design found me first listening to a talk about Fast and Slow Fashion. Yes, knitting belongs to the slow one, whereas fashion shows where you are able to buy the garments straight after the show belong to the fast one. Kaja captured my hand since I was wearing her stunning Wide Caprifol Ring. I just had to make sure she photographed a bit of the Kohno Kimono I was wearing too. Later I read on Instagram that Kaja after 15 years in the business still enjoys seeing people wearing her jewellery.
I spent a lot of time at the Hillesvåg Ullvarefabrikk and made sure those that had not met them did so. Including the VIPs – at least to me – from the UK, Daphne Marinopoulous and Iain Stanley, owners of The Fibre Co. So I got to meet them for the first time in real life after working with them online for my contributions to the Fell Garth II collection (see below). But Photographer Eivind Røhne was first since he has not met them in real life before and could take a look at his photos decorating the stall. He had brought his camera and photographed the stand. While my husband photographed me below and talking to Iselin.
Managing Director Øyvind Myhr to the right. And me photographed mid sentence. Here is a more detailed shot with the Aki sweater on the cover of the brochure they have made with the 4 new designs I made in their Pelsull/Pelt wool yarn qualities: Tinde and Sølje. On the wall is Sulli jacket with a loop and the Aki sweater while the Iglu Poncho and Wa Shawl is displayed on a mannequin.
I was thrilled to meet Iselin Hafseld again, she was on the House of Yarn stand launching her new book (in Norwegian): Strikk fra Tinde/Knit from Tinde published by Cappelen Damm as well as a collection for Du Store Alpakka. Iselin has now turned back to designing hand knits from machine knitting and her brand Tinde. She was instrumental in making my book happen and has been a mentor to me since we first met at Heimen Husfliden in 2000. It is her partner Kim Müller who has not only photographed her book but also made the brilliant lay-out. Yes, Kim also photographed my book. You can find Iselin at Instagram as tindeknits and her book available to order from the publisher Cappelen Damm.
The fashion show also attracted designers Sidsel Høivik and Kristin Wiola Ødegård, and I photographed them sitting down as we were catching up.
The most inspiring part of the fashion show was these three outfits made of thick woven furniture fabrics.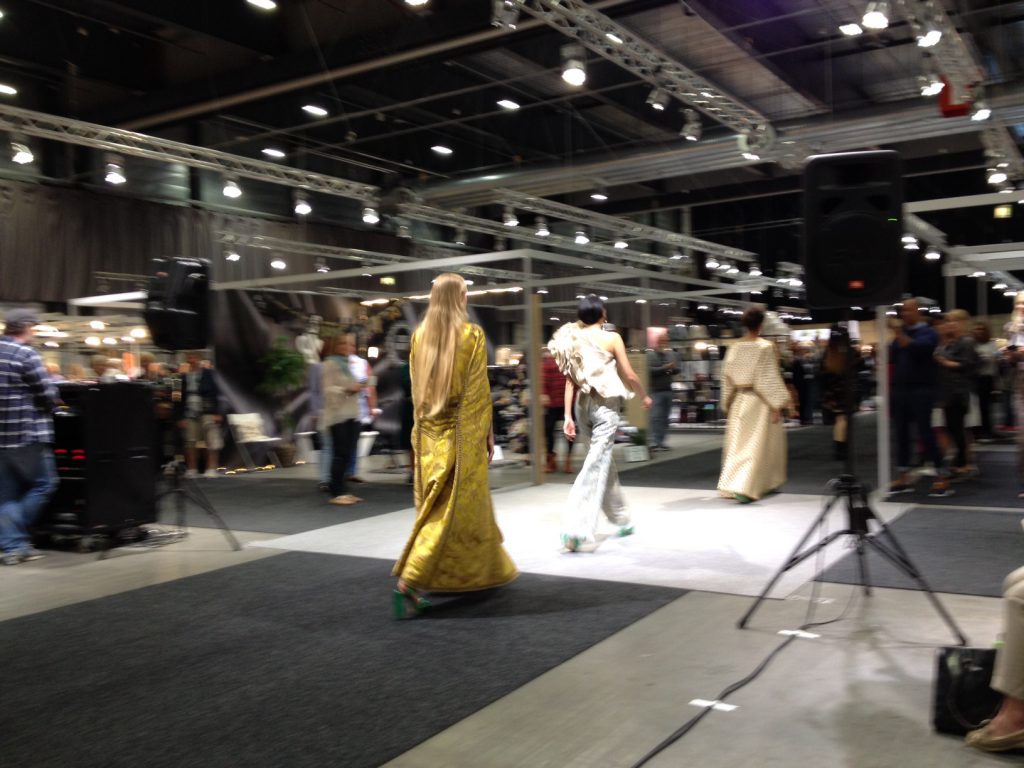 I was also fortunate to meet up with Marketing Manager Mary-Ann Astrup at House of Yarn, Agent Thomas Kvist of House of Hobbies and for the first time the two talented women behind the Norwegian new knitting magazine Bladet Garn– Unni Cathrine Eiken, Malsengarn (see Ravelry) and Solveig Engevold Gaustad, aka Surrehue. Yes, I did enjoy the fair tremendously and received more job offers than I can handle at the moment. Now, that is a vote of confidence I am so grateful for. Thank you!
SaveSave
SaveSave
SaveSave
SaveSave
SaveSave
SaveSave
SaveSave
SaveSave
SaveSave
SaveSave
SaveSave
SaveSave
SaveSave
SaveSave
SaveSave
SaveSave
SaveSave