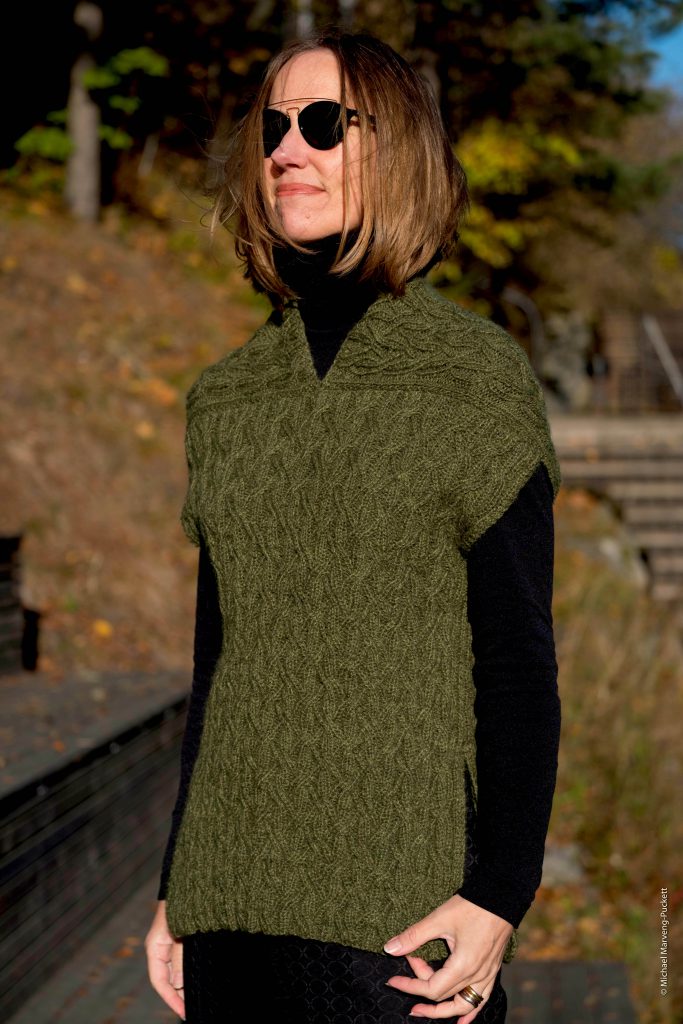 Olive green was the second shade I chose for the new collection for Hillesvåg Ullvarefabrikk to be launched at the Oslo Design Fair in late January. Yes, in the divine Tinde Pelsull, that is. Origami vest with reversible cables that folds into shape. Vents are made by leaving the seam open at the bottom. The horizontal seam draws a line across the shoulders ending in a curve at the armhole. You can wear the vest with both sides out by making a neat or flat seam. The name Cahal is Celtic for strong in battle.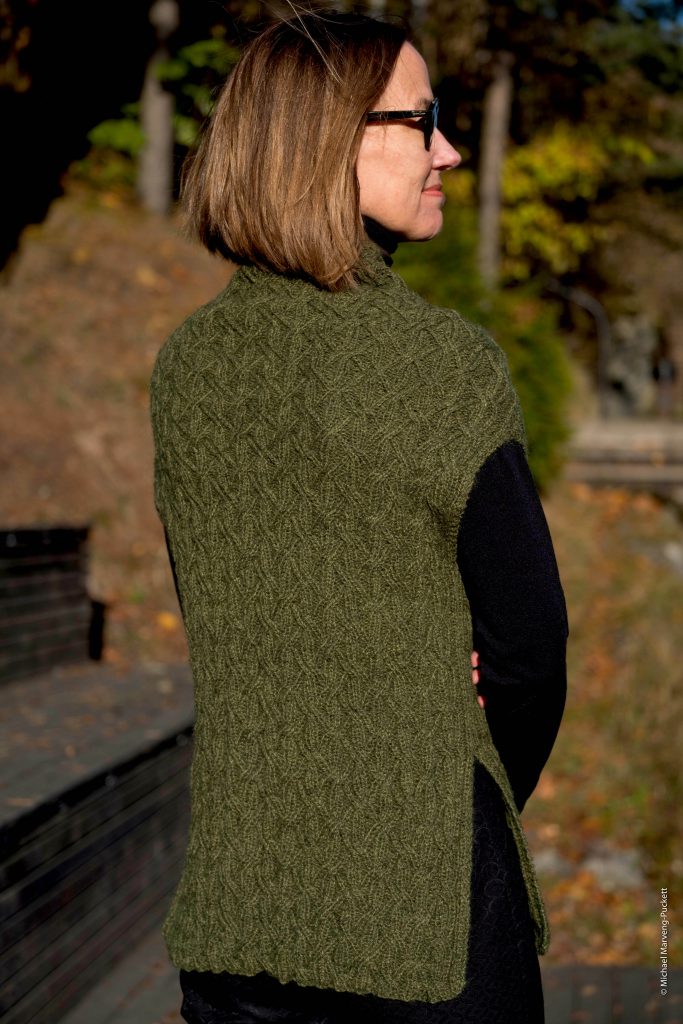 The brilliant sample knitter is none other than Grete Jenssen, aka ma9 on Ravelry, who knitted this vest in a week's time. Yes, she is a turbo knitter, that is for sure! I am wearing size S with a bust measurement of 106.5 cm/42″ with the intended right side out in the top two photos and with the wrong side out as well as visible seams in the bottom two photos. The pattern is graded into two larger sizes too (m, XL/2XL) with (117, 127) cm/42 (46, 50)" bust.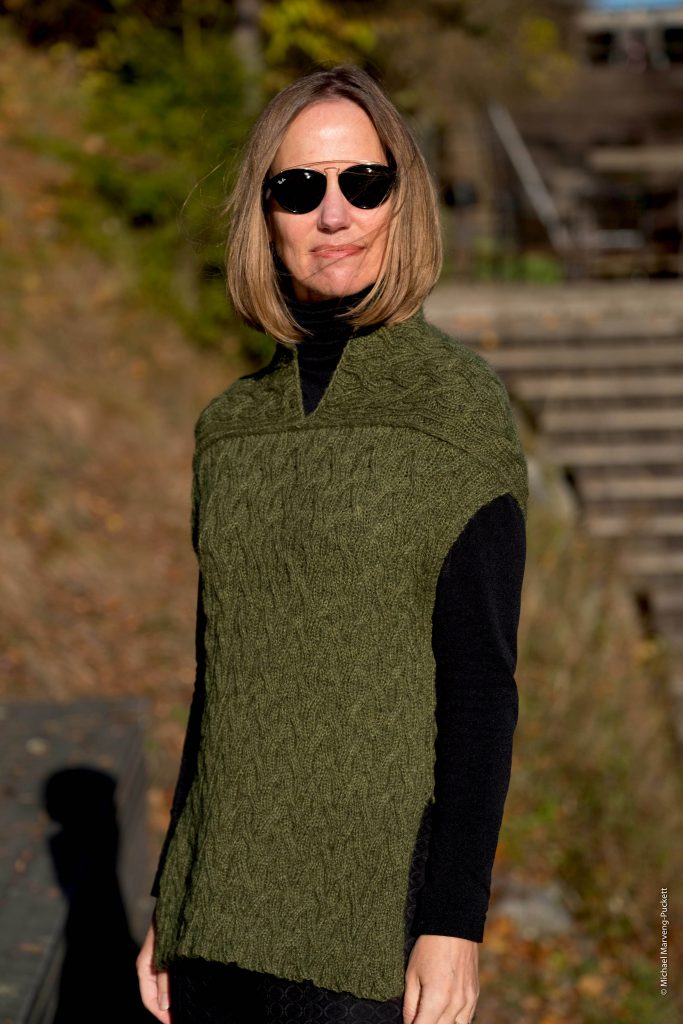 The vest is knitted in two parts. The front is a square, while the back has 30.5 cm/12″ extra body length that folds to the front at each shoulder to form the upper front and the neck opening. Above you see the wrong side out and visible seams. The vest is knitted using 3.5 mm/US 4 needle with a gauge of 21 stitches and 30 rows in stockinette stitch measuring 10 cm/4″ square. Tinde Pelsull is made of 100% pelt wool with 260 meters/284 yards per 100 gram skein and comes in 30 divine colours all with the natural black base.
My husband photographed me at the outdoor stage next to Ørje Brug, today a museum called Haldenvassdragets Kanalmuseum on a very windy day in October. Below is the arty shoot, he took. The background I wanted, but the sun was not in the right position for photos from this angle.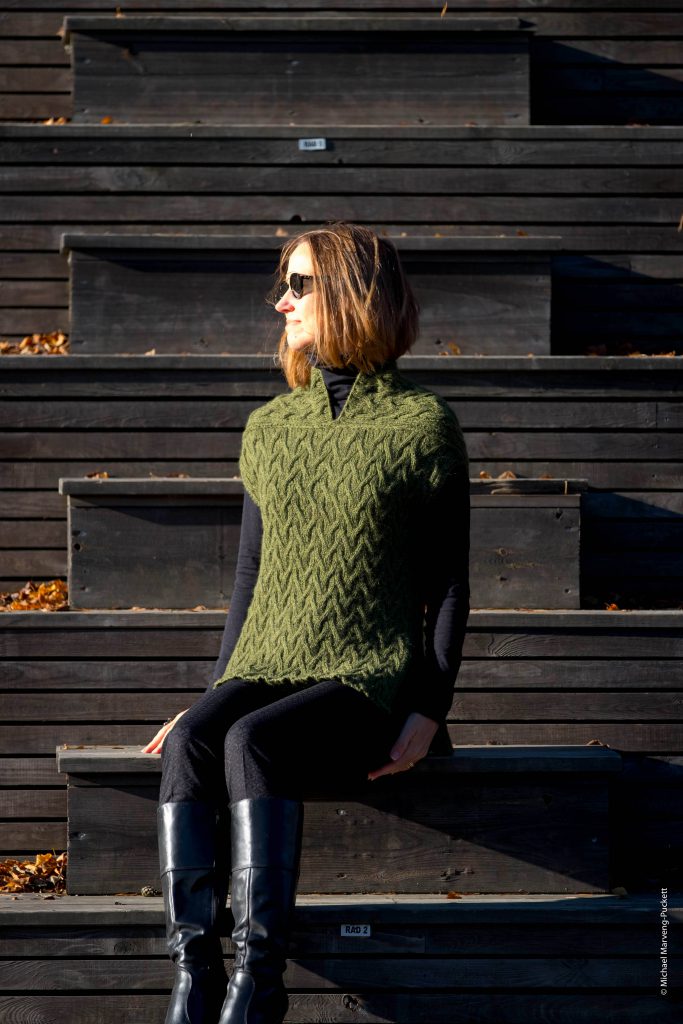 The cables are from Norah Gaughan's brilliant Knitted Cable Sourcebook, yet again. The English pattern for Cahal will be test knitted in my Ravelry group beginning on 9th of April before it is released in mid May. But before that I will show you how it looked on the gorgeous model Emma Ross with hair & makeup by Sissel Fylling and captured by photographer Eivind Røhne.
SaveSave
SaveSave
SaveSave
SaveSave
SaveSave
SaveSave
SaveSave