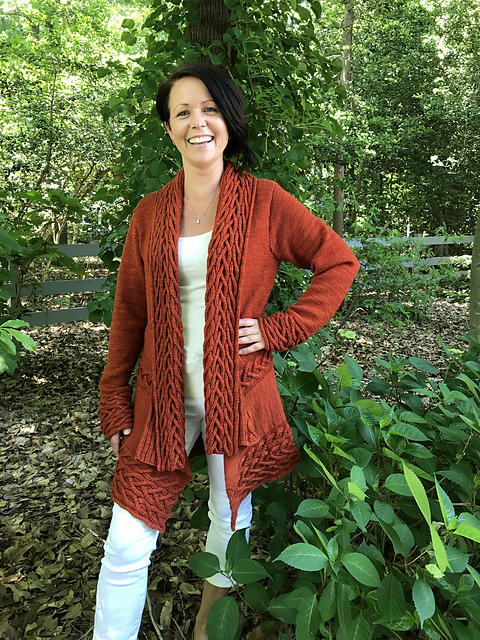 Karen, aka Knittywarbler on Ravelry & Instagram, knitted this wonderful Airic version for her Norwegian friend who grew up in Sarpsborg – not far from where I live – but now lives in the US. Karen test knitted the pattern for me in size Small in the divine SweetGeorgia Yarns Superwash Sport, a pure merino wool, in the hand dyed shade Cayenne – perfect for her friend – using 3 mm/US 2.5 needles. I meet Karen on Ravelry and she is one of my brilliant test knitters. I have lost count of all the patterns she has knitted so I plan to show you more of them. You might remember that I blogged about the jacket she knitted for her friend Lizzy: Suli Knitted by Karen. Karen is ever so generous with her knitted garments and give them away to her grand daughter and friends. Thank you, Karen for being my test knitter and making such stunning versions of my patterns!
Here is a side view of the Airic, where you can see the construction with its lower body cable panel which is worked sideways. Then the upper body is picked up and knitted along the long side of the lower body and worked from the bottom and up. The upper body is worked back and forth in one piece with false seams from the pick up on the lower body to the underarm, then the upper fronts and back are worked separately. The outer 20 cm/7.75″ on each side of the lower body will be attached to the collar. The cuff is worked sideways, while the remaining sleeve is worked back and forth from the cuff with garter stitch in each side. The collar is worked back and forth in two parts with an interfacing, beginning with a RS row across cable and a WS row across interfacing. The parts are joined with a 3-needle bind off and attached along opening and outer side of lower body.
The pattern is available in sizes XS to 2XL with a bust circumference of 86 to 128 cm/33.75 to 50.5″ with collar overlapped. This is how I introduce the pattern:  In a contemporary style with provocative visual lines – created by the sideways knitted cable panel to make a waterfall bottom – is this long cardigan. The body is all in stockinette stitch to offset the cables. Even the sleeve has a cable panel knitted sideways as a cuff. Airic is Celtic for agreeable, just as this long cardigan will cover you up. It is knitted in the divine Di Gilpin, Lalland a Scottish lambswool with a magical twist. The English pattern is available on both Ravelry & Loveknitting as well as on Deep South Fibers for retailers, while the Norwegian pattern will be available in the special magazine Høststrikk from Familien out on 24th September.