Visiting Røros felt like travelling back in time to a different century and yet, people were living in nearly all of these old wooden houses dating back to the 17th century. Røros mining town was founded in 1644, built entirely of wood (one of the oldest towns of wooden buildings in Europe) and that makes it unique. Due to its authentic wooden buildings and unique character of an early mining town, Røros was added to the UNESCO World Heritage List in 1980.  There are about 2000 wooden houses in Røros today, most of them are still habitable but have been through rigorous refurbishment. Røros is known for its old copper mines; exploited for nearly 333 years until 1977. The slag heaps are distinct landmarks just as the church.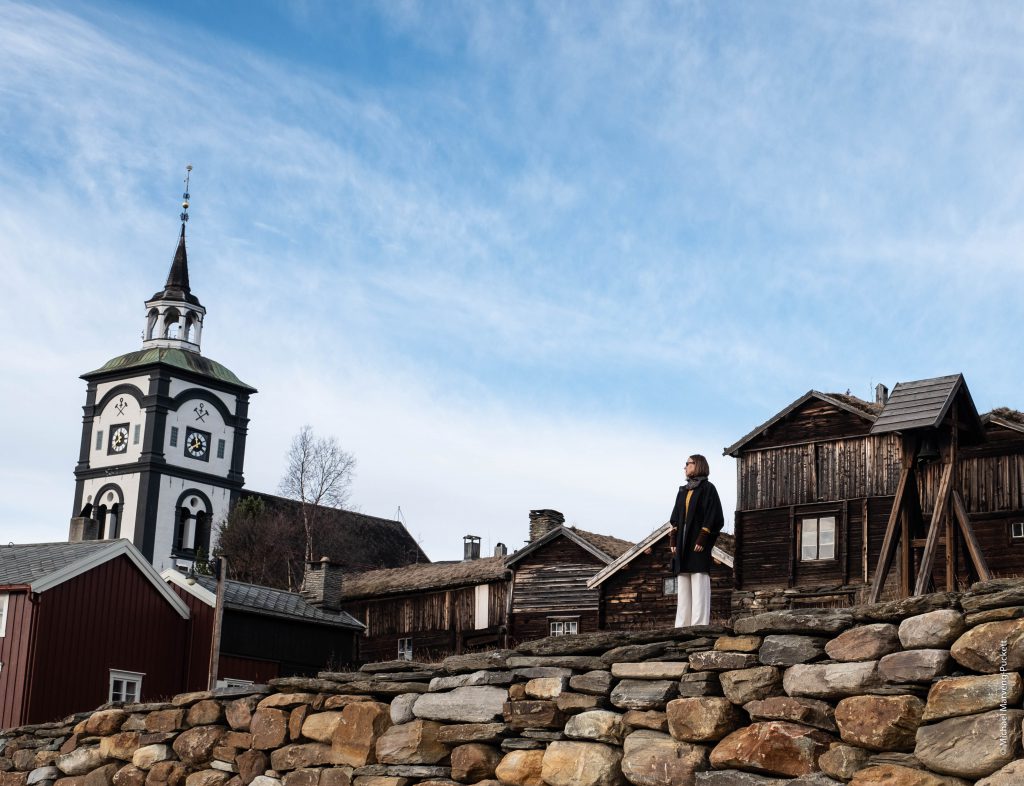 There are only two main streets and both are parallel to each other. Michael is standing in front of the Røros Museum taking this photo of me.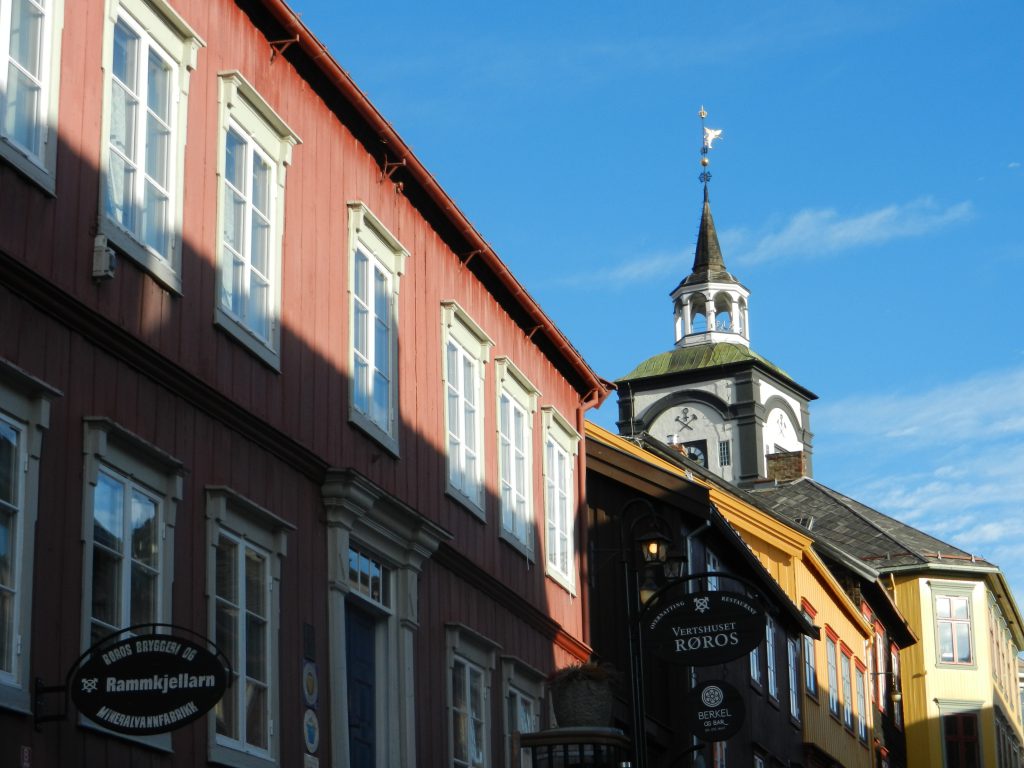 All the wooden buildings are either one or two floors high. All the signage for the shops were in old fashioned style and in a size that fitted the building. Among the shops on the main streets there are very few chains present. I only spotted one, and that was Jernia, a hardware store. There are only about 5 000 people who live in Røros today, but the number of tourists are over whelming at times.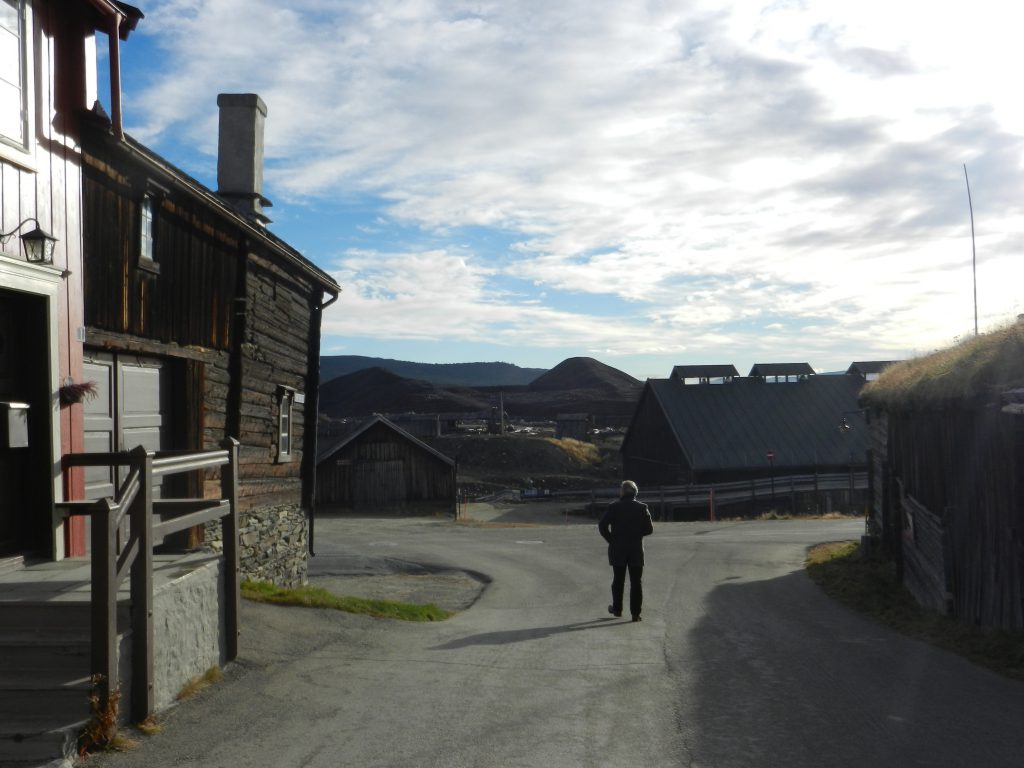 Michael has taken most of these photos, but here is one I have taken of Michael walking down towards the museum with the slag heaps at the back of the photo.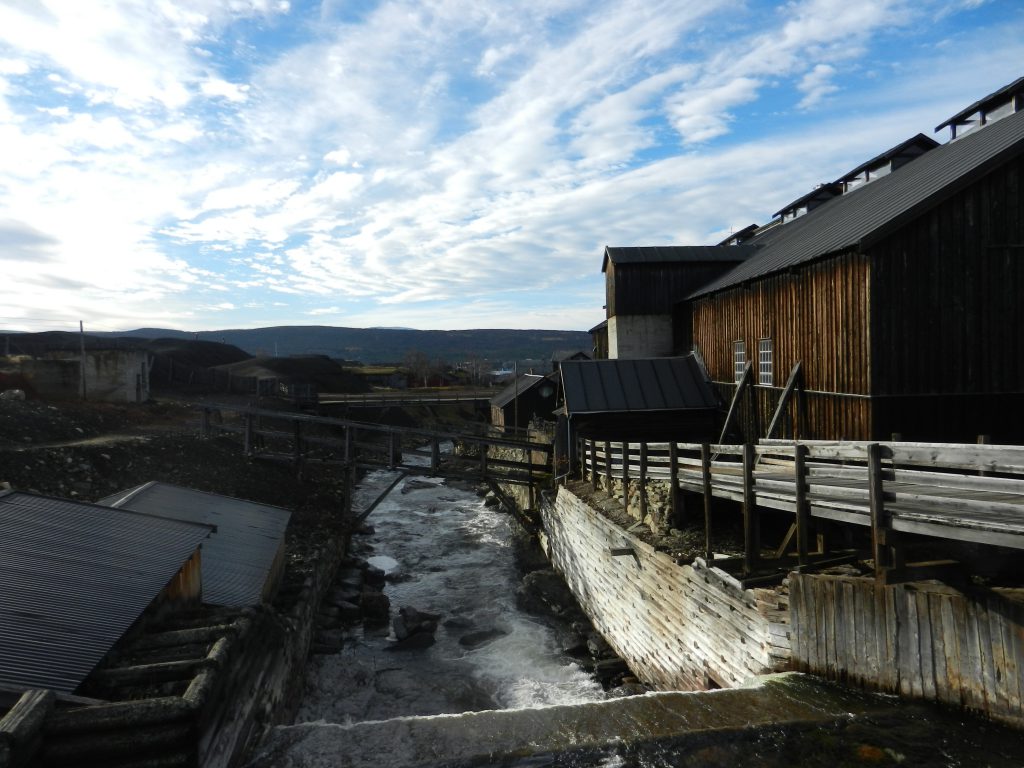 The Røros Museum is to the right. We were on our way up to the slag heap.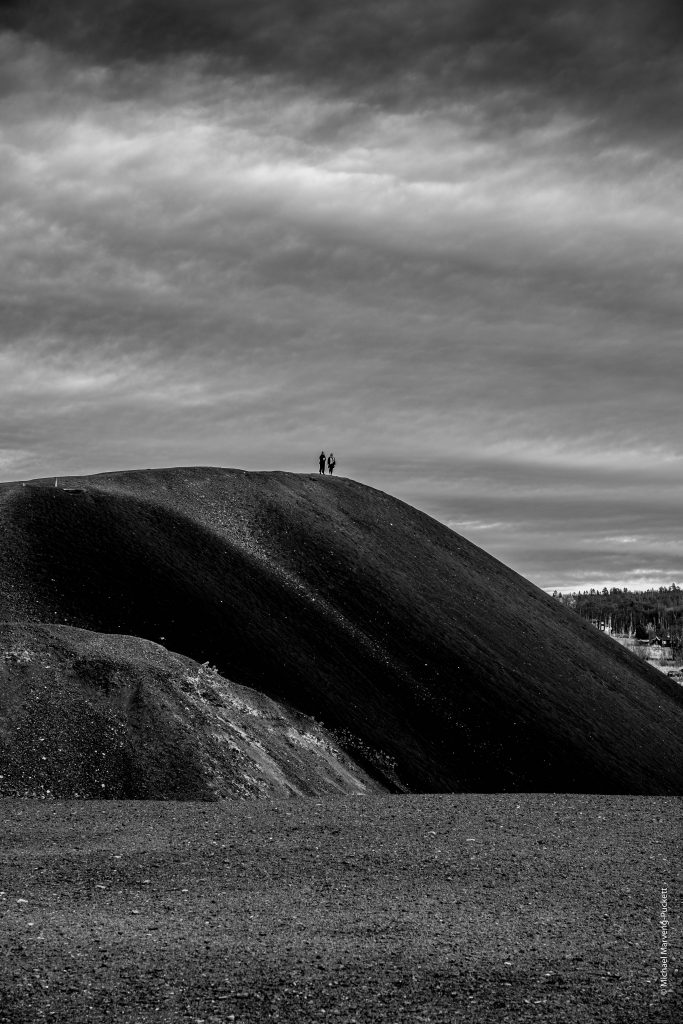 Røros is also know for its cultural calendar, and several people we spoke to had fond memories of the play that take place on top of the slag heap at sunset during the summer, With the darkness comes a star light sky adding magic to the scene.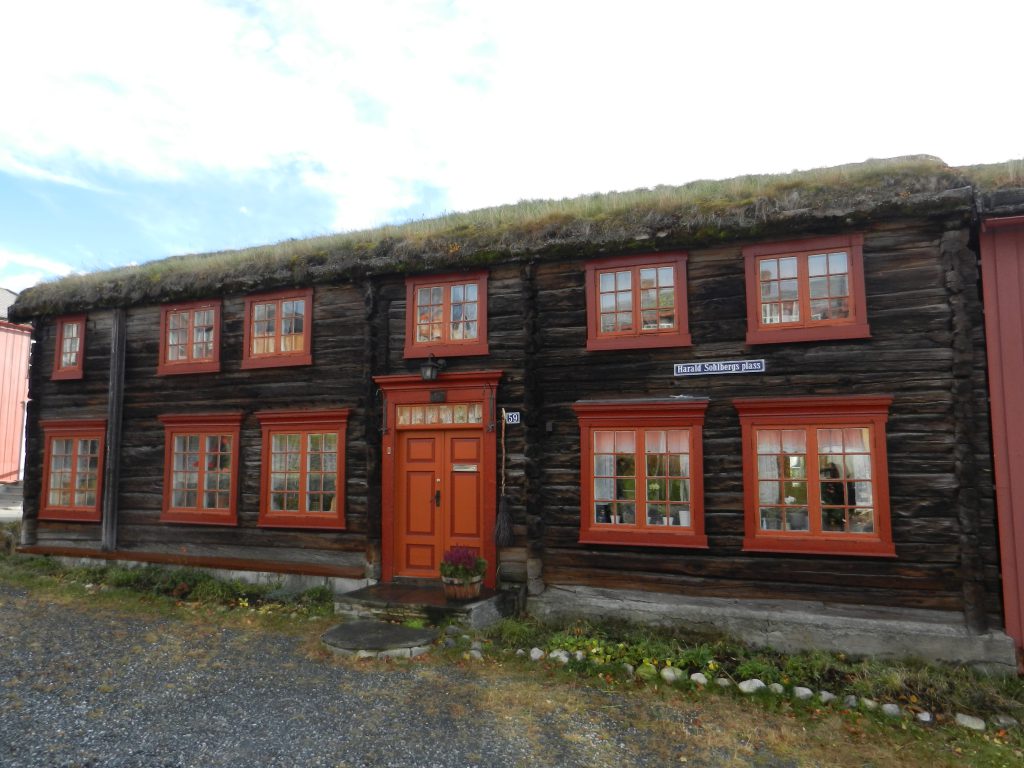 I was fascinated by this charming building with its signage. While walking around in Røros it dawned on me that several children television series made for the Norwegian television was set here and not at a made up stage set.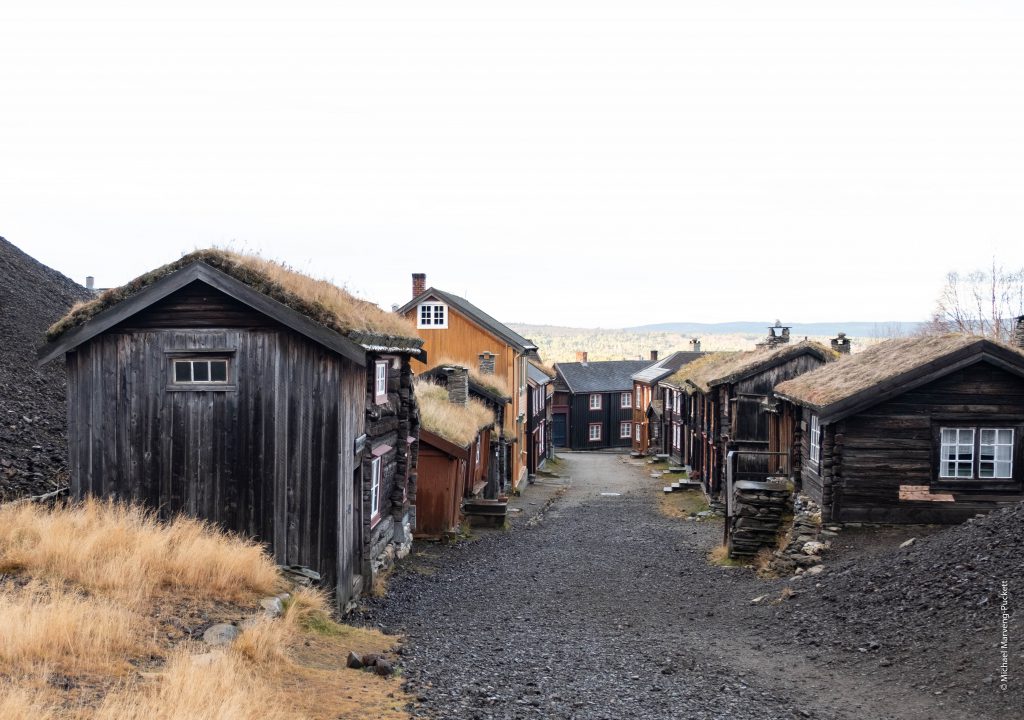 These are some of the oldest houses that are not in use today. While there were people living in the yellow house and across the street. Flying in to Røros we also noticed a mixture of houses, farms and a large number of cottages on the outskirts of the mining town.
Here is the entrance to one of the many coffee shops. Each one seemed to offer its own style and menu.
Each side street seemed to offer an equally charming view.
Røros Church does look small from a distance, but it does have 3 floors and not only a tall bell tower with a 50 meter tall spire. The church called 'Bergstadens Ziir' meaning 'Mining Town Adornment', is paid for by the Røros copper work. The church is actually the 5th largest church in Norway since it had 1600 seats when it was inaugurated. The church was built in the period 1780-1784 and restored in 2008-2010. It is made in stonework but has a wooden roof and interior. You do pay a small fee to enter, but I enjoyed walking around there and not only seeing the inside during a Christmas Carol concert on television. Take a look inside with a 360 degrees view of the Røros Church and see Røros from the air here: YouTube.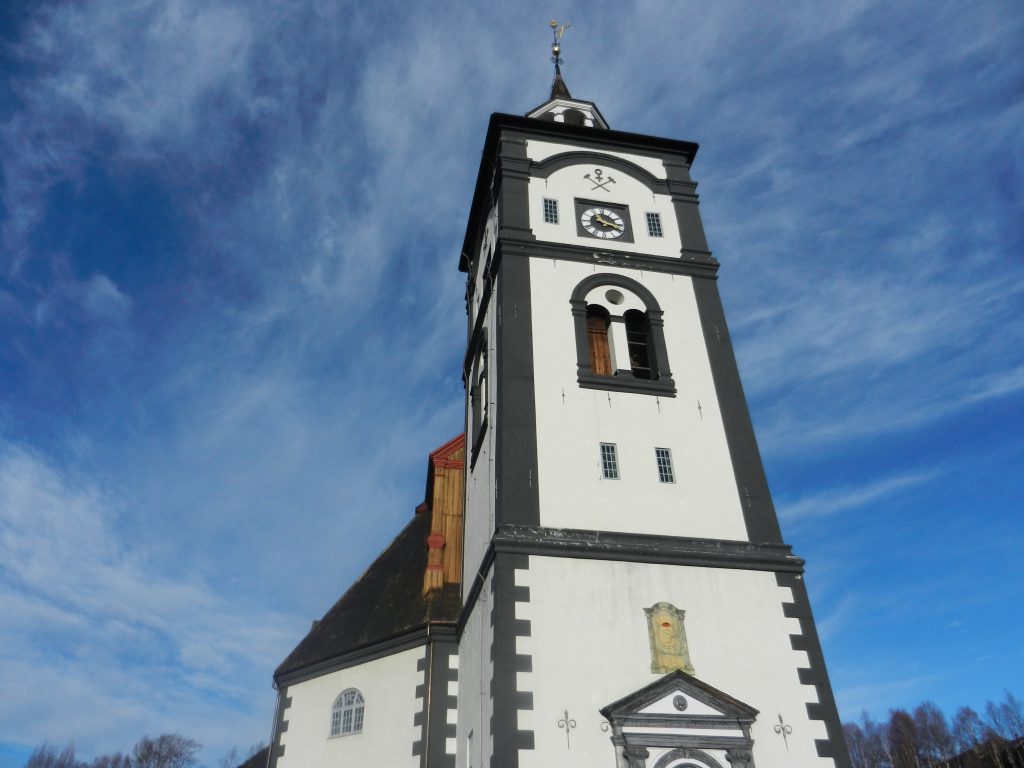 Røros has harsh winters, with a lot of snow. Even as a child I was fascinated by the photos of the houses surround by heavy white snow. We did not have time to explore all the hiking possibilities in the area, but could see some of the tracks from the hotel. We were advised to visit next time during the winter to see even more spectacular views. It was a trip to remember. Røros is worth a visit!