Last weekend I was back in Stavanger for the Knitting Weekend, organised by Strikk og Drikk/Knit and Drink! The autumn weather could not have been any better, crisp with hardly a cloud on the sky. Just as last year I had asked if I could stay with my friend Mary-Ann Astrup so that we could catch up. Her house in the city centre is also better than any of the hotels, in my opinion. Two of my four workshops were overbooked, but I was given the best conference room at the Clarion Hotel Stavanger, the Board Room on the 14th floor with a magnificent view, and comfortable leather chairs. During the weekend I met knitters I knew but also new knitters.
One of my test knitters Tone Cecilie, who was teaching Cable Knitting for Beginners, while I was teaching Cable Knitting Masterclass, had her workshop in between my Finishing and Masterclass. In the dark photo above you see her clearing the table, and you get an idea of the view we had with the table seating 20 people.
Here is a view from one of the many windows towards the harbour.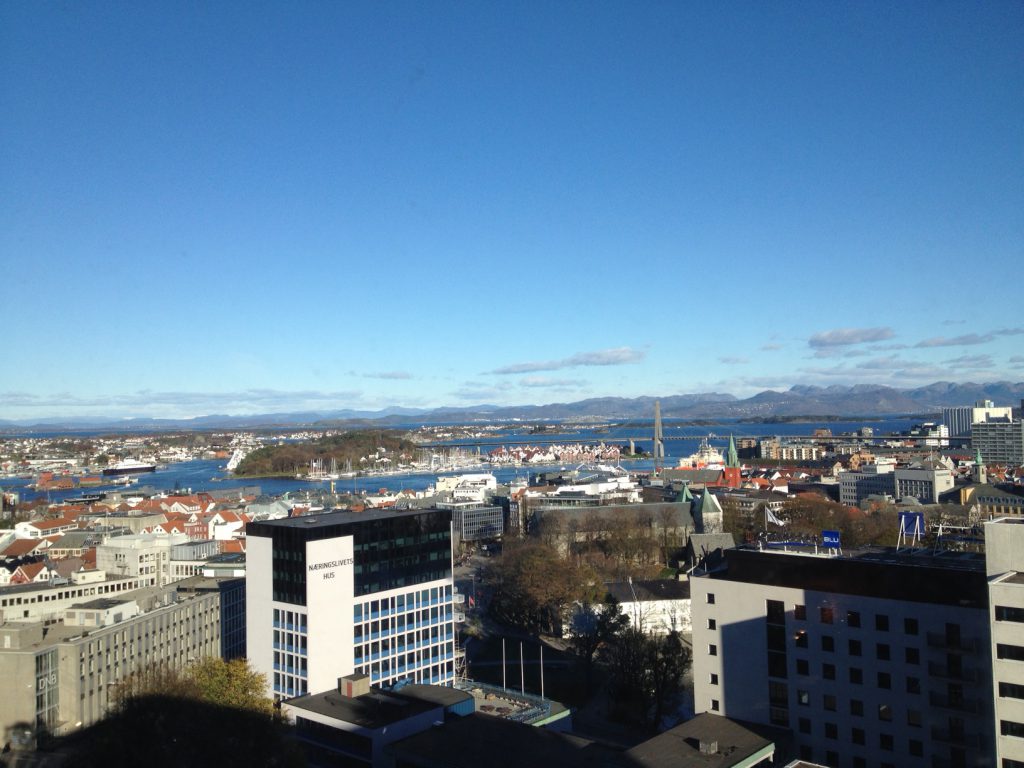 Here is the next in the series.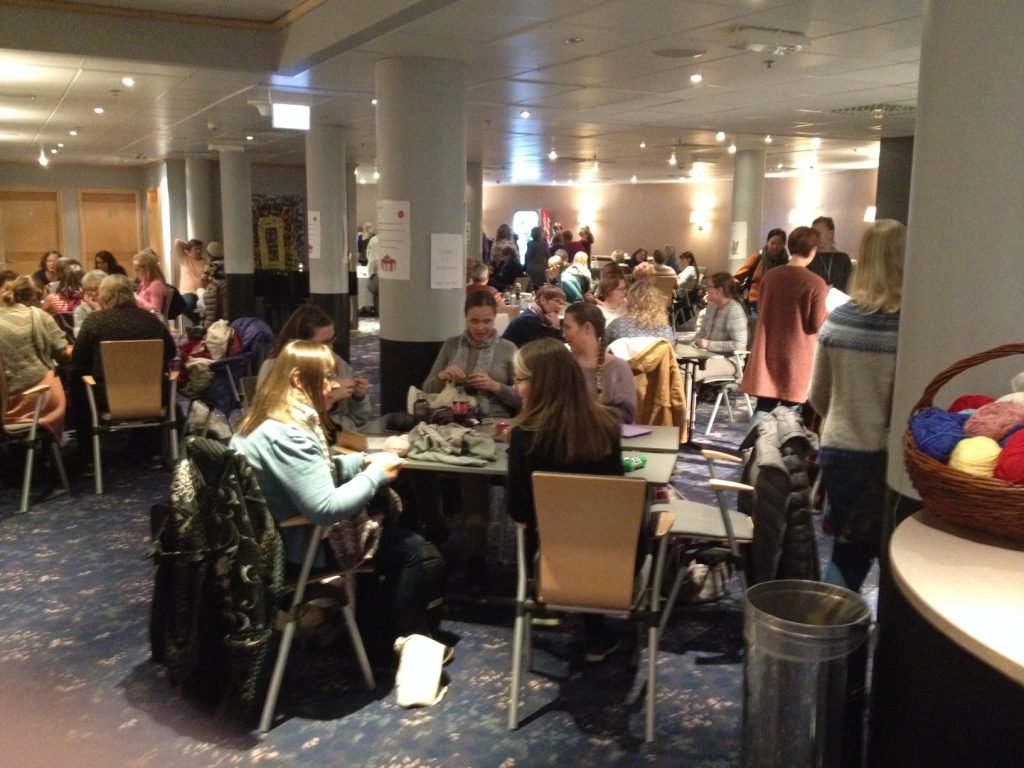 I am sure you want to see more from the Knitting Weekend, so here is the small knitting café area, next to the Market Hall at the basement of the hotel. On Saturday, between my workshops I held a one hour knitting clinic. I answered questions on my own designs but also on general knitting issues, like how to count the number of decreases you have made.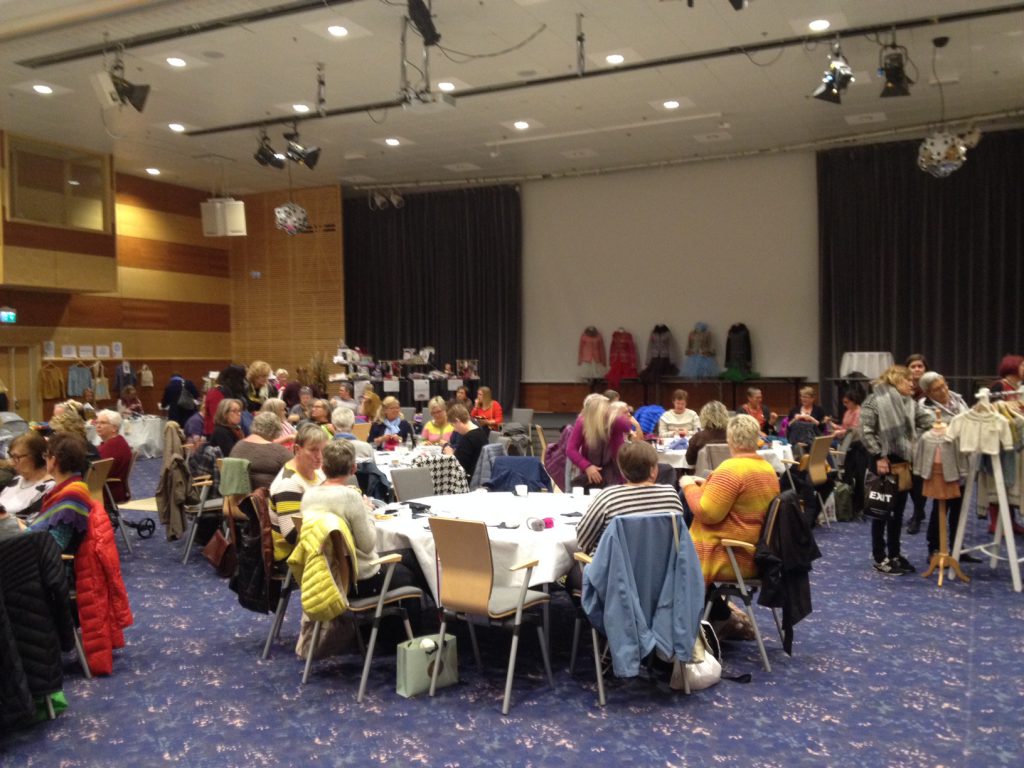 Inside the Market Hall there were another knitting café area and on the stage, there are some of Sidsel Høivik's designs exhibited. I briefly spoke to Sidsel and also to Nancy Marchant on Friday evening, after my first workshop before I headed back to Mary-Ann's house.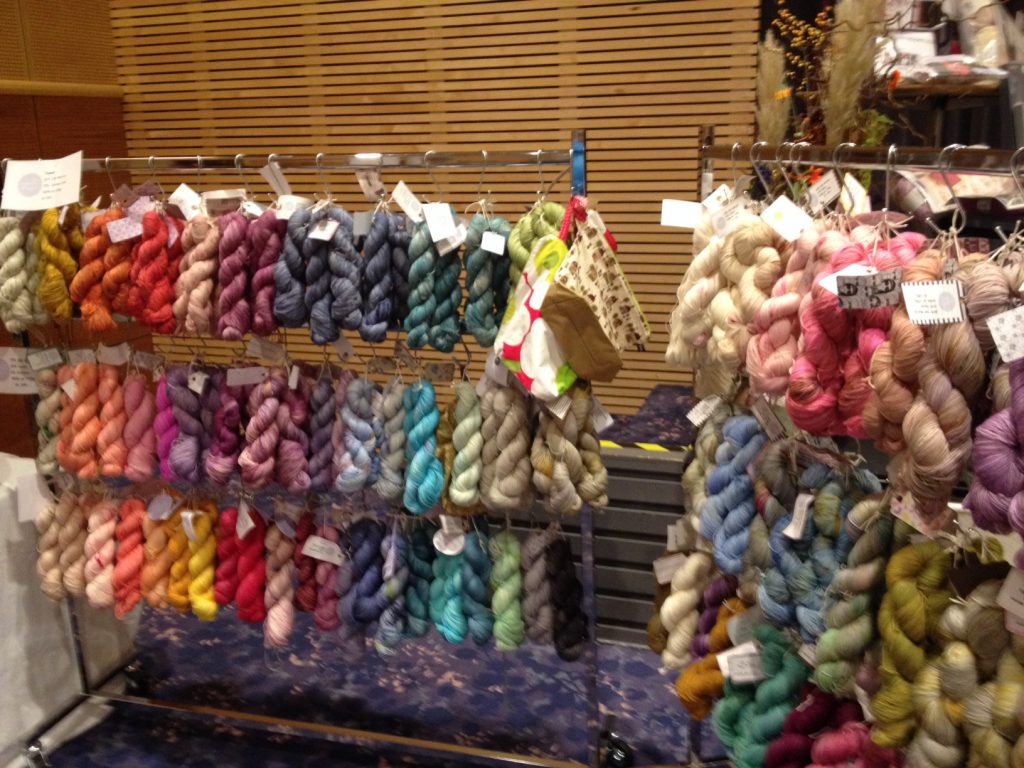 I was intrigued to see these hand-dyed yarn with a tweed effect from Spøtegarn and check out the cutest assistant ever, below. After the second workshop and the knitting clinic I had two hours before the next workshop, so I had time for a quick look as well as lunch.
There were so many temptations and so much lovely yarn on offer. I only bought and issue of the Laine magazine and was very pleased with myself. As usual there was a knitting party on Saturday night, but I knew I would need charging after my hectic day and in preparation for my last workshop followed by a talk.
My first workshop was on Friday night, on Tucks. I covered how I make them with two circular needles held together and how you can make different variations (see my video – and start at around 7 minutes, 45 seconds in on YouTube). Here is Gry Knudsen wearing her Yellow Gold Pullover. It is in three colours, because she did not have enough of one for the whole pullover in her stash. I love this trendy stripy version of it. The program for the knitting weekend was filled to the brim and on offer were these activities: Beer tasting for knitters, trip to Sandnes Garn (yarn producer), late night knitting, knitting bingo, living audio book – knit & listen and knitting cinema. Here is a link to the program: strikkogdrikk.org/strikkehelg-2018/program. It was impossible as a knitter to get bored here! I had a fabulous time in Stavanger.