I am so thrilled to be able to share the wonderful photos taken by Siret of her daughter wearing the Nemetona pullover at Mändjala Beach at the island of Saaremaa in Estonia. Siret, aka kollane on Ravelry, took part in the test knit of Nemetona and made size Large for herself initially, that is, since her daughter wanted it after their photoshoot. So now it belongs to her daughter. Her pullover is knitted in Rowan Cashmere Tweed in the shade of Granite using a 4 mm/US 6 needle and a 20 stitches and 28 rows gauge per 10 cm/4″ square.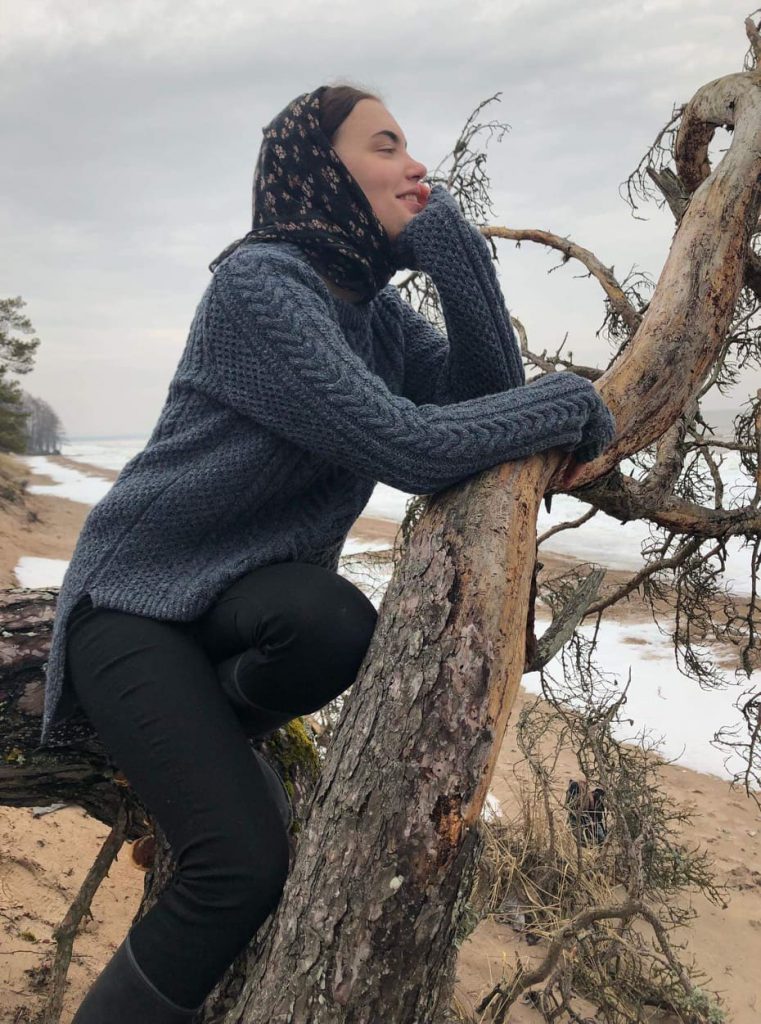 Siret writes on her project page: "Rowan Cashmere Tweed is surprisingly good yarn for knitting cables. For a small and dense cable like the Roman cable, this yarn is too soft – the twists are not so clear. But amazing for the bigger ones." She also recommend not using it for seaming as it breaks easily. I do love the finished look and how stunning it looks!
I could not resist including this photo too, since all the broken ice is so dramatic and trying to balance a piece of ice on one's head does look funny. Siret had not planned to take part in the test knit according to her project page: "I thought I was not taking part in the Nemetona pullover test, I wanted to finish my Prescott before the new project, but …
But how can you resist the possibility of putting yourself to the test with such powerful cables, very interesting shorter front and longer back?" I am so grateful she could not resist it!
Finally, I want to share a photo of the back taken at the beach shore! Thank you ever so much for taking part in the test knit, Siret and for taking this stunning photos of your daughter!
Here is my introduction to the pattern: Nemetona is Celtic for goddess of all sacred places. Like a magical cable grove is each part of this pullover: Staghorn, Roman; and double cables are framed by Honeycomb pattern. The flowing longer back with its curved hem, creates a stylish contrast to the straight front. Nemetona is knitted in pieces in the divine The Fibre Co. Cumbria.
Nemetona is available as a digital download in English, in sizes XS to 2XL with a bust circumference of 84 to 126 cm/33 to 49.5″, in my Ravelry Store and on Loveknitting. The Norwegian pattern will be published in the Norwegian magazine Familien at a later date.