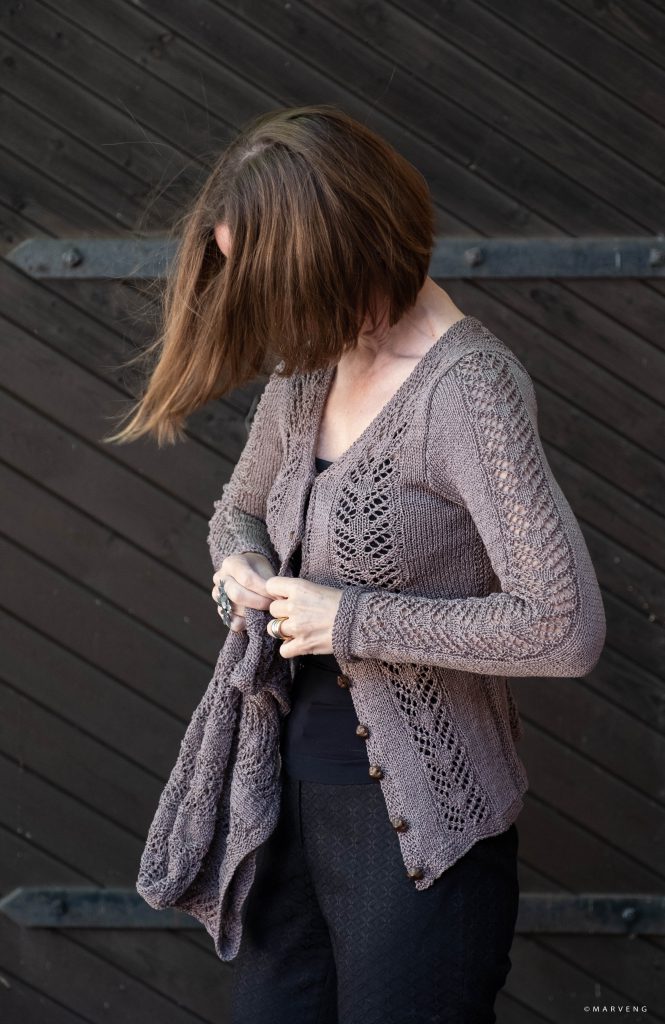 I have two more new designs to show you, and here is the first: Gocce, a lace cardigan with a cowl. The poetic introduction to Shibui Knits' Rain, a stunning chainette cotton yarn, inspired the name choice of this fitted summery lace cardigan. "Fleeting drops fall…" not unlike the lace pattern on this jacket. Gocce is Italian for drops and selected to give this v-neck cardigan the sophistication it deserves. A cowl crowns the cardigan and can be worn loose or twice around your neck. Gocce is knitted in pieces for the ultimate fit and seamed.
Shibui Knits contacted me at the end of last year, and asked if I wanted some their yarn. If you are a knitter, you know the answer to that. Did I have a favourite yarn or did I want a mix kit? I went for the second and after several months, my verdict was clear. I loved the lustre, the rustic look and the chainette construction of Rain. I have been wanting to try out their yarns for quite a bit, and did order one skein of Maai, an alpaca mix, for the White Mountain Ruana  made for Interweave Knits Winter 2018.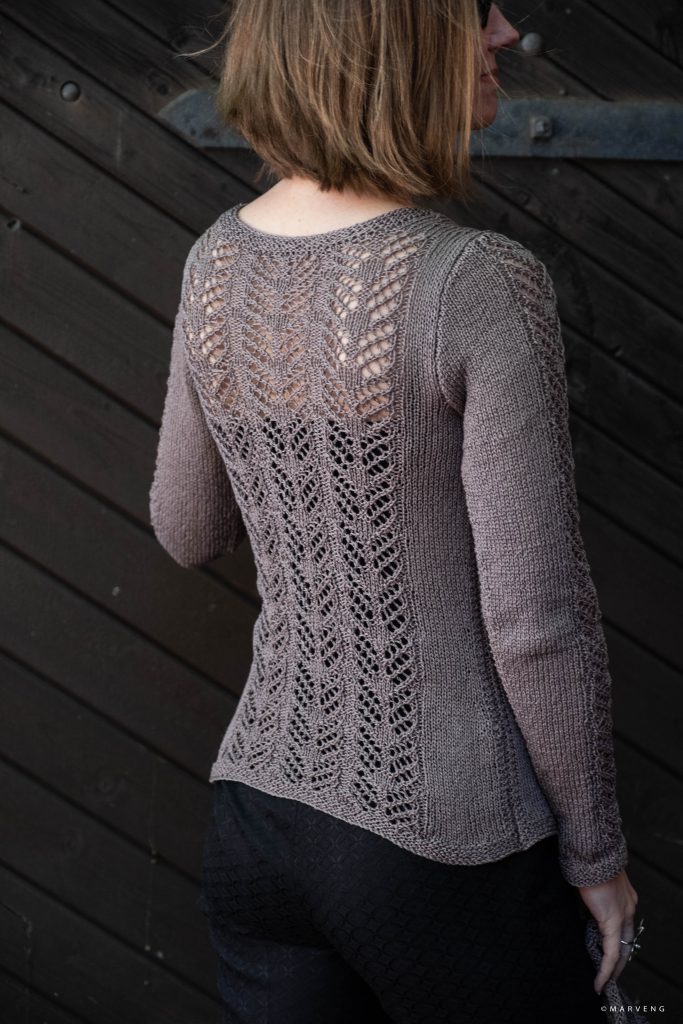 The lace pattern is one I discovered on Pinterest and placed in my ideas folder. I do prefer my lace patterns not to be too complicated, nor the charts too large. In addition it has to look pretty. I did plan to make a size small but measured the lace panel wrong and ended up with a small size extra small, I can just about button up as you can see from these photos taken by Michael at the The Halden Canal Museum in Ørje. Size XS and sample measures only 77 cm/30.25″ but has quite a bit of ease in both yarn and lace. I am wearing it with 11 cm/4.25″ negative ease. I have graded it up to 2XL with a 125 cm/49.25″ bust circumference.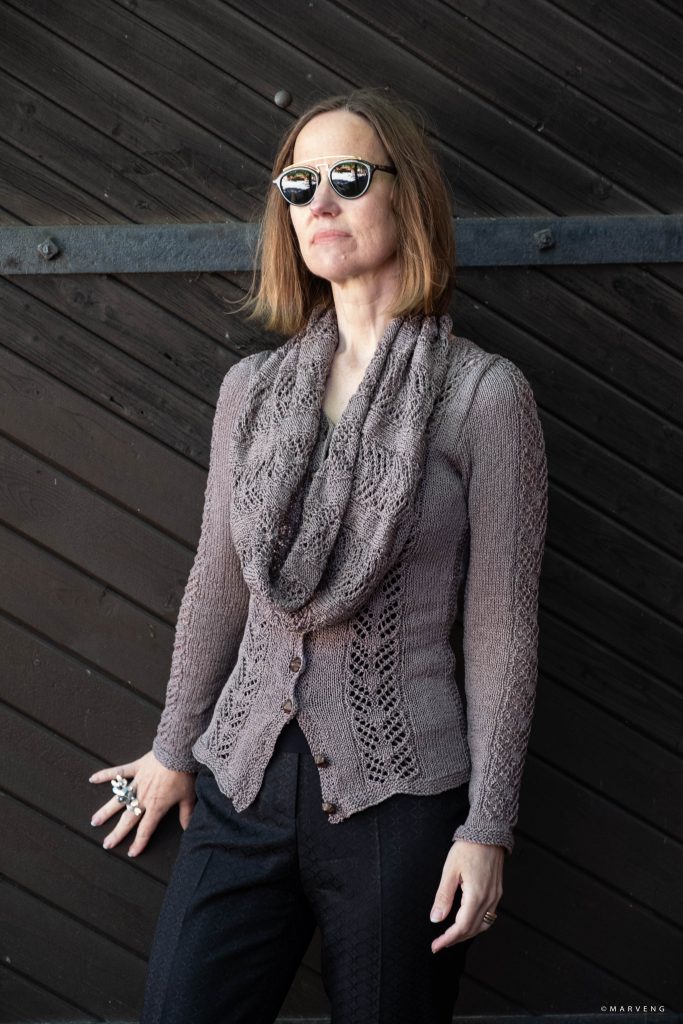 I wanted a stylish (or elegant, if you prefer) v-neck cardigan that would fit with a dress, skirt and trousers. I choose a v-neck since I feel that fits better on top of a dress and makes it look more dressy. And if you do want to cover the neckline, I made the cowl to go on top, either hanging loose or twice around your neck.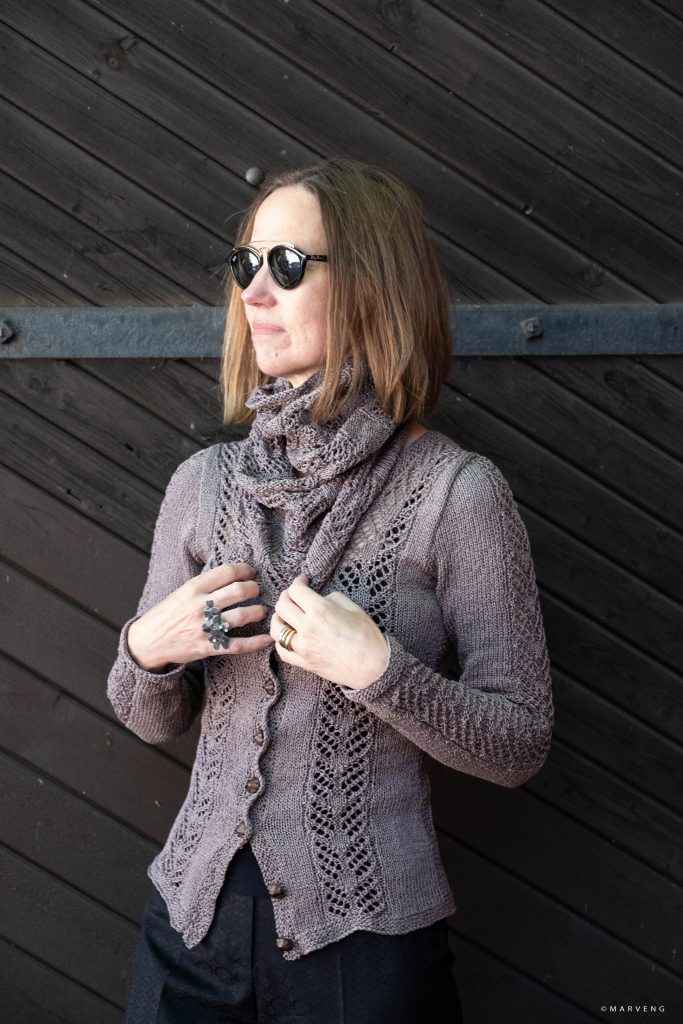 The cardigan is knitted flat in pieces while the cowl is worked in the round, all using 3.5 mm/US 4 and a 22 stitches gauge in stockinette stitch measuring 10 cm/4″ square. Thank you to Shibui Knits for sponsoring the lovely yarn for this! The English pattern will be test knitted in my Ravelry group starting 29th July before it is released. I look forward to showing you how it looks on Em!