Aife is a slightly fitted pullover beautifully knitted by Grete Jenssen, aka ma9, in the hand dyed, Dye Dye Done, Pure Sport in Baby Elephant. Last year Hanna Maciejewska's husband Daniel started hand dying yarn and Hanna asked if I wanted some sportweight for a design. How can I refuse gorgeous hand dyed yarn? She suggested the popular shade called Baby Elephant, a taupe colour and I was happy to accept it. I had already designed Gillah Swoncho but I was not finished with that cable, by Devorgilla, so I made it into a fitted pullover too with two mirrored cables. I am wearing size Small, with a bust circumference of 92 cm/36.25″ but the pattern will be available in sizes XS to 2XL, in these photos taken by Michael at The Halden Canal Museum in Ørje. The English pattern will be test knit in my Ravelry group, beginning on August 12, before its release in both Norwegian and English.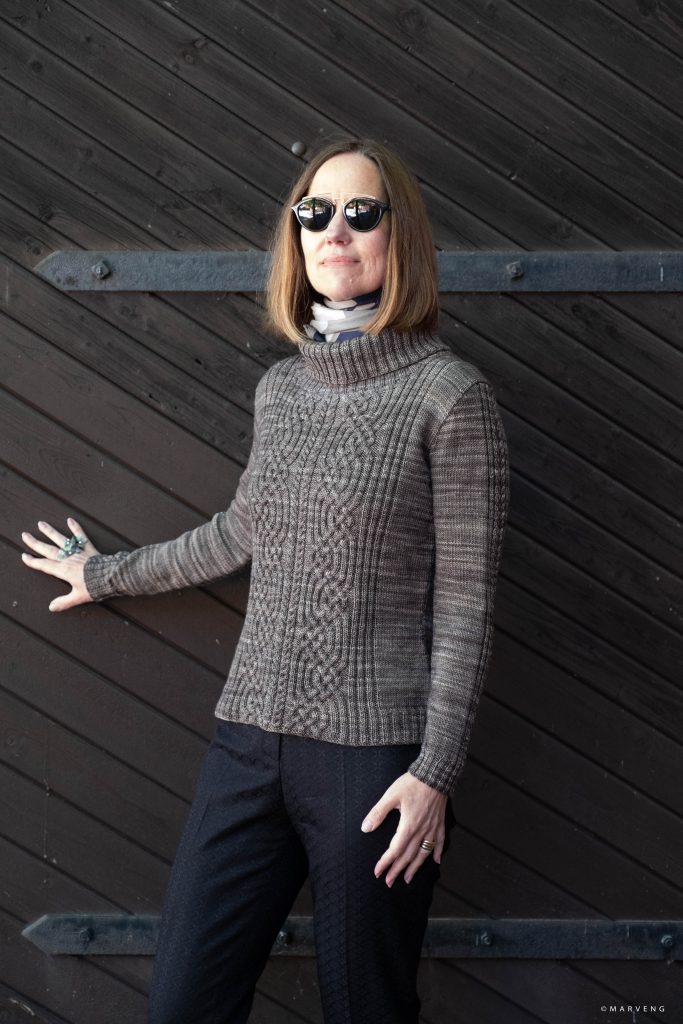 I actually met designer Hanna & Daniel first time in Vienna for a knitting retreat in October 2015 (Wollness Weekend), then for the second time around at the Vienna Wool & Design Festival in May 2017. We connected straight away and have been in touch ever since. Their lovely Pure Sport yarn is made of 100% Superwash Merino and comes in 100 gram skeins with 300 meters/328 yards. The sample took 5 skeins and 1470 meters/1608 yards to make.
The swatch took quite a bit of time to make using 3 mm/US 2.5 and a 25 stitches in stockinette per 10 cm/4″ square gauge, so I knew I had to ask turbo knitter Grete to help me, since I was still knitting Gocce. Grete suggested 2 central rope cables instead of just one and I had thought about it so I did. The cross back became wider than I had planned and the merino yarn has less bounce than I am used to from the pelt wool.
Aife was the Queen of the Isle of Shadow according to Celtic mythology. This elaborate cabled pullover with a slightly fitted waist, is made for a female warrior. A large cable panel, created by Devorgilla, is mirrored with two small cables at the center. The sweater ends in a generous turtle neck in ribbing. To show off the stunning hand dyed Pure Sport yarn by Dye Dye Done, the sleeves are in stockinette stitch with only two small centered cables. Aife is knitted in pieces for the ultimate fit.
Coming soon on my blog is news about an upcoming Norwegian book I am taking part in.