I am so delighted to show you Ronelle's Leylak, which she test knitted for me in size Large using Filatura di Crosa, Zara (Print Melange). A friend of hers took these brilliant photos of Ronelle wearing the Leylak jacket in her home town of Sulmona, Abruzzi in Italy. Ronelle modified the jacket by making the front neck less deep, made the button band wider as her buttons were larger and adjusted the cable pattern so that the cable crossing would not be interfered by the shaping. On her Ravelry project page – where she is charme – you can see even more photos of this stunning version together with the hat she made of the yarn she had left over! Ronelle has knitted so many of my designs, I am honoured to say! Thank you so much, Ronelle!
Here is a side view of Ronelle's Leylak, that shows off the ribbing in the side as well as a bit of the sidewing. The cardigan is worked back and forth in separate pieces and seamed. The asymmetric lower body has extra width in each side – sidewing – that is bound off. Each front has 3 cm/1.25" extra width at center front that is bound off at the same time as the wing, then joined with the buttonband at the end. Due to the asymmetrical cable pattern the number of purl stitches in the side ribbing varies from back to front.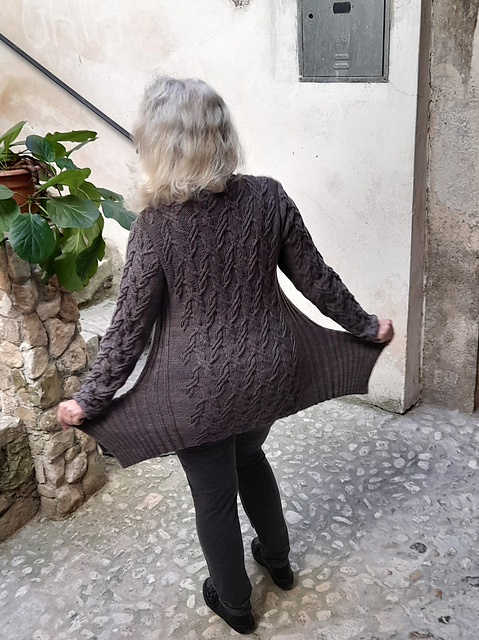 Named after the Turkish leylak, the lilac tree, is this flowery cabled a-line cardigan with sidewings. The delicate cables, by Norah Gaughan, reminiscent of the lilac blossoms adorn the fronts, the back and the sleeves. Leylak ends in reverse stockinette stitch in a deep round neckline with a double neck- and buttonband. The jacket is knitted in the divine hand dyed Walk Collection Merino DK yarn, in pieces and seamed for the ultimate fit. To crown Leylak, make the cowl to act as a collar in excess yarn held together with the stunning Kid Mohair Lace.
Leylak is available in sizes XS to 5XL with a bust circumference of 82 to 156 cm/32.25 to 61.5″ and knits to a DK yarn gauge of 22 stitches and 30 rows in stockinette stitch using a 4 mm/US 6 needle measuring 10 cm/4″ square. The pattern is available in both English and Norwegian in my Ravelry store and on LoveCrafts. A yarn kit, without the pattern, is available from Walk Collection.