Finally, the last of the new designs for now; my Kaibara photographed by Michael on me. Do notice the sailboat and the duck, I had to wait for them to both be in the frame, so I hope you appreciate the effort we made. Kaibara is knitted by yours truly in a fantastic silk made in the city of Como in Italy, that squeaks while you knit, first discovered at The Handweavers Studio & Gallery in London and ordered in the colour Poppy Red. The Como Silk 4.5nm can be bought on either 25 gram reels or 100 gram spools with 80 meters/87 yards or 350 meters/383 yards.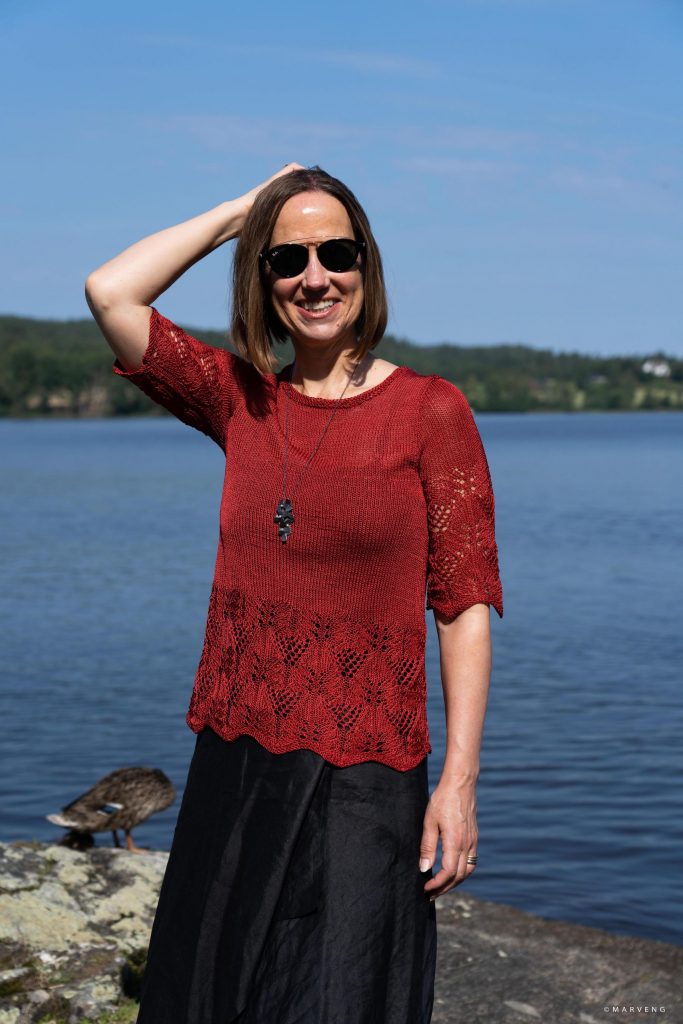 Named after Kaibara Ekken the father of botany in Japan is this flowery lace adorned A-line pullover with short sleeves. To allow the lace pattern to shine, the remaining pullover is worked in stockinette stitch. The pullover is knitted in pieces then seamed, for the ultimate fit, in the drapey and lustrous Como Silk from Handweavers Studio. Kaibara is made to be worn on a perfect summer's day or at a party.
I am wearing size XS with a bust circumference of 82 cm/32.25″ with negative ease: 6 cm/2.25″ and as you can see the duck is no longer interested. That was not my plan, but my swatch did not match my stockinette stitch gauge on the sample. Hence my planned size S sample became a small size XS sample and fitted my modell Olivia Lindtein even better.
The Kaibara pullover is worked back and forth in pieces from bottom up and seamed. The lace repeat is the same for all sizes but not the number of reverse stocking stitch in between the lace panels; 2 for some sizes and 4 for other sizes. I have graded Kaibara from size XS to 5XL with a bust circumference of 82 to 166 cm/32.25 to 65.25″ and suggest a positive ease of 5-10 cm/2-4″.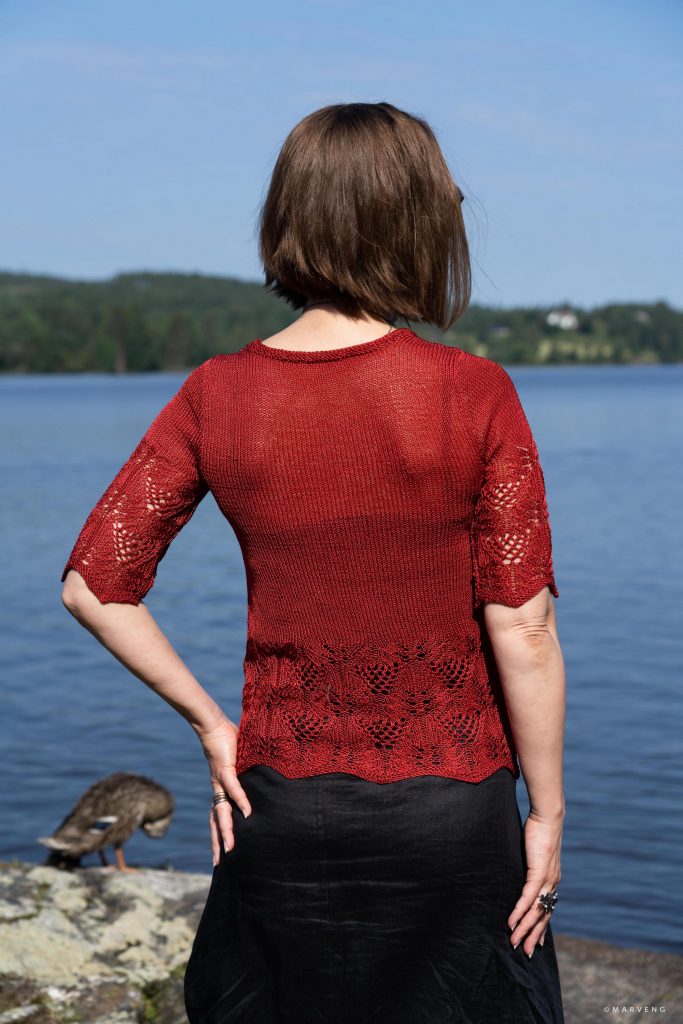 I knitted Kaibara using a 3.25 mm/US 3 needle with a 23 stitches and 34 rows gauge in stockinette stitch and used 4 spools of the yarn for size XS.
Here is a detail of the lace pattern which is the same on the body as on the sleeves. My beautiful oxidised silver necklace and ring are made by Kaja Gjedebo Design, just in case you were wondering. Kaibara will be test knitted beginning on May 3, before its release in both English and Norwegian.
I look forward to showing you the brilliant photos that Eivind Røhne took of Olivia Lindtein wearing it at our photoshoot last November.