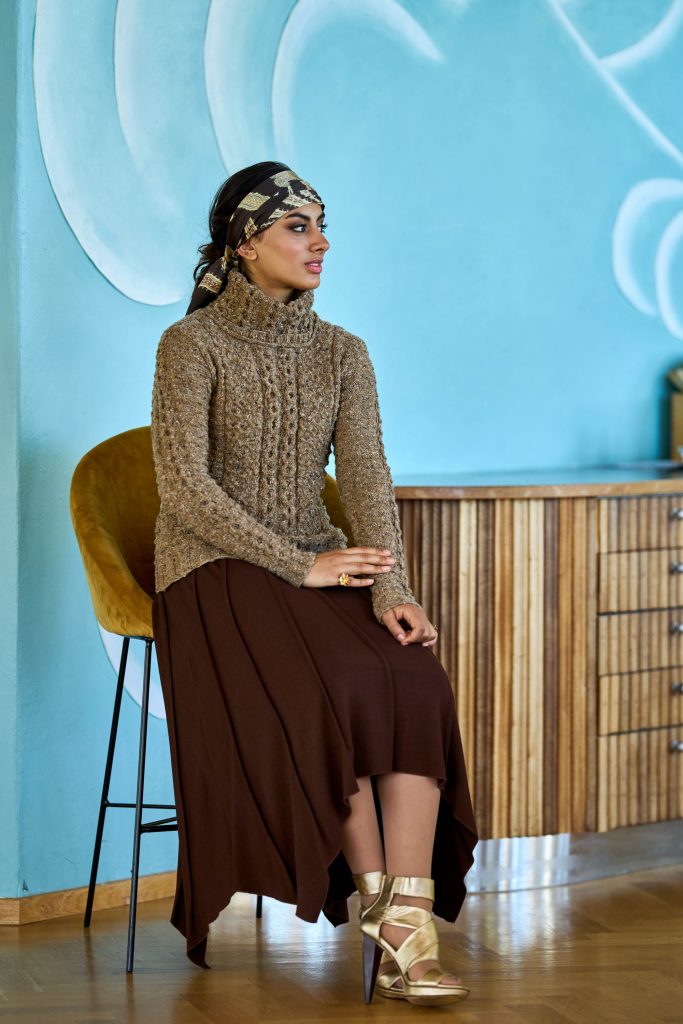 The next set of photos from our photoshoot that I will share are of the fitted pullover Saxi with a cowl. Brilliant Photographer Eivind Røhne took these photos of the gorgeous model Aksa Mortensen, with make-up & hair by Nina Hjertaas Bull and jewellery by Kaja Gjedebo Design, wearing the tweed pullover together with a brown skirt at our photoshoot at at Hvalstrand Bad, back in May. I also brought a matching silk scarf that I wanted Aksa to wear together with Saxi. The high heeled gold shoes were initially bought for styling my Norwegian knitting book back in 2011. The Art Deco cupboard together with a Bar chair – Michael's clever idea – turned out to be the perfect backdrop for it. Above you see the cowl folded in half and on the inside of the pullover neckband. Nina first folded the silk scarf around Aksa's head.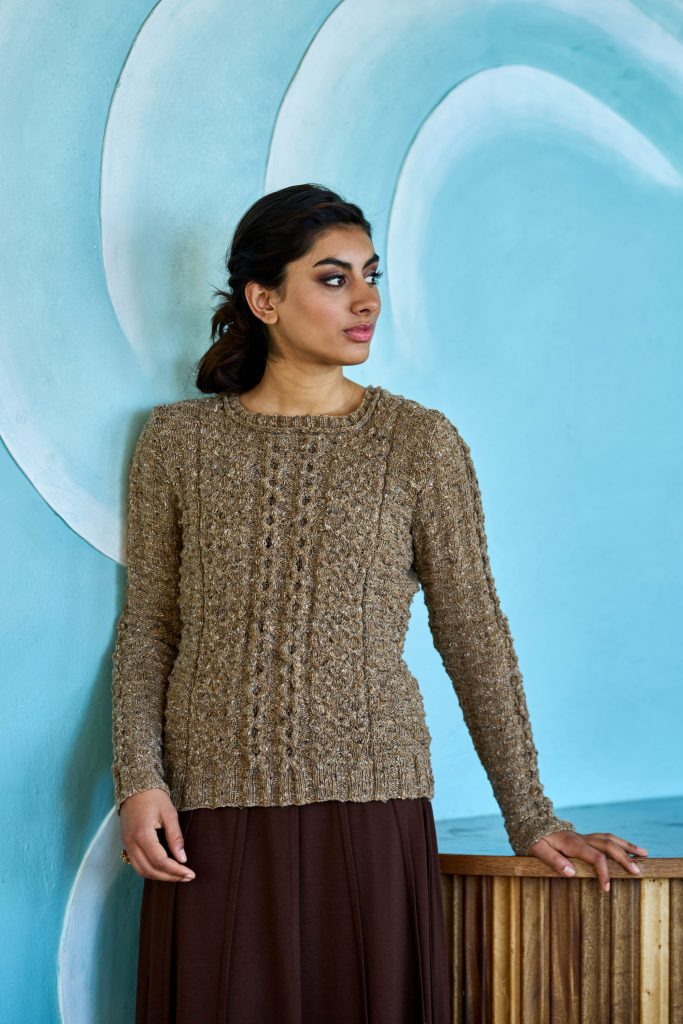 Saxi is knitted in Donegal Yarns, Donegal Tweed (also called Soft Donegal) 3.8/1nm from The Handweavers  Studio in London, by yours truly. The pullover is knitted in pieces and seamed, while the cowl is worked in the round, using a 3.25 mm/US 3 needle and a 24 stitches and 34 rows gauge.
Saxi is a fitted cabled pullover that ends in an I-cord crown around the crew neckline. The play of texture begins with the round cable shape mirrored in the honeycomb pattern and continues with purl bands in all the stitch patterns. The squareness of the check pattern offers a contrast to the cable and ends the texture in the side of the pullover. Named Saxi after the Saxon in Norse is this sweater knitted in the Donegal Tweed yarn. A cowl crowns the pullover and can be worn folded as a high collar or as a headband.
The neckband is worked in the round. Stitches are picked up and knitted from the first round of the neckband for the I-cord bind off decoration.
Aksa is wearing the sample, in size Small, with a bust circumference of 92 cm/36.25″ with 6 cm/2.25″ positive ease.
The pattern will be available in sizes XS to 5XL, with a bust circumference of 85 to 159 cm/33.5 to 62.5″.
In the photo above you see the cowl standing tall and worn outside the pullover, while below it is worn around the head as a headband or crown if you prefer. The last was another of Michael's clever ideas! I love how regal it looked and how stunning Aksa appeared in the pullover! I do have the best photoshoot crew!
The test knit will begin on the 23rd of August, as the first of my new designs to be test knitted this Autumn. The English and the Norwegian pattern will be released after the test knit is completed.