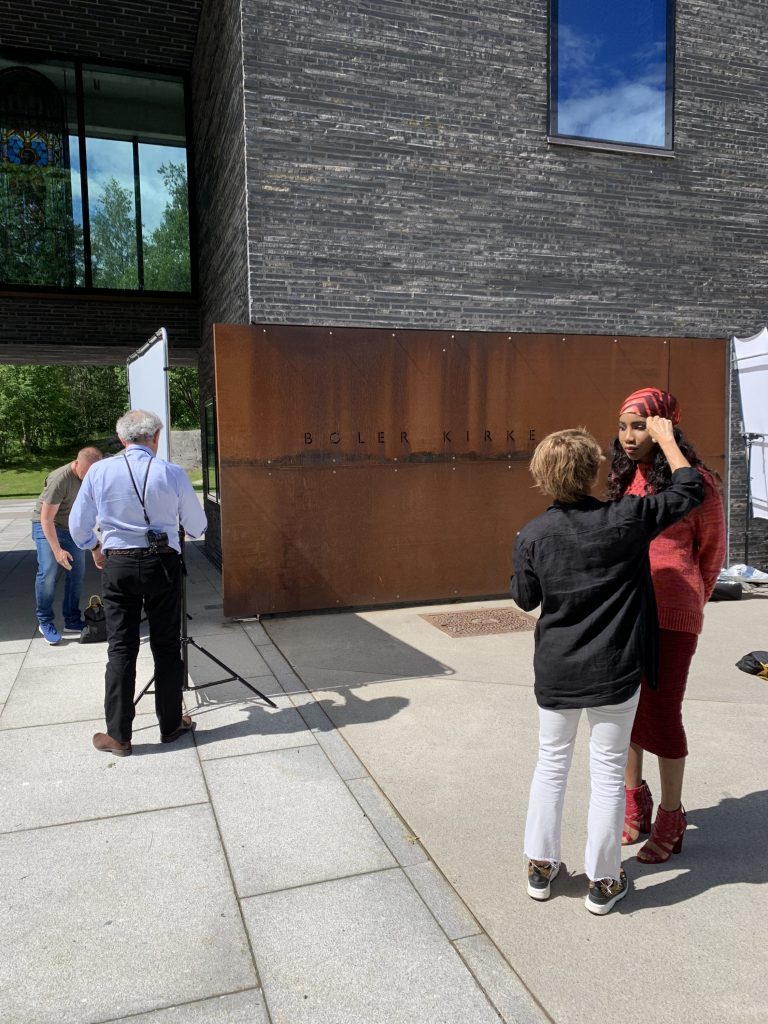 Last Monday I had a photoshoot at Bøler Church in Oslo with my brilliant team: Photographer Eivind Røhne, Make-up & Hair Stylist Janne Skarpeid Hermansen, Model Emmalin Williams and Assisting Photographer Michael. This is the third time we are back in the church, as it is such a fantastic venue. Emmalin is a new model, that I discovered in the high-end clothes shop Vincci, where she works part-time while studying Marketing. I worked with Janne back in 2014. We were photographing 7 new designs: 4 made for Hillesvåg Ullvarefabrikk and 3 for self publishing as well as 2 old designs; Conic Coat and Lyre Bolero. It was a wonderful day, despite the fact that the pre-ordered lunch from Eckers Cafe was not delivered – as they had sold out of most of the ingredients during the weekend… So Michael did a food run to the local supermarket instead. Above you see Eivind setting up sun screens with Michael helping him, while Janne is doing the last finishes on Emmalin wearing one of the new designs.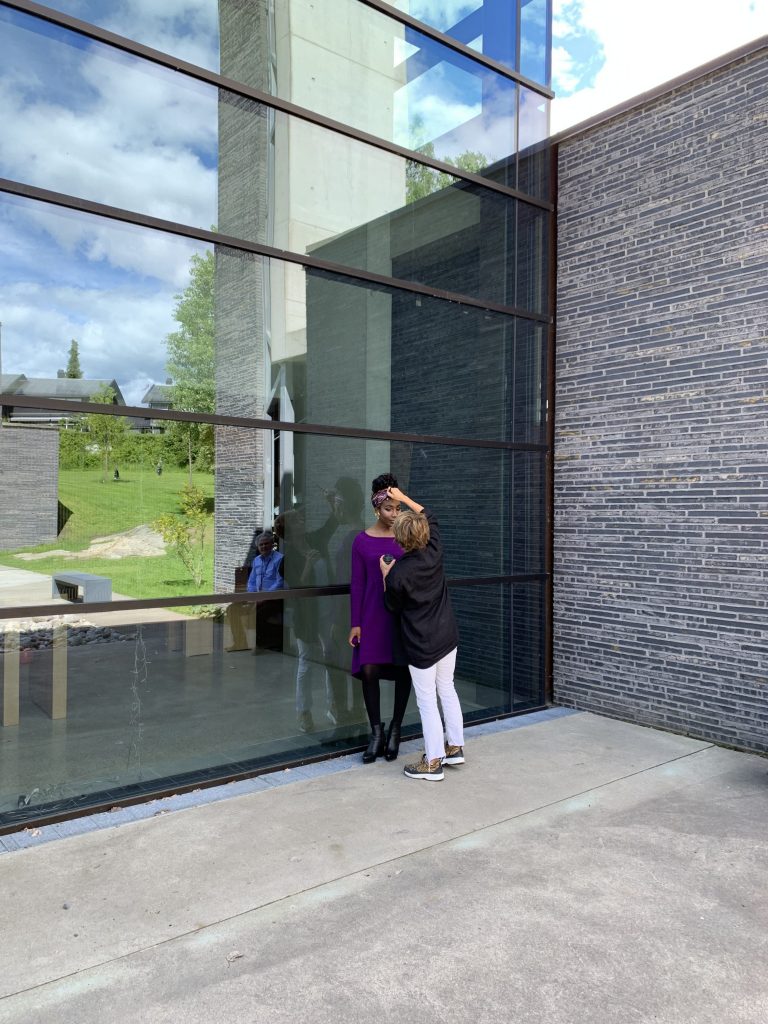 I knew the three backdrops I wanted to use, as I have used them before: the concrete columns in the lobby (see below), outside in the corner with the reflective window (see above) and the rusty cor-ten wall panel – the entry gate to the church (see top). The weather has been very unpredictable the last few days with scattered showers – so typical of London really, not Oslo – but it stayed dry until we were nearly finished. Emmalin is wearing the new seamless dress Armas made for Hillesvåg Ullvarefabrikk, in Ask, above and you can spot Michael in the window as well as the surroundings at Bøler.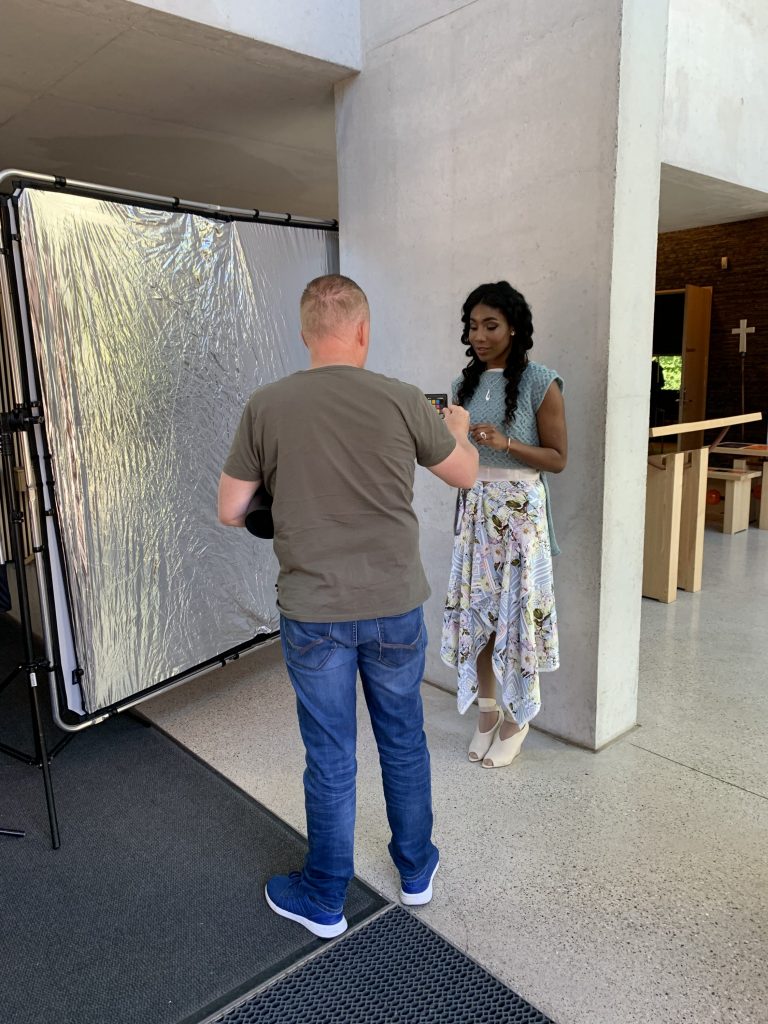 For the first time I had bought some fabrics to match a couple of the designs and I choose to use one of them pinned together into a skirt with a waterfall front. It is a thick viscose with a Japanese print found at Rainbow Fashion in Oslo. The high low sleeveless sweater Emmalin is wearing is another new design for Hillesvåg Ullvarefabrikk. You will probably recognise the jewellery as it is borrowed from Kaja Gjedebo Design. Back in May 2020 when we photographed in Bøler Church Kaja joined us – as she lives nearby – but this time she was away.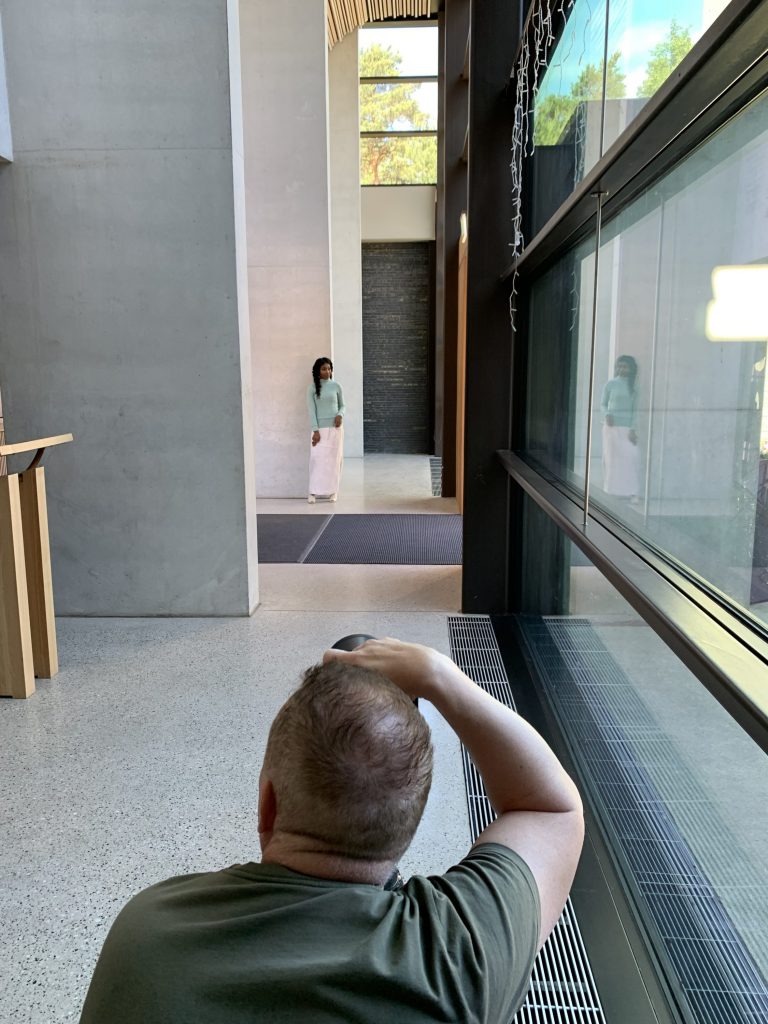 I wanted to show you the impressive scale of this room so here is another picture of Eivind in action photographing Emmalin wearing the third new design for Hillesvåg Ullvarefabrikk. Janne asked if I had some favourite hair styles for Emmalin so I did a quick search online and showed her. That was great fun to see Janne's interpretations of them!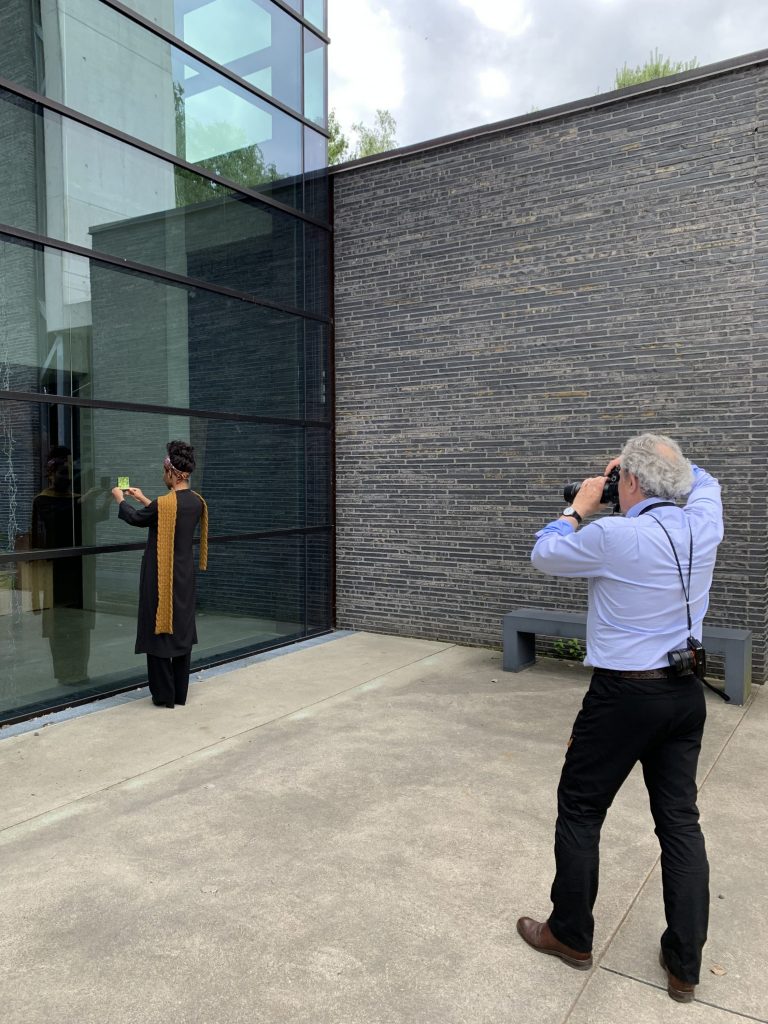 Finally I will share a photo of one of the accessories – a scarf made in Får by Woolfolk Yarn – and Michael photographing Emmalin while Eivind was busy moving his gear to the next location. Emmalin is used to being photographed for Vincci's instagram account and worked like a pro all day! I had a blast seeing my designs on the gorgeous Emmalin instead of just myself! We had a marvellous day! Thank you! Now, I am trying to choose photos from Eivind's selection and trying to finish those patterns…