The time has come to show you the new designs I have been working out, first out is the tunic Genki and the scarf Boann, both knitted in the divine Neighborhood Fiber Co. Capital Luxury Sport in the hand dyed shade Bromo. I loved the plissé stitch pattern as soon as I discovered it and knew I had to use it for a tunic design. To show off the pattern I decided to make bell sleeves too. I had left over yarn and made a scarf Boann instead of a large collar on the tunic. The yarn was generously donated by Neighborhood Fiber Co. and I had help from one of my patrons to ship it from the US to me in Norway.
Michael has photographed me wearing Genki and Boann in the forest outside of our back garden in Ørje. I wore the tunic with a Wolford tube dress under.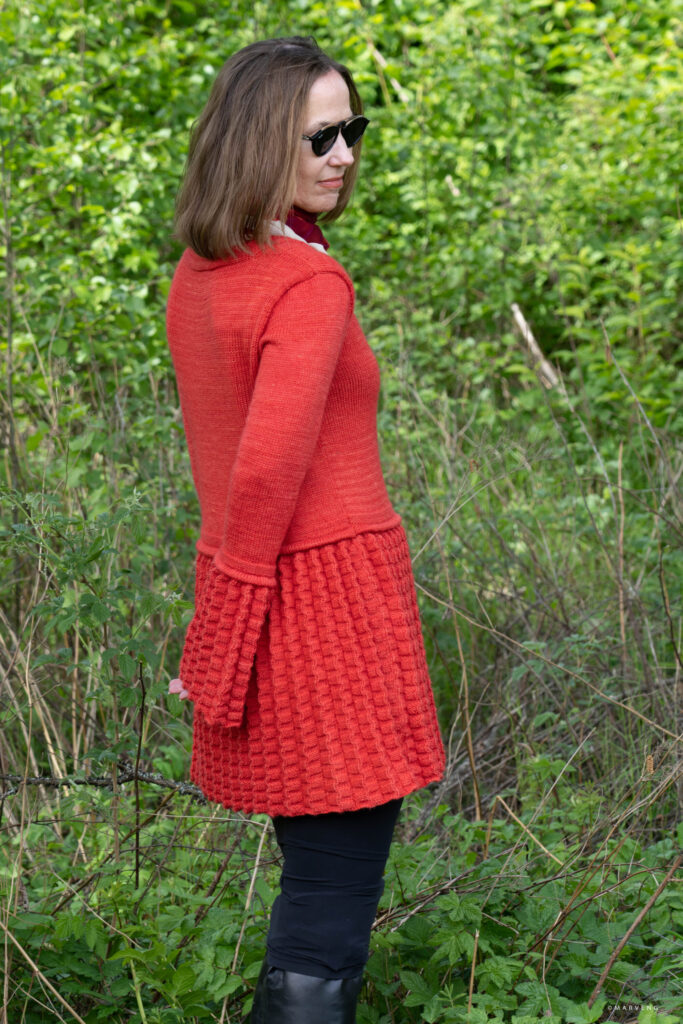 I have knitted both – the tunic in size S (92 cm/36.25″ bust circumference) and the scarf in one size – using a 3.25 mm/US 5 needle with a 24 stitches and 32 rows in stockinette stitch gauge measuring 10 cm/4″ square. Genki will be graded into sizes XS to 5XL.
The tunic is worked in pieces and seamed for the best possible fit on the body. I have worked the tuck that divides the patterns with two circular needles held together, where one is used as a holder so that you do not need to pick up stitches to close it when it is completed.
The neckband is worked in the round, while the rest of Genki is worked flat. Above you see me folding the Boann scarf into a huge collar, as I like wearing it. And below you see me holding it to wear it over a black long jacket.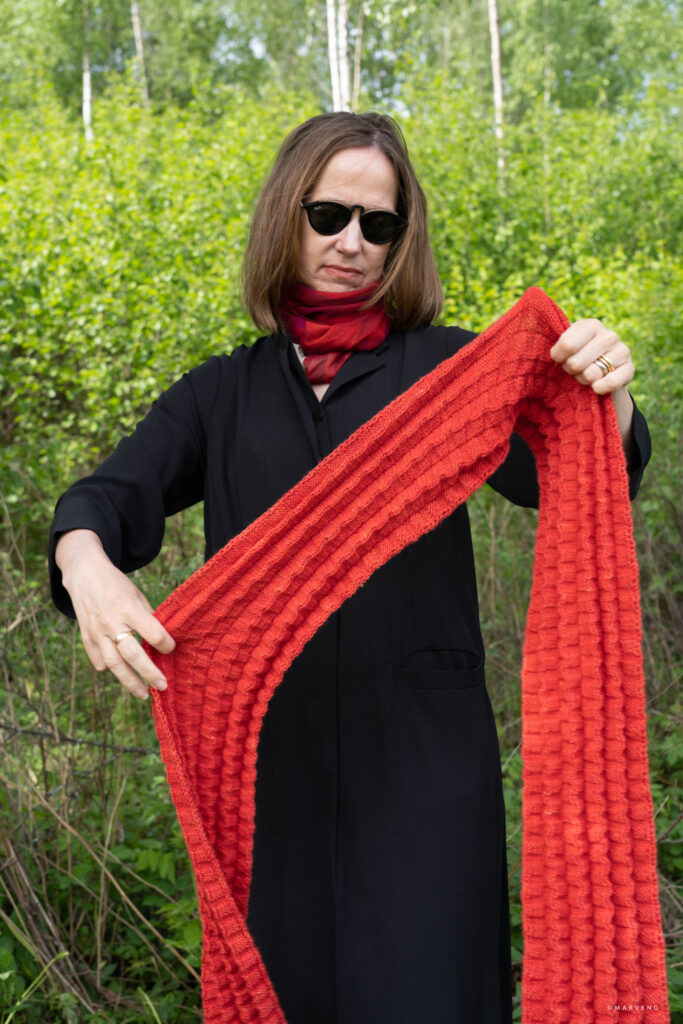 The set looked magnificent on model Emmalin Williams and I look forward to showing it to you. In the meantime I will finish grading the Genki pattern, send it off to my technical editor and plan when to have it test knitted in my Ravelry Group. The shade is being discontinued so if you adore it, I suggest you head for the Neighborhood Fiber Co's website – last-call – and secure some, while you can. For your info I used 8 skeins for the tunic (in size S) and 2 skeins for the scarf.