My book 'To rett en vrang. Designstrikk'  is out at the Gift & Interior Trade Show at Lillestrøm, just outside of Oslo, showcasing nearly 400 exhibitors, ending tomorrow Sunday 29th January. The topic of this season's  fair is 'Forandring' meaning change, referring to the colours of the season S/S -12 reflecting the opposite sides of innovation and new creation according to trend analysts. If you are there you will find a display copy at BC Garn stand Hall B02-41, together with yarn for 3 of the garments. I was way too busy talking and checking out their new yarns to take a photo of their stand! See www.bcgarn.com
Here is the Trend Zone, established last year in a co-operation with the PEJ gruppen – Scandinavia's leading trend bureau, consisting of an exciting trend book shop with free samples of the Pantone yarn colours of season S/S 2012, and numerous seminars free of charge, found in Hall E.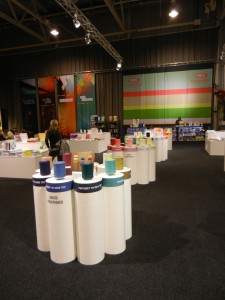 Du Store Alpakka stand, launching their new line of luxurious yarns called Dreamline, a new concept where 3 super fine yarns can be combined or used on their own supplemented by a new magazine, found in Hall B01-37, see www.dustorealpakka.com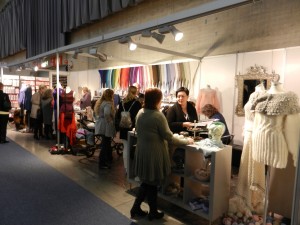 Trendy in Knit – Fashion Show, a collaboration between Filati, PT, Sandnes Garn, Dale Garn, Viking Garn, Modeknappen, Coats/Rowan and Carl Permin is shown daily at 12.30 in Hall B. I was impressed by this dress designed by Rauma, found in Hall B03-52, see www.raumaull.no, and Tine Solheim's collection for Dale, found in Hall B01-38, and her chic styling, see www.dalegarn.com.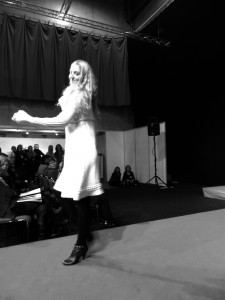 One of many fashionable Jewellery stands, here Swedish 'Snö' well known for their affordable, but unique products using natural materials, found in Hall B02-26, see www.snoofsweden.com.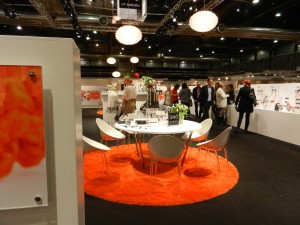 My favourite stand is Tinde, designed by Iselin Hafseld, a Norwegian Knitwear Designer which inspire me no end. Do visit the stand at B04-10 if you can! The great posters are photographed by Kim Müller. See www.knits.no