I like the look of these geometrical formed flats against the sky at Aker Brygge/Wharf in Oslo, photographed yesterday in -15°C / 5°F.
I wanted to show you the steps by the water, I chose as a background for some of my knitted garments, for my newly published knitting book available in Norwegian 'To rett en vrang. Designstrikk' and their surroundings with a touch of snow. The strong wind has made it look quite like it is dabbed on, especially on the bush, I think!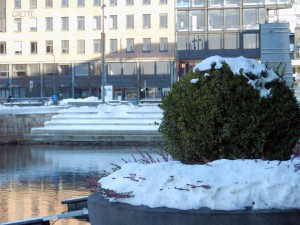 This is how the steps looked like in early September. Here is Kari-Anne Næssø wearing Snood with Cables knitted in Berroco Ultra Alpaca Fine held double using a 4 mm/US 6 needle. The snood also looks great worn twice around the neck!
Aker Brygge was my first workplace after finishing college and its location by the fjord makes it special! It is still, 20 years later, being extended further. This photo of Kari-Anne is taken outside the popular restaurant Bølgen & Moi at Tjuvholmen, well-worth testing see www.bolgenogmoi.no. When we took our lunch break, Kari-Anne was the only one dressed for the part in full make-up, hair beautifully pinned into a bun and wearing styled clothes. Here she is wearing the Japanese Vest pinned together, knitted in Huldra Kamgarn by Hifa see www.ull.no and my post on swatches from 16th. December 2011.
Next week I will invite all of you that are interested in knitting and in the Oslo area to the book launch…