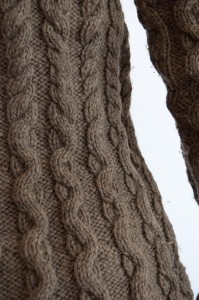 What are my favourite yarns? What are yours? Why is it a favourite and how did you discover it? Most knitters will agree that stunning colours is a key ingridient. Equally important to me is the stitch definition the yarn gives, in other words how visible or clear any stitch pattern is when you knit with it. Some yarn finds are my own, while others are through recommendations by designers, knitting shops, friends on or off any social media. Mostly Merino was a recommendation by American designer Teva Durham who uses it for the design "Riding Jacket" from her first book "Loop-d-loop". Here is a detail of my version of it knitted in Worsted Mostly Merino in the colour Stone.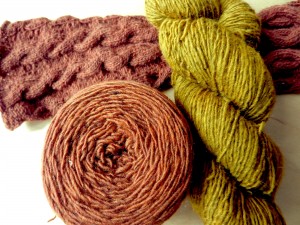 I was captivated by the travelling cables on this excellently fitted jacket and how well the stand out (read: pop out) of the reverse stocking stitch background. Mostly Merino is just that with 77 % merino/fine wool and 23% mohair  "from my sheep flock and other New England small farm flocks, and fine Western US wool. These exceptional raw materials are custom spun at the Green Mountain Spinnery to create a natural light gray color yarn in both light-sport and worsted weights." writes Margaret Wilson on her website mostlymerino. I do love light weight garments because then I can wear several layers and because they take less space in my wardrobe. Even Mostly Merino Worsted feels lightweight due to its generous 114m/125 yds per 55g/2 oz and knits on a 5.5mm/US 9. During my stash dive I found these spare balls in Cinnabar, orange, and Pansy. I started knitting the Riding Jacket sleeves in Light sport weight but realised I did not have enough yarn and made them into long wrist warmers.
"My color palette is of my own design, inspired both by nature, the Vermont landscape and memory. Each dye lot is individually blended, each yarn order hand-dyed" writes Margaret Wilson about her 29 different colours. I chose October, red, for the "Aran Bolero" on the front cover of my book, Granite, grey, for the "Cropped Folded Cardigan" at the back cover and Pansy, mustard, for the "Aran Cuffs" pictured above. All in the Light Sportweight which is 228m/250 yds per 55g/2 oz and knits on a 3mm/US 2.5. It is my favourite yarn especially for knitting cables and one that I always will save up for so I can order more directly from Margaret by e-mailing her. What is your favourite yarn? More of my favourites will follow when my stash and all our other belongings reach us by the end of the month.