We are moving in on Tuesday. In the glorious summer weather, before the rain came last weekend, we have been assembling furniture and planning the interior design. I am so thrilled with the view, it is such a treat to see the horizon after so many years in London without it. Here are my photos taken on Thursday. Below is the view from the terrace, the garden we share with the family living in the flat upstairs.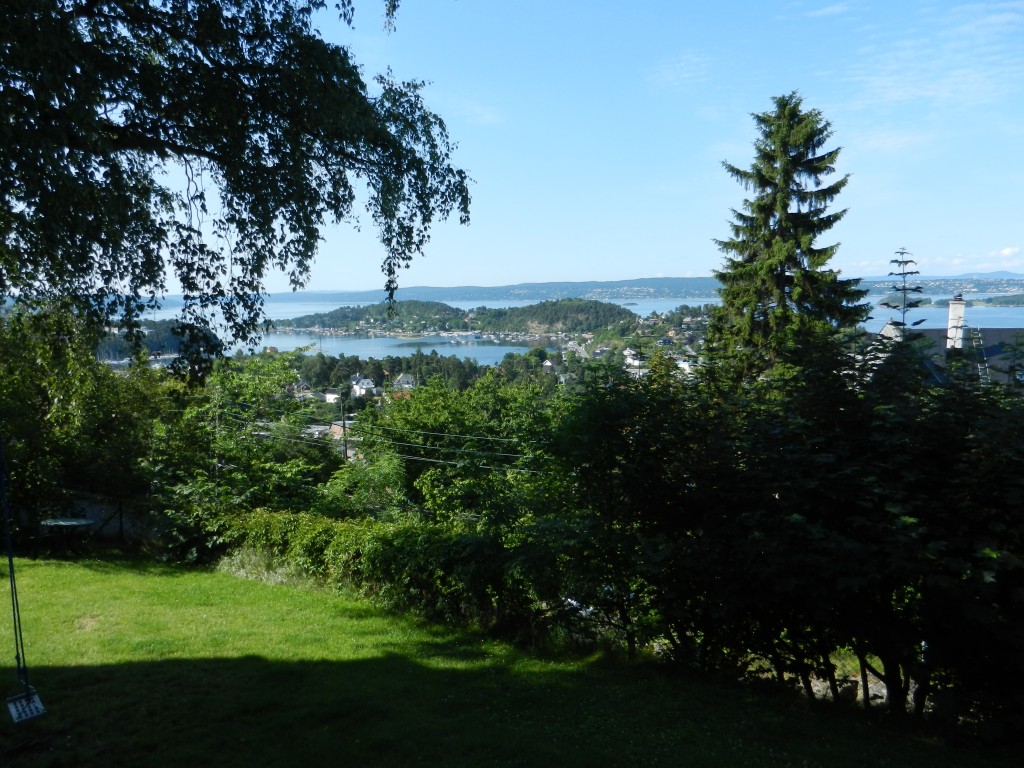 The kitchen, main bedroom and living room are all facing the same fabulous view. I have invested in a new waffle maker – not a huge surprise really, I know – but it is a double one and you can see it in the corner of the photo below.
The original maid's room, according to the architect Arne Korsmo's original drawings accessed at the Agency for Planning and Building Services see my post we-are-moving, will be our office since the second bedroom has a heater strategically placed under the window. I also love this scenic view which makes me feel I am in the countryside and not in the capital of Norway. Not that Oslo is a large capital with its 610 000 inhabitants but it is spacious and the city centre itself is easily accessed within walking distance.
If you are wondering whether all these islands I can see are part of the city, here is the answer from Wikipedia: "Oslo occupies an arc of land at the northernmost end of the Oslo fjord. The fjord, which is nearly bisected by the Nesodden peninsula opposite Oslo, lies to the south; in all other directions Oslo is surrounded by green hills and mountains. There are 40 islands within the city limits, the largest being Malmøya (0.56 km2/0.22 sq mi), and scores more around the Oslo fjord." Continues on wiki/Oslo.
The delivery van driver actually believed our address was located on Malmøya and not on Bekkelaget and luckily I was able to rectify it. Both my husband and I were extremely impressed that the delivery van driver used the very narrow drive-way, built for the smaller cars made in the 1940's without wrecking the fence! We both believed only a tiny electric car could make it and dared my brother to try it since he drives a wide Mercedes estate and could not resist this challenge but he is on holiday at the moment so we have to wait for his assessment. In the mean time we are parking near by afraid to damage a borrowed car. It means a bit of extra exercise for us both and do us no harm!