Even the second time around, trying to enter the exhibition at the Kunstindustri Museet/The Museum of Decorative Arts and Design, felt like a mission because the security staff at the reception desk was not aware of its recent opening. Not unlike the pop up shop it was well worth seeing and if you were there when I was there you would have seen me awestruck by several creations and garment stories told by prominent designers. One of the new upcoming designers whose name I have just learnt is Mari Vaagen, a 2012 graduate from KHiO/Oslo National Academy of the Arts, already presented in Vogue Italia and at the "Fashion – a development industry in Norway" seminar which I attended on Thursday. Take a look at the jacket to the left in the photo above and even more fascinating is the back of it, see below. Here are more stunning photos: vogue.it/designavgang-2012-oslo.
Vaagan's lambskin jacket "Salt" is inspired by the Norwegian wild sheep bred and the rough coast climate where these sheep live according to the designer. It is made by a fur technical seam, while details and texture are created by felting, tying and shaving of the fibres. You will find more of her creations on marimagi.
A jaw dropping jacket by Nina Skarra – another international sensation do look at: ninaskarra, hat by Cathrine Hammell – known for her contemporary basics well stocked in my wardrobe, see cathrinehammel, shorts by Vera & William – luxurious underwear, see verawilliam. Not all designers, established and upcoming ones, were presented by their garments but told a story of their favourite knitted garment.  Norway's most acknowledged designer, Per Spook – the only one who used to have his own fashion house in Paris – presented his old traditional jacket he inherited and still carry in his back pack when he is trekking.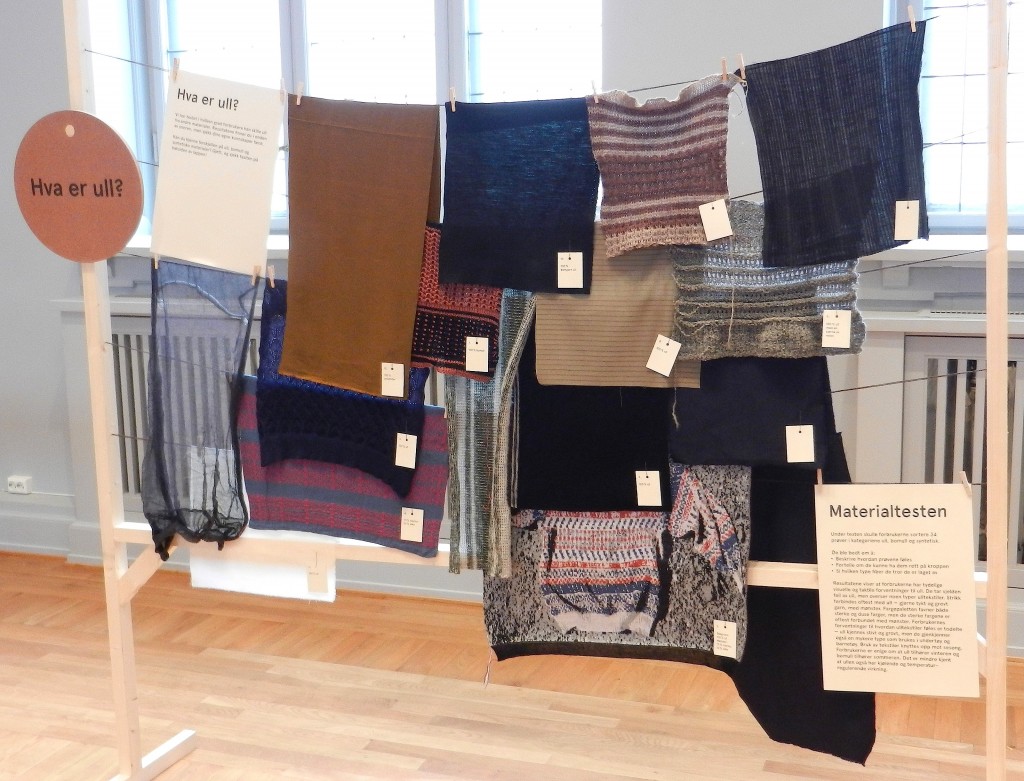 Test yourself, "what is wool?" the sign says and encourage you to feel each sample and guess the fabric. A good lesson because I could not distinguish between all the different types of wool or blends. Several yarn producers were presented as well including my Norwegian favourite Hillesvåg Ullvarefabrikk who has just introduced a new yarn called Norwegian Furwool yarn – yes, there is actually a sheep breed called Norwegian Fur who mainly supply fur skin producers – until now, that is! I have received samples and I am ever so happy to test it out and will let you know my progress…