The new spring course catalogue from Oslo Fylkeshusflidslag/County craft association is out, available to members and at Husfliden – the craft store in Oslo, see dennorskehusfliden. I am in it, since I am offering a weekend workshop Saturday 9. and Sunday 10. of February in Fairisle and Finishing Technique – for the first time in Norwegian and not English – at Slemdal School, organised by Vestre Aker Husflidslag, see husflid. It will not come as a surprise to you that the request came from the Study Leader herself, Marthe Sveen Edvardsen, whom I met at the knit cafe at Gyldendal, see marveng-puckett. She is also offering a course in Knitting & Creative Redesign and suggested the striking cover with yarn bombing, or the more popular term guerrilla knitting. If you are local and interested I suggest you get hold of a catalogue with 42 different courses to chose from, in addition to listing all the different events available completely in line with the cover text: More than you think!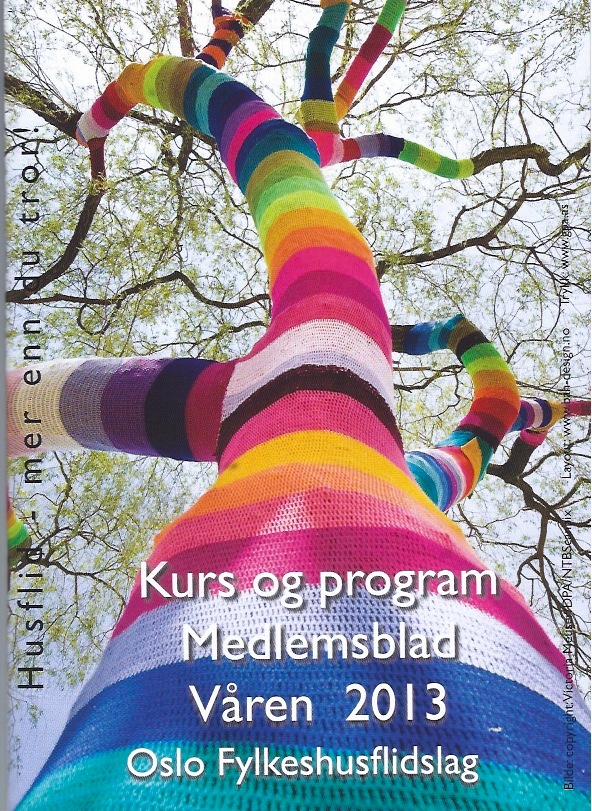 The agenda for my workshop is as follows: Day 1: Fairisle:  You will learn how to knit in the round, how to work with several colours simultaneously using both the English and the Continental way of knitting, what steeking is; and why you would want to cut into your knitting. To summarise the techniques you will learn are:
Long tail Cast on
Continental or German Method of Knitting
Circular Knitting on circular needles, double pointed needles and the Magic Loop.
Fair Isle: working with two colours simultaneously.
Stranding and Weaving of yarn
Reading Graphs
Swiss Darning: how to add further colours or correct mistakes.
Adapting patterns to circular knitting
Norwegian Steeking Technique: cutting armholes and necklines.
Day 2: Finishing: The most difficult part of knitting a garment is generally agreed to be the finishing. Professional Finishing will teach you to block, sew up neatly, how to make buttonholes, sew in zippers and lining plus give you shortcuts and tips. After a short introduction, you will also learn:
How to Sew in Ends.
Adjusting and easing in sleeves.
Picking up stitches.
Shortcuts such as: Weaving in Ends, Sewing up in parts and knitting sleeves simultaneously.
Do Short Row Shaping
3 Needle Cast Off
Lightly felt your wool garment.
Shape and sew up using a Sewing Machine.
The workshop is available both to members and non-members and you sign on by contacting Oslo Husflidslag or fill in the form in the catalogue, more details in Norwegian here: husflid. There are 10 spaces available and I am excited to see how they fill. I will also be offering this workshop in Larvik, organised by Larvik Husflidslag, see larvikhusflidslag, in April in addition to a weekend workshop in Lace Knitting in February. I will keep you posted.