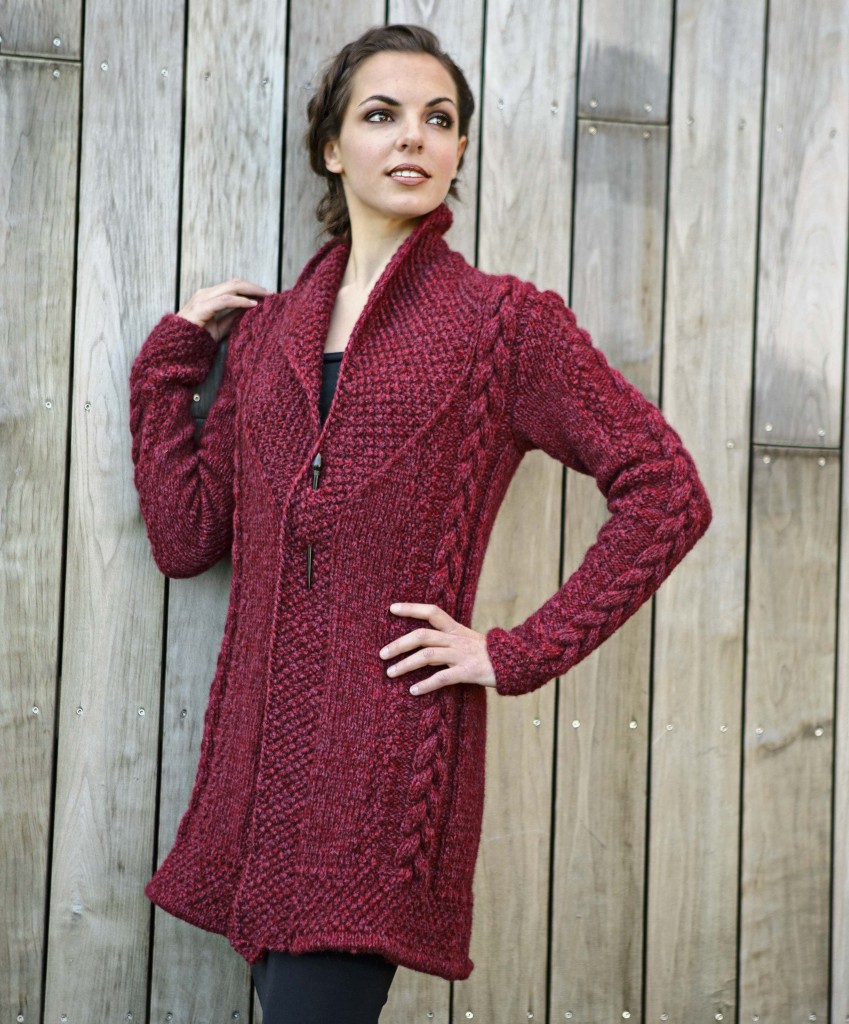 I know some of you have been waiting to see this coat finished, and I am proud to present my Carla Coat: My Carla Shoes in wine by Monica Stålvang needed a coat to accompany them on an evening out. However, the shoes demanded quite a bit of drama to make the coat as stunning as the shoes. Norsk Pelsull/Pelt wool by Hifa in burgundy with its lustre was my first choice, but more volume and texture was necessary so combining it with Rowan Lima created the perfect texture and a rich color. Ideal for a voluptuous braid framed by reverse stocking stitch and double seed stitch. The coat is crowned by a large shawl collar in double seed stitch. Brilliantly captured by photographer Kim Müller, stunningly worn by dancer Francesca Golfetto, excellent hair & make up by Line Sekkingstad. The Norwegian pattern will be published in Familiens Strikkebok in late August, while the English pattern will be released in my Ravelry Store after test knitting in my group.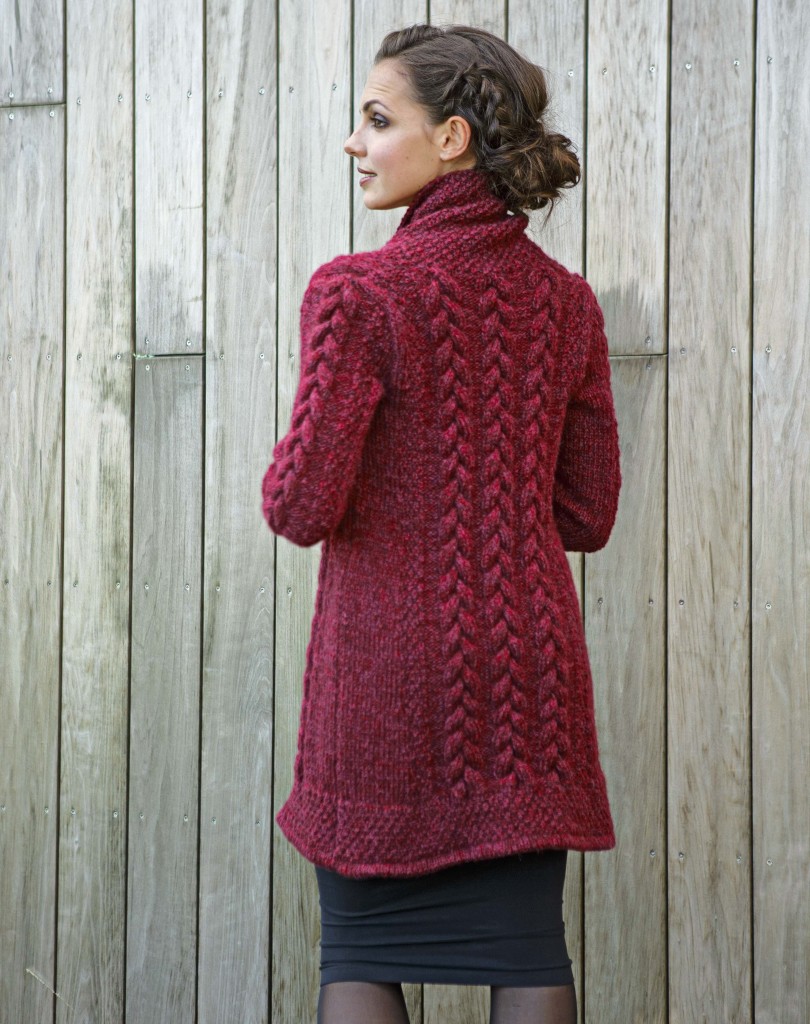 The coat is knitted using 5.5 mm/US 9 to a gauge similar to a chunky yarn (12 ply) with 14 stitches and 22 rows in stockinette stitch measuring 10 cm/4″ square. But it does feel denser and also lighter in weight since I have combined two thinner yarns; one Worsted/10 ply (Lima) and one DK/8 ply (Norsk Pelsull). The density makes the braid pop out and the coat to keep its shape. As well as giving a brilliant stitch definition, which I adore! The Carla Coat pattern will be available in sizes S to 2XL, with bust circumferences of 92 to 126 cm/36.25 to 49.5″ excluding collar width to v-neck of 7 cm/2.75″.
The body of the coat is knitted flat, while the sleeves are worked in the round. The a-line shaping is done in stockinette stitch. Each cable has been gathered to keep its texture to the end. The shawl collar is picked up and shaped by short rows. I had initially planned for it to end in an i-cord bind off, but it pulled the collar out of shape, so I abandoned that idea. I decided that a bind off in pattern would have to suffice. You are however welcome to chose a different solution. I was running out of time for the photo shoot…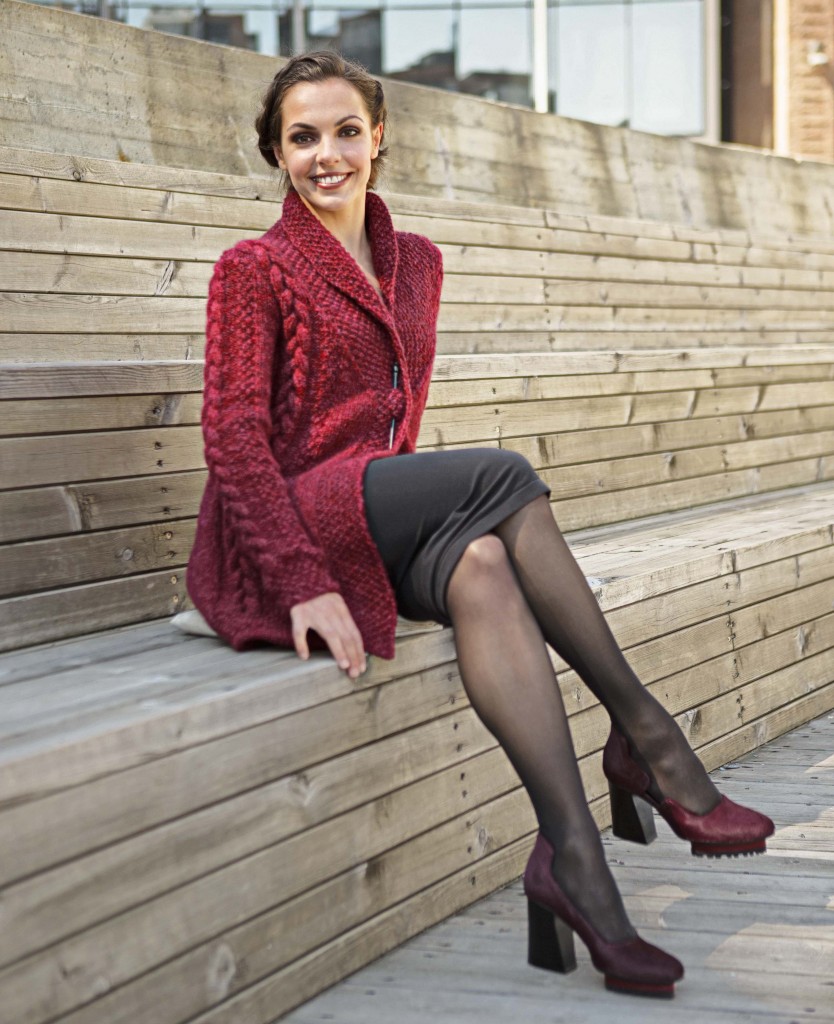 We obviously had to take a number of photos where the fabulous Carla shoes were included and here is my favorite among those.