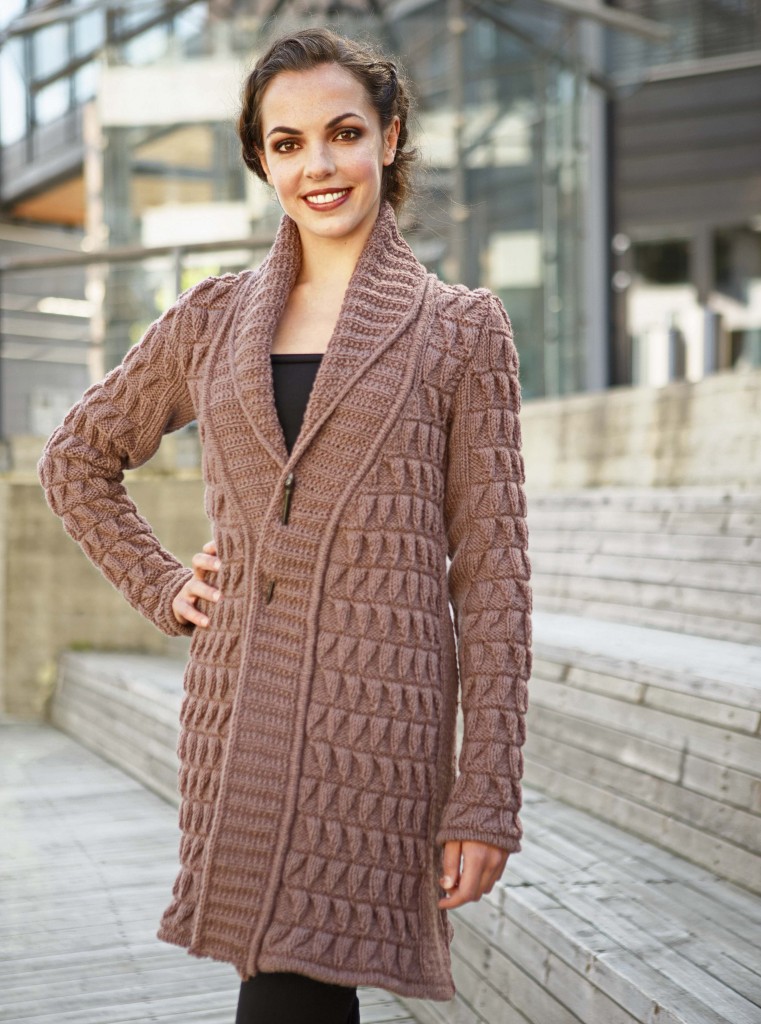 The triangles and blocks stitch pattern by Lynne Barr, creates shadows and a dense texture perfect for a long a-line coat with a soft and generous shawl collar, a seeded rib pattern, and a clever tuck. I have achieved my goal of designing a coat with architectonic elements you want to knit and wear. At least I do hope so. The Conic Coat first planned for Brooklyn Tweed has been knitted in Embla – Hifa 3, in a stunning purple beige color using 4 mm/US 6 and will be published in Norwegian in the separate magazine Familiens Strikkebok out in late August. Here is the coat finished, not that many hours before the photoshoot at Aker Brygge actually. My chosen photographer is Kim Müller, model is beautiful dancer Francesca Golfetto and make up & hair stylist is Line Sekkingstad, they all made my knitting projects look so gorgeous! This is how dreams come true.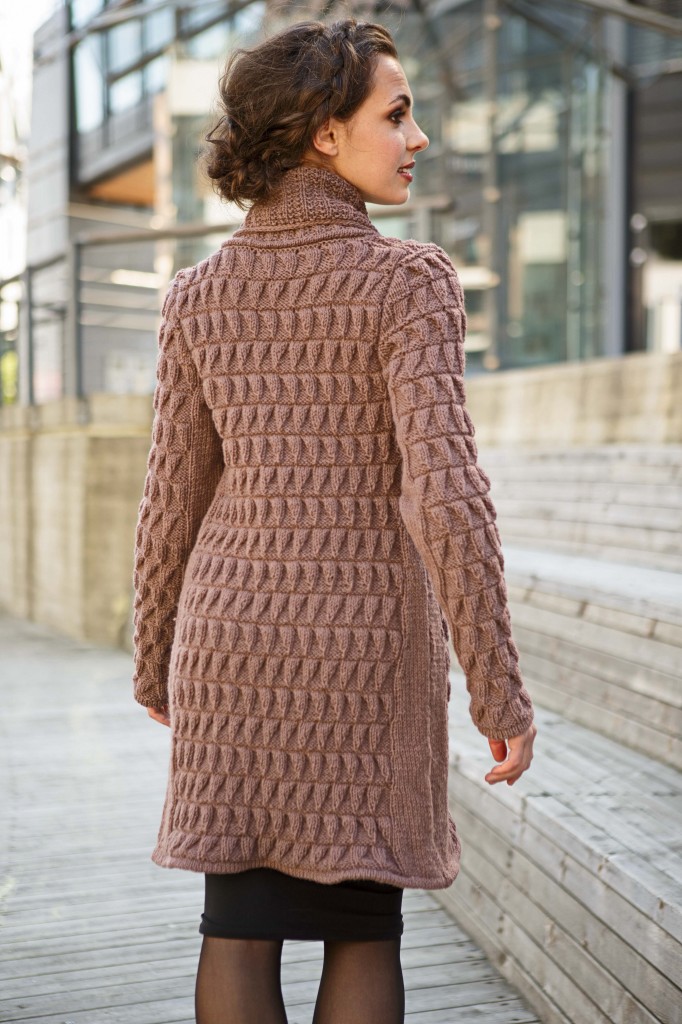 The coat is worked flat in pieces and then sewn together. Stitches are picked up for the collar and a tuck is worked before you begin with the Seeded Rib pattern. The shawl part of the collar is worked with short rows and ends with an I-cord bind off. The a-line decreases are worked in stocking stitch, while you discontinue the Folded Triangles pattern when you shape neck, armhole and sleevecap.
Initially I imagined it in a blue tweed, but since my design did not make it into the Brooklyn Tweed selected few, and I spotted Monica Stålvang's stunning brown shoes, I knew that the coat had to match those. Hence I wanted a photo of Francesca sitting showing off the shoes too!
I have made the coat in sizes S to 2XL, with a finished bust measurement excluding collar of 92 cm to 126 cm/36.25 to 49.5″. Francesca is a size XS, Norwegian clothes size 34/UK 6/US 2 but wearing size S. I will show you photos of me wearing it too since I am a size S, Norwegian clothes size 36-38/UK 8-10/US 4-6 but they will not be as marvelous, obviously. I plan a test knit of the English pattern in my Ravelry group in August.