A lace pattern with Gotic shapes adorn this bolero, which has a scarf collar where the pointed arches reigns. Hennika is a name with Gothic origin and means master of the house. The bolero is tapered and worked in pieces, while the sleeves are worked in the round. Wear the collar lying flat or folded in half lengthwise to add volume and close it with a shawl pin or a beautiful brooch. Hennika is knitted in the bouncy Hifa Ask in a lovely Melange Farmblue color using 3.5 mm/US 4. Hennika was designed cropped to fit with Judith Bech's long light blue halter neck tulle gown in our series Nordic Vintage in Familien Trend.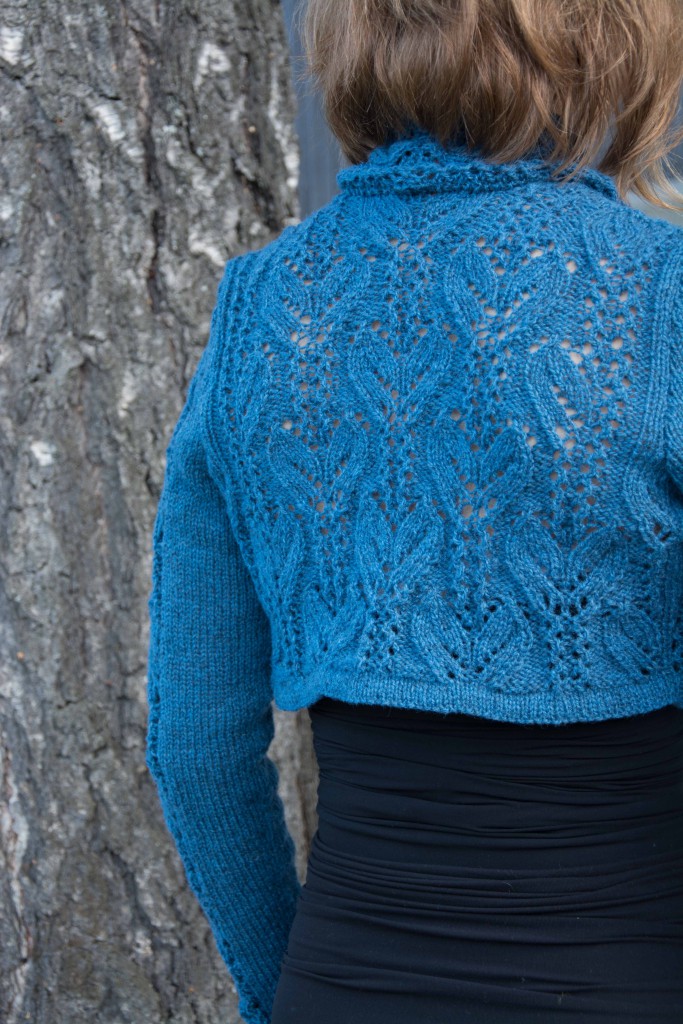 I chose to knit the sleeves in the round while the body parts are worked in pieces from the bottom and up. On both fronts and back I added columns of lace as found inside the main lace pattern, I named Girlander to avoid solid stockinette stitch parts. On the sleeves on the other hand I worked the inside in stockinette stitch. The collar is knitted in two parts, joined using a 3-needle bind-off or grafting, then sewn in place.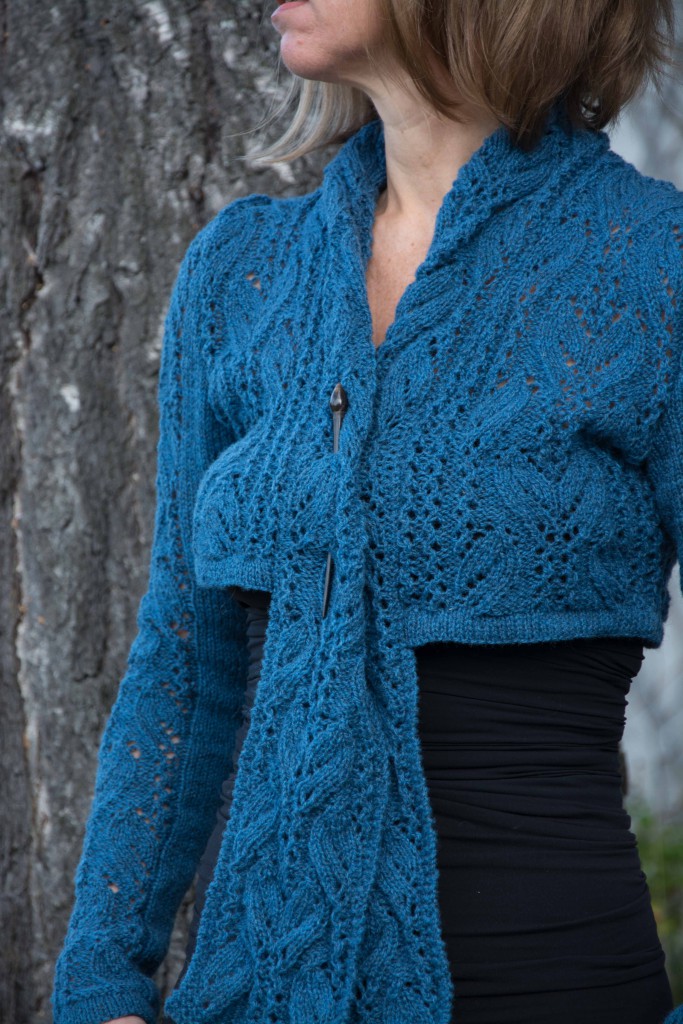 The collar looks even better when it is folded as above, I think. As you can see I did not use a mirror when I put it on, hence the fronts are not level, and the bolero is not pulled down as it should be.  The body and the sleeves have hems while the scarf collar has only a few rows of garter stitch to keep it flat. To make the bolero appear longer I decided to photograph it together with Gyda Cowl, initially called Butterfly Cowl based on its butterfly lace panels. The cowl is straight and one size but can easily be adjusted by adding or removing lace panels as well as reverse stockinette stitches in between those to make it fit you.
The bolero appears very cropped on my long back, and looks better worn with a wider skirt or dress, in my opinion. The photos are, as usual taken by my husband in our garden, in early September last year. I will release the English pattern after test knitting in my Ravelry group, date is not yet set but it will be after Honeysuckle Shawl and Saga Jacket which are the next test knits to begin. Now that you have seen all the new designs as they look on me, I am ready to show you each one gorgeously worn by model Alexandria Eissinger, brilliantly captured by photographer Eivind Røhne.