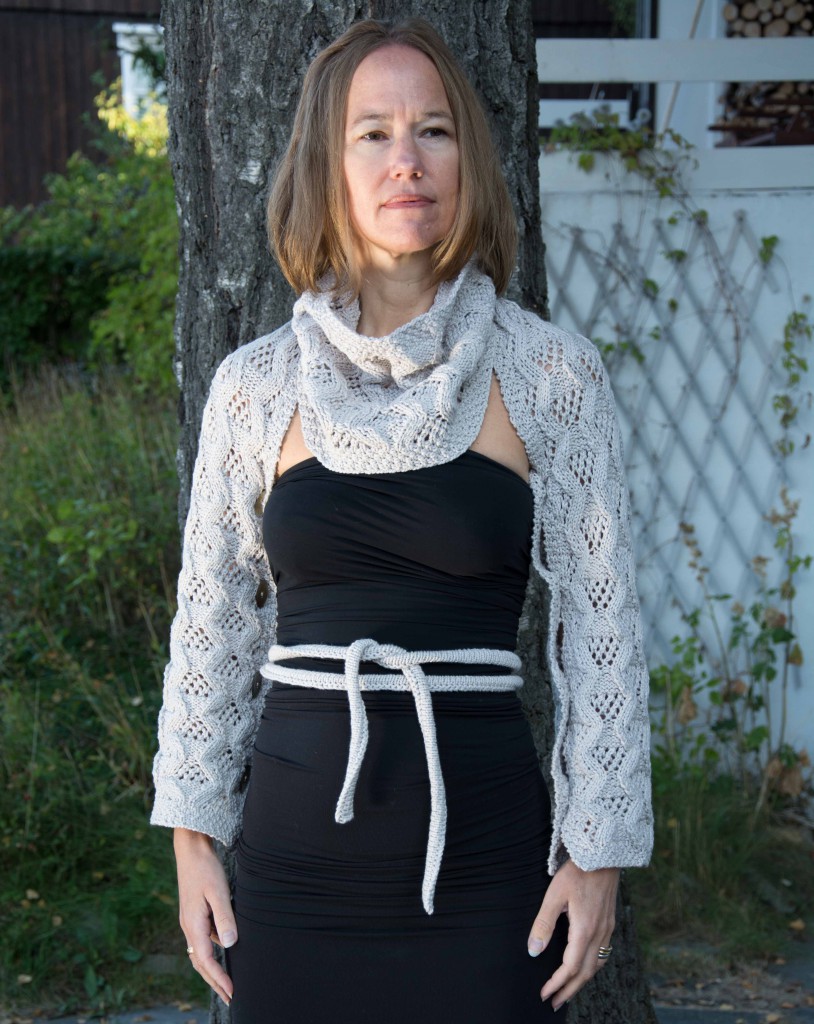 I love the lush and fairly thick cotton with its cable twist from Rowan Yarns, aptly called Softknit Cotton. Available in lovely bright colors but also several beautiful neutrals like Silver, a grayish white in my opinion, with 105 m/115 yds on a 50 g skein made of 92% cotton and 8% polyamide. I picked a lovely lace pattern which is equally beautiful on both sides and decided to make a rectangular shawl that can be buttoned into a shrug with a matching cowl and stylish belt made up of a hem in stockinette stitch: Honeysuckle Shawl.  All perfect accessories to a stunning dress by Judith Bech and wonderful shoes by Monica Stålvang, to be part of the Nordic Vintage series recently published in the Norwegian magazine Familien Trend.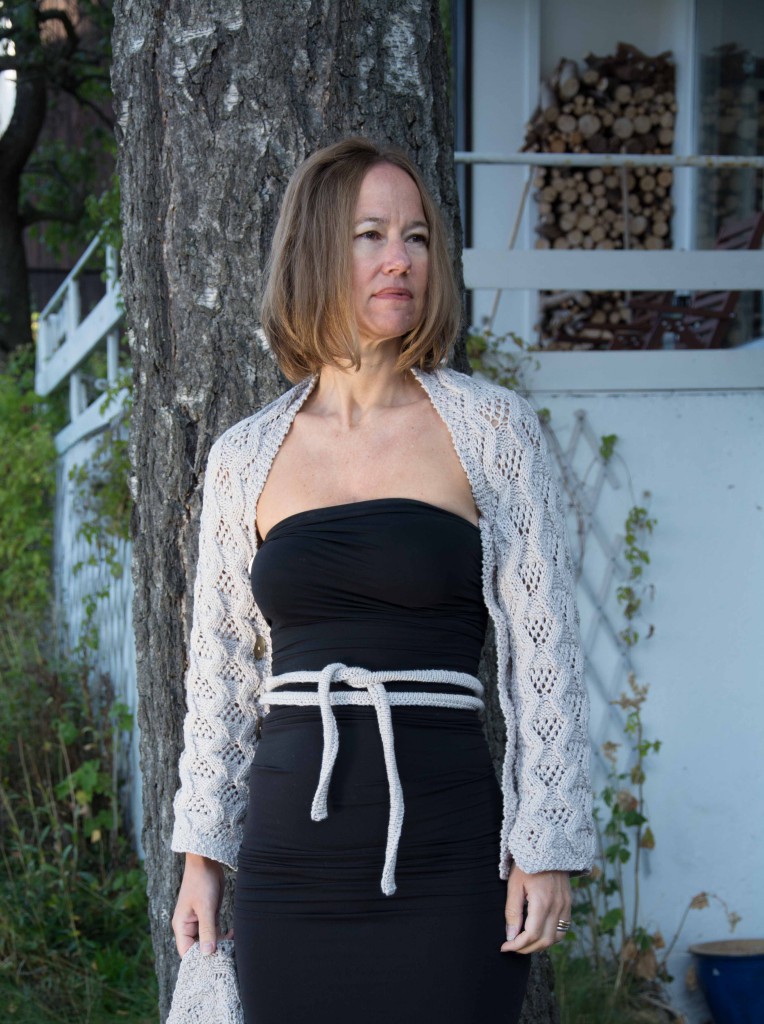 I named the design Honeysuckle, inspired by its climbing, and its similarities to the lace pattern itself. Above it is worn without the cowl. Both the shawl and the belt is knitted flat, while the cowl is worked in the round. The shawl and the cowl with their lace patterns are worked using a 4.5 mm/US 7 while the belt is firmly knitted using a 4 mm/US 6 to avoid stretching out of shape. I was fortunate to have help knitting the shawl and the cowl by skilled knitter Airin Hansen, aka Teodor on Ravelry.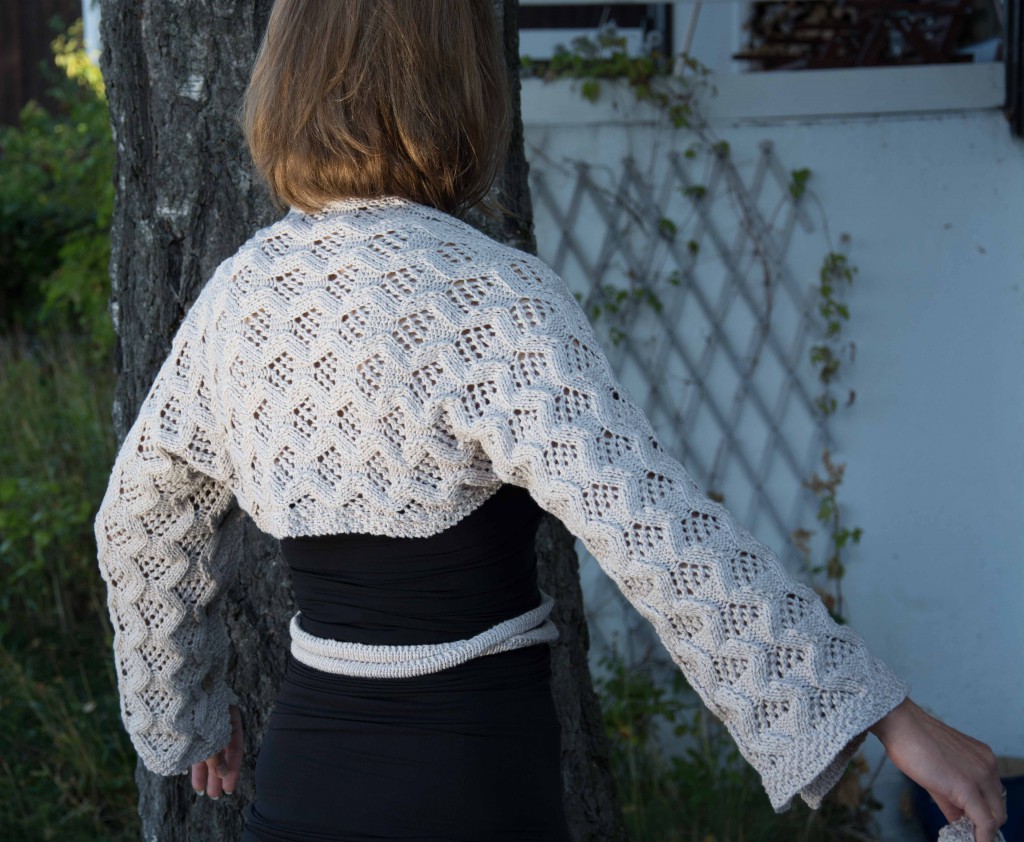 You can easily adjust the width of the shawl and the circumference of the cowl by removing or adding pattern repeats of 16-sts. Eyelets in the lace pattern is used as buttonholes. The belt is designed to wrap twice around the waist and then be tied. It is worked like a hem in stockinette stitch and cast on using two circular needles held parallel. Adjust the length of the belt by measuring your waist and add prefered tying length. The belt can also be pinned together with a stunning brooch if preferred. All the photos here of me wearing it, were taken in our garden last August by my husband.
Here you can see the buttons I chose, and how the lace patterns works as buttonholes. I plan to have the shawl test knitted in my group on Ravelry before I release it in English as a downloadable pdf. The test knit will start shortly. I look forward to showing you the brilliant photos Eivind Røhne took of gorgeous model Alexandria Eissinger from Pholk wearing the Honeysuckle Shawl with the intended dress by Judith Bech and shoes by Monica Stålvang.