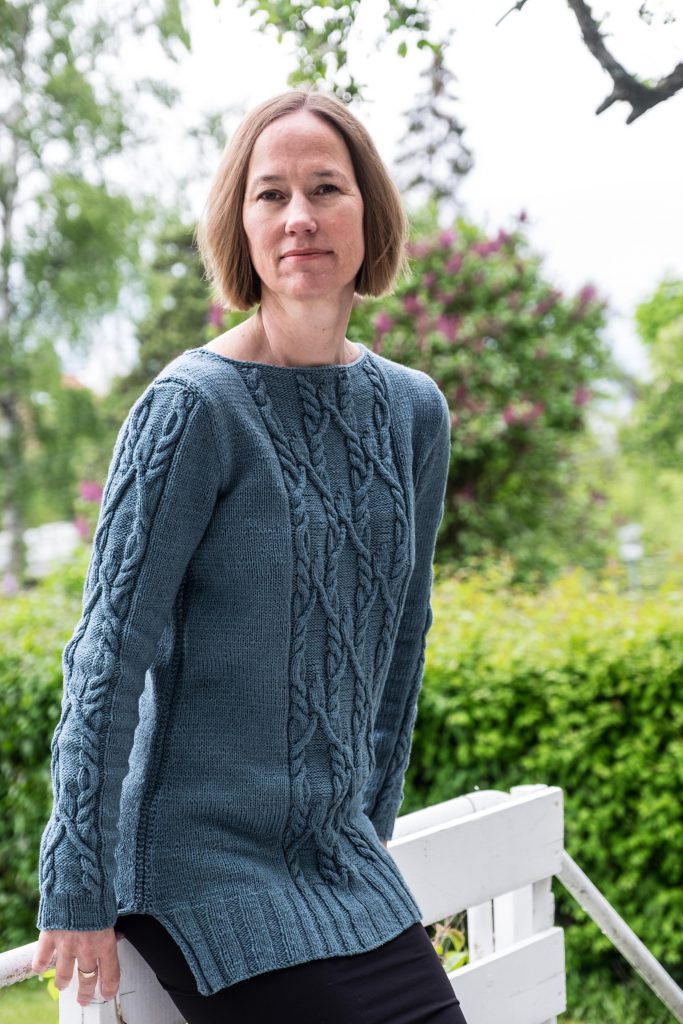 I came across these cables in one of my Japanese stitch pattern books and new I had to design with it. The way the central cable ends in a bulb or Tulip shape drew me in. I tested out different yarns and loved how it looked in Rowan Lima but since the yarn has been discontinued I opted for the new lovely blend of cotton, nylon and yak called Rowan Softyak DK; it is indeed soft and lovely to wear. Why not make a long a-line sweater with rib at the bottom creating a vent and then add a few garter stitches in the side so that the seam looks like a for a zip. Each front and back were given the full cable panel, while I chose to distract a third of the cable for the sleeve so that I could take it all the way to the top of the sleeve. I did want to knit this sweater myself but since speedy sample knitter Grete Jenssen, aka ma9 on Ravelry, had finished Shalana she was ready for another one. A relief in the end since I still had more to knit. The Norwegian pattern will be published in Familien Strikk in late August, while the English pattern will be test knitted and then released on Ravelry. But first I need to finish the pattern, that is.
The sweater is knitted using 4 mm/US 6 needle with a gauge of 22 stitches and 32 rows in stocking stitch after blocking. The cables might look complicated but they are not and they do keep you interested as the cable pattern develops. I choose stocking stitch on each side of the cable to frame them. The neckline, identical on both sides is created by the shoulder shaping, and ends in an I-cord bind off. The Softyak DK comes in 50 gram skeins with 135 m/148 yds and was generously sponsored by Permin Rowan's agent in Scandinavia.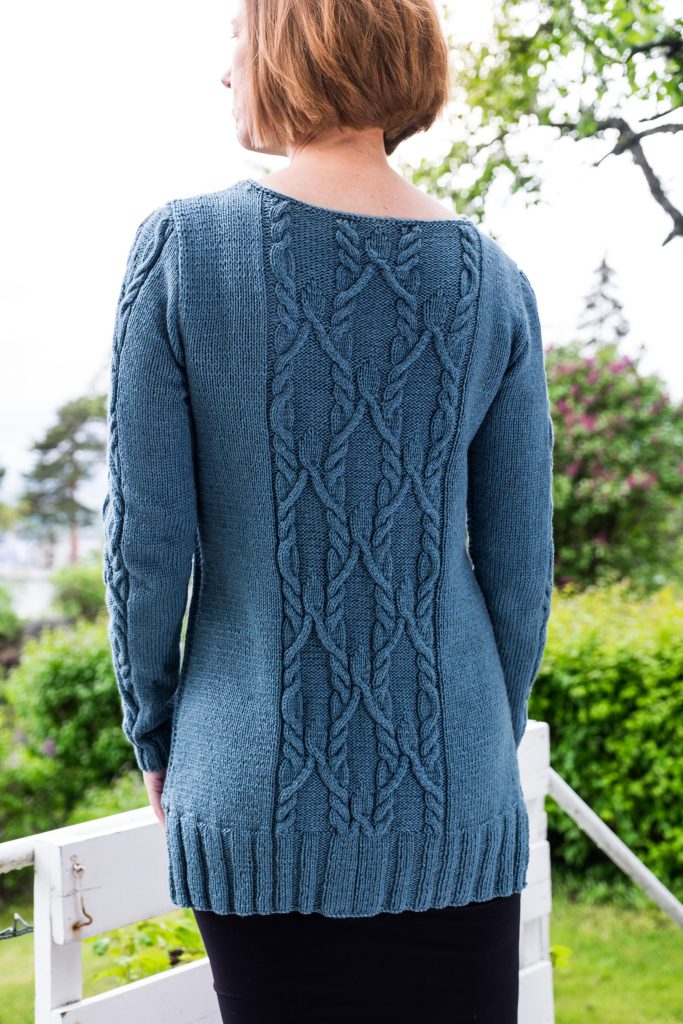 The pullover is named Ronette which means "strong counsel" in Old English, because I think it fits. It will be available in sizes XS to 2XL. I am wearing size S, knitted with a gauge of 21 instead of 22 at the top part hence with a slightly looser fit than intended across the bust and cross back. It is easy to do when under time pressure. My husband took these photos of me on our terrace in the rain yesterday.
Ronette is one of 5 new designs for Familien Strikk, and one of 9 new designs to be photographed by Eivind Røhne at our photoshoot on 1st June. 2 of my designs for Interweave Knits; Yellow Gold Pullover and Inverness Sweater will also be photographed again, this time so that I can sell the pattern when the rights revert to me. More news about the upcoming photoshoot and new designs will follow, so keep in touch.