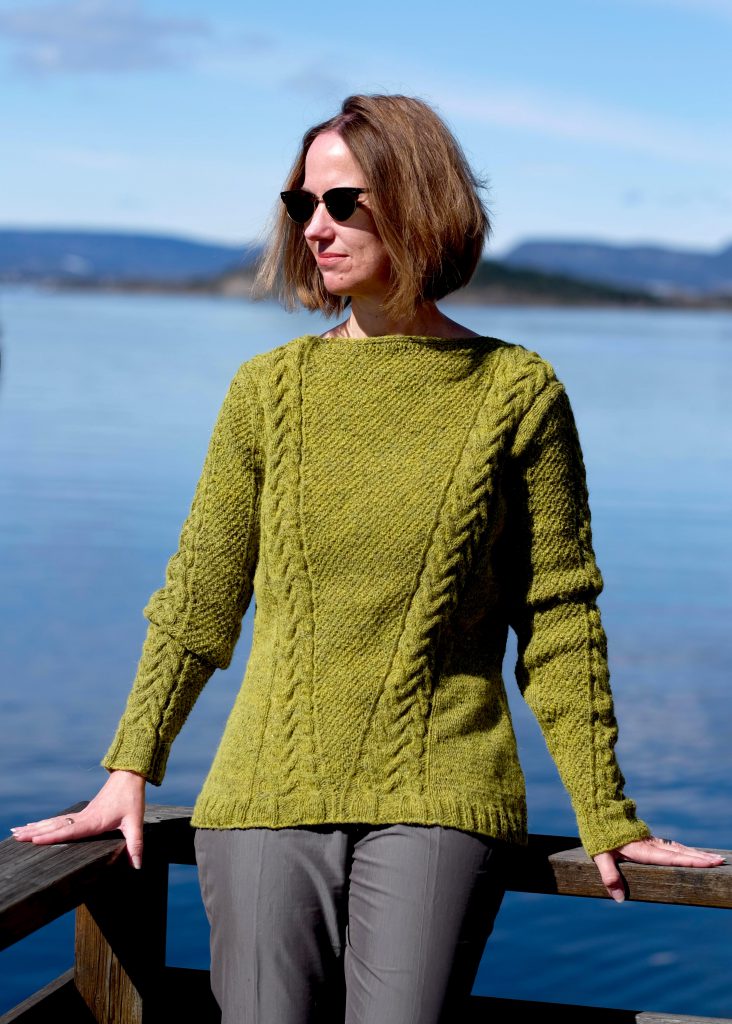 I am thrilled to show you one of my new designs, Shalana. One of my latest obsessions is moving cables across the body. Here I looked for cable or panel of cables which could be moved from the center to the shoulder. I choose Sand Cables surrounded by double moss in the center framed by a twisted stitch and stockinette in the sides. Rowan Felted Tweed  in Avocado begged to be used to give life to the cables. The resulting sweater is fitted with long sleeves decorated with Sand Cables just as the front. Grete Jenssen, aka ma9 on Ravelry, knitted this sample for me with a different gauge than planned, hence I am wearing size Large in these photos. The Norwegian pattern will be published in Norwegian in Familien Strikk at the end of August, while the English pattern will be test knitted before its release on Ravelry. Shalana will be included in my next photo shoot at the end of this month.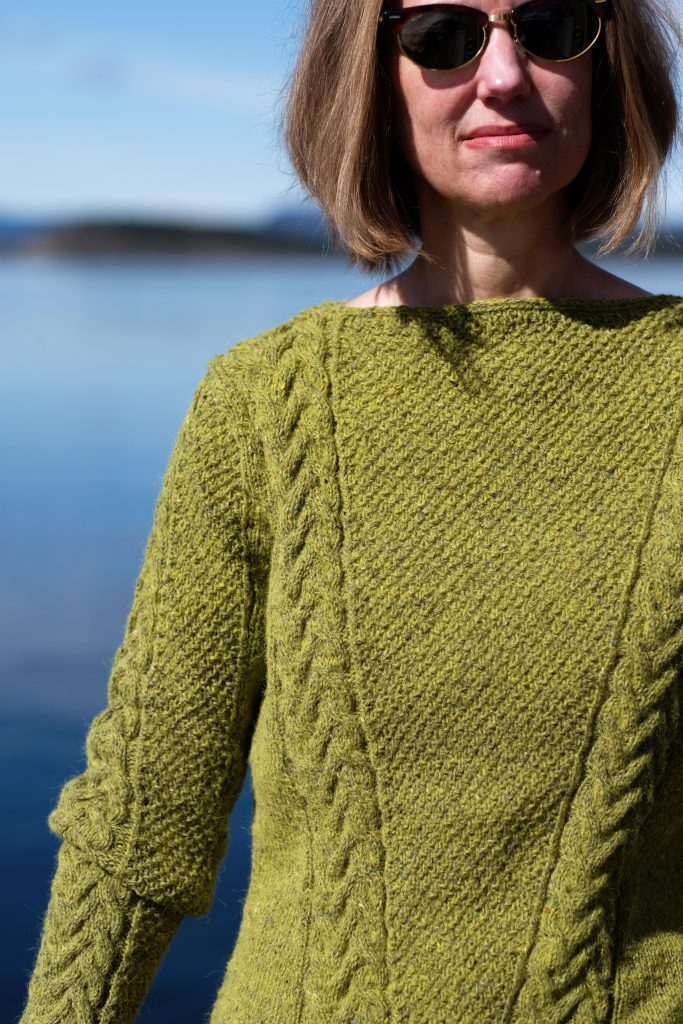 Here is my introduction to the pattern: Sand Cables that move from the center towards each shoulder dominate this fitted sweater with a rounded neckband. The center panel of double seed stitch is framed and increases in size with the cable move. On the long sleeves the cables dominate. Named after the most powerful spirit Shalana.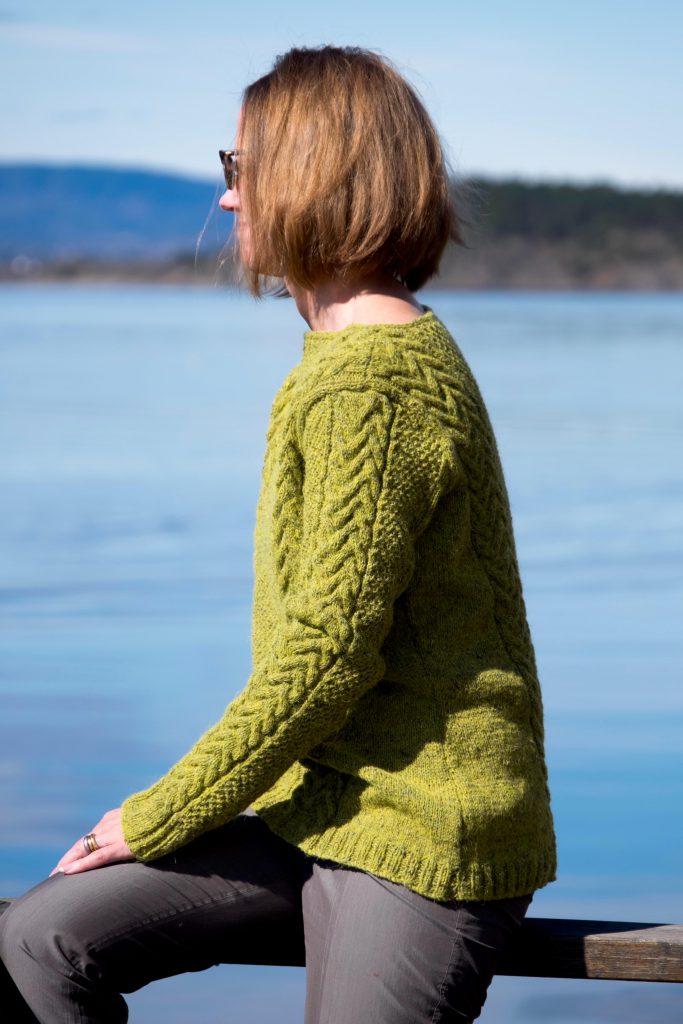 The intended gauge is 24 stitches and 32 rows in stockinette stitch using 3.5 mm/US 4 needle measures 10 cm/4″ square. The 18-stitch Sand Cables Panel measures 7 cm/2.75″ across. This is the result of my swatch. I decided to work all parts flat, to enhance the fit. But you could easily remove the added selvedge stitch and knit the body and the sleeves in the round.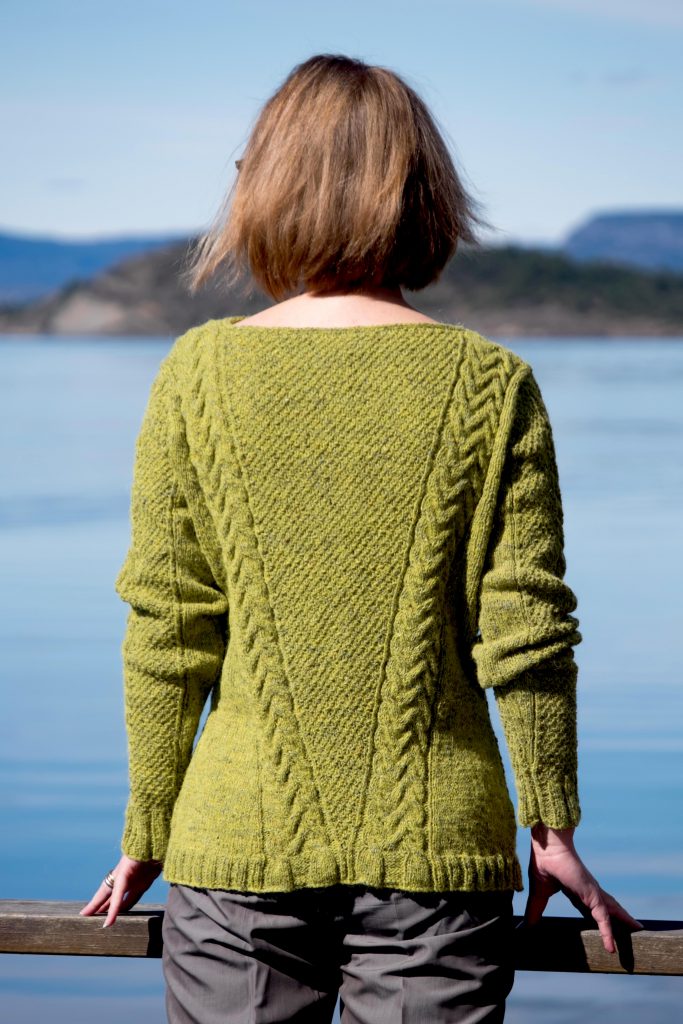 The sand cables move from their center position on the body towards the shoulder by increasing into the center double seed stitch panel and decreasing into the stockinette stitches at the side. The neckband is an I-cord bind off, which is grafted together at the end. I am really happy how well this turned out, despite not being the size I wanted it to be. All the photos above are taken by my husband on a chilly but wonderful day earlier in May just 10 minutes from where we live at Ormøya by the fjord. We have chosen an equally stunning location for our next photo shoot. More news will follow.