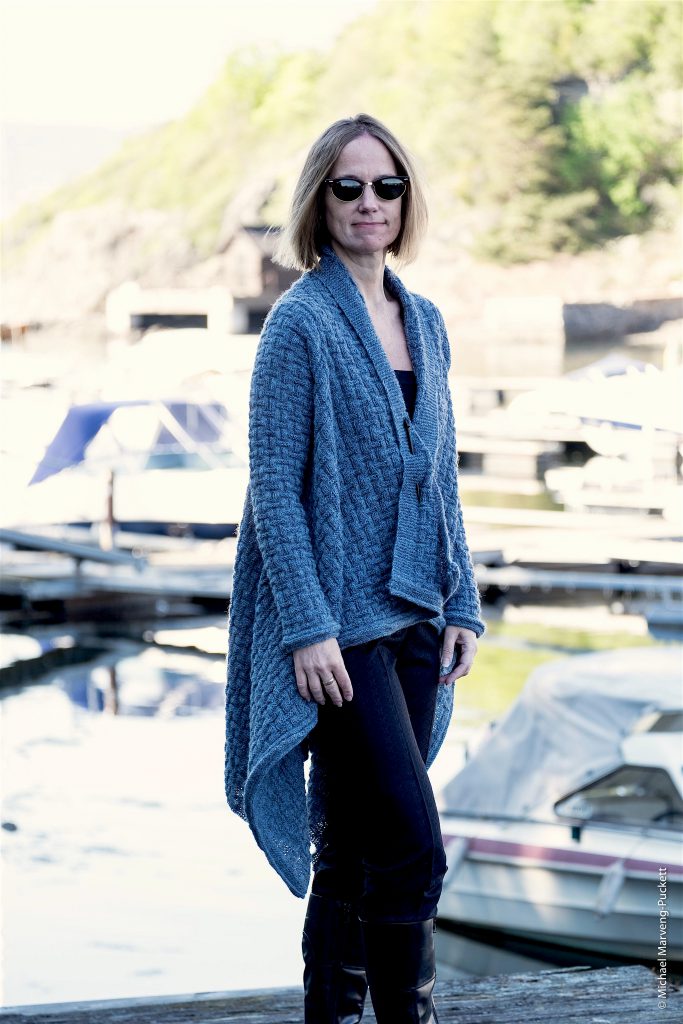 A cardigan knitted sideways is a garment I have been planning to design for awhile, not unlike my sideways vest made for my Norwegian knitting book. When I received samples of the new yarn from Hillesvåg Ullvarefabrikk called Sølje, I knew it was the one. Sølje is a thinner version of Norsk Pelsullgarn made of 100% Norwegian Pelt wool with 350 meters/382 yards on each 100 gram skein and a wonderful luster to it. I choose to knit it using a 3 mm/US 2.5 needle with a gauge of 24 stitches and 32 rows in stocking stitch measures 10 cm/4″ square. Hence it became one of the four designs for Hillesvåg Ullvarefabrikk and for their yarn kits which will be launched at Oslo Design Fair. I choose a simple reversible pattern that reminds me of bricks, and added tucks at the bottom of the sleeves and at the beginning of each front. By playing around I discovered that making a tuck in reverse stocking stitch next to one in stocking stitch make them move apart and oppose each other. A small part of the collar is in garter stitch. My skilled sample knitter Grete Jenssen, aka ma9 on Ravelry, has knitted the size Small sample.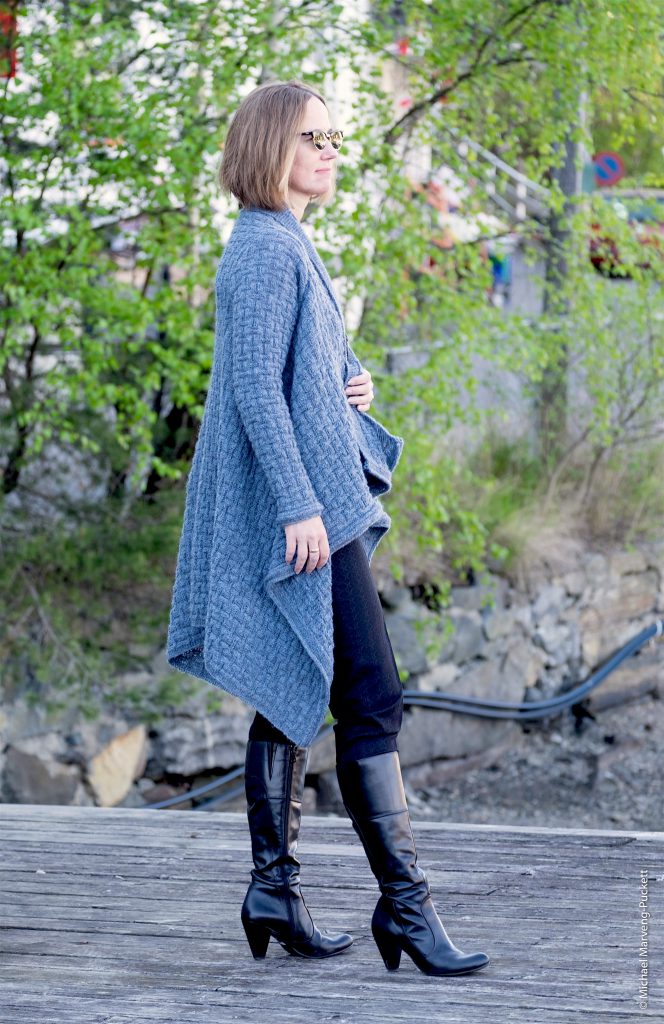 A sideways cardigan with a reverse textural pattern, and deep waterfall fronts. Each front and sleeve has two tucks at the end; one in reverse stockinette stitch and one in stockinette stitch. Choose if you prefer to leave the fronts hanging loose, pinned loosely together or draped across each other. Halli, comes from Old Norse and means rock. Perfect for the stitch pattern and symbolicly for becoming the rock in your wardrobe.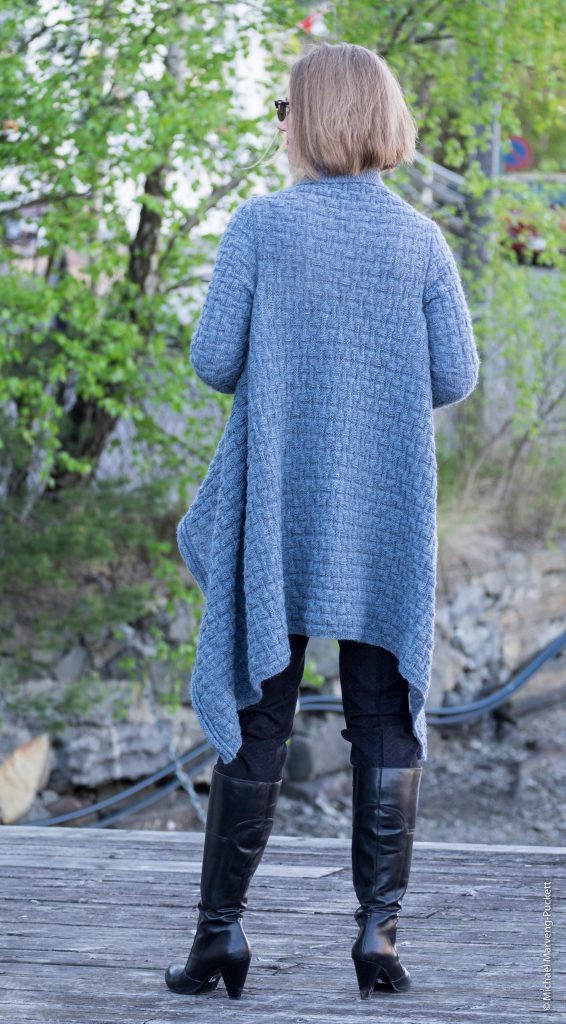 The body is knitted sideways in one piece, from right front to first armhole, where it is split and worked in two parts until armhole is complete, and back is worked to second armhole, and finally left front. Right front begins with a provisional cast-on, which is later removed and replaced by an I-cord bind-off, while left front ends in an I-cord bind-off. The sleeve is knitted in the round to the armhole, then flat to final bind off. The fronts and the sleeves have two tucks; one in reverse stocking stitch and one in stocking stitch after each other at the beginning. The tucks are worked with 2 sets of circular needles held together, and with the magic loop method on the sleeves.
I have graded the cardigan from size XS to 2XL, with bust measurements from 100 to 144 cm/39.25 to 56.75″, due to the extra wide fronts. In the pattern I have added the following ease/size note: The cardigan is intended to be worn with extra ease at the front to create the waterfall effect. If you want less fabric to drape at the front, work a shorter front before the armhole on right front and after armhole on left front. If you prefer a shorter length on the body choose a smaller size when casting on, but work to the lengths given and the armhole for your correct size.
The fronts can easily be draped and pinned together as you please, as you can see from the photo above. It does look better if you do this in front of a mirror though, and not without one as I did. The Norwegian pattern will only be available in the yarn kit from Hillesvåg Ullvarefabrikk and will sold as a guest design in September here: /garnpakker/hillesvag-eksklusiv-gjestedesign, while the English pattern will be test knitted in February in my Ravelry group before its release. I must admit that this is my favorite of my new designs, and it has just been sent off to Hillesvåg Ullvarefabrikk as their display sample for Oslo Design Fair and other upcoming fairs. So for the future I will truly cherish the professional photos we took of Halli. You wait and see.