I wanted to have another go at designing an a-line sweater with a rounded hem, this time with a Henley neck. This comes after my most successful pattern to date; the Oydis Sweater. Just as last time I found an attractive cable to be the focus point, but chose a solid yarn this time instead of a home made tweed mix; Dale Pure Eco Wool in a stunning soft sea-green colour.  I tend to get easily bored knitting stockinette stitch, hence the row gauge is slightly off (28 rows instead of 30 rows) and it has become 3 cm/1.25″ longer than intended. The fit is based upon the Oydis Sweater, and it is meant to be worn with around 5 cm/2″ ease. The Norwegian pattern will be published in the special issue called Familien Kreativ which will be published in March next year. While the English pattern will be test knitted in my Ravelry group, beginning in May, before its release.
Here is my introduction to the pattern: A playful horseshoe cable adorns the body of this a-line sweater with a rounded hem. The Henley neck crowns the pullover and begins as a v-neck but ends a round neck, following the shape of the cable itself. The sleeves have been given symmetrical check patterns giving the appearance of cables. All parts ends in an I-cord bind off, and have garter stitches to mark the sides. Cavallo means horse in Italian and suits the horseshoe cable.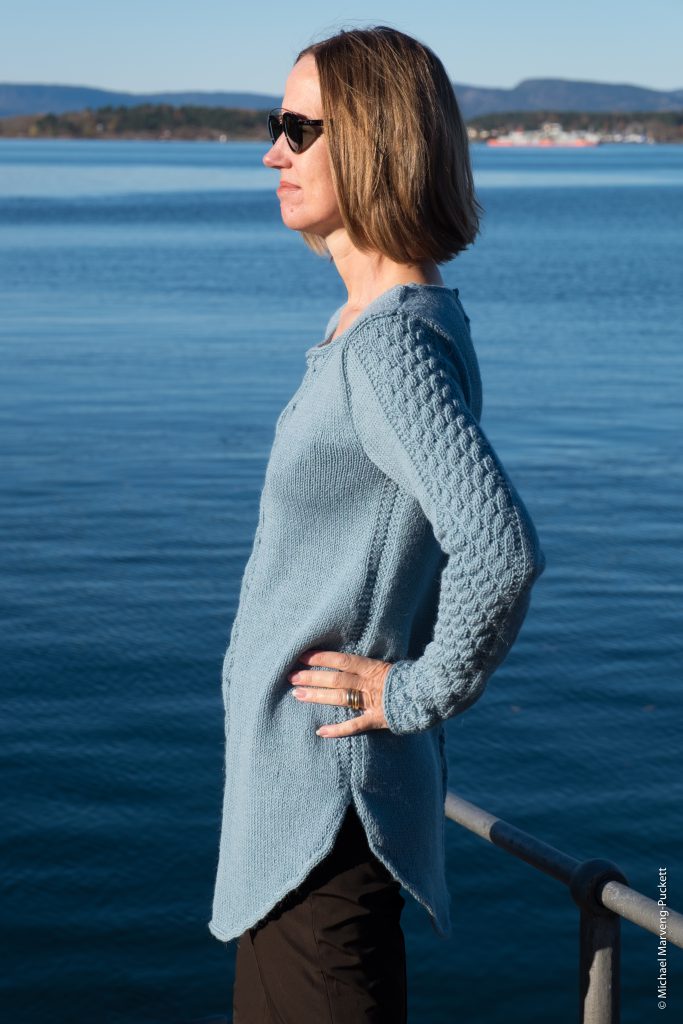 Cavallo is knitted in Dale, Pure Eco Wool made of 70% wool, 30% alpaca in 50 gram balls with 112 meters/122 yards, using a 4 mm/US 6 needle. The gauge is 21 stitches and 30 rows in stockinette stitch measures 10 cm/4″ square. The yarn was generously sponsored by House of Yarn. I choose to work all parts back and forth, then sewed it together. Each side on all parts has a few garter stitches as a side band.  You can easily knit the sleeves and also the body in the round after the rounded hem.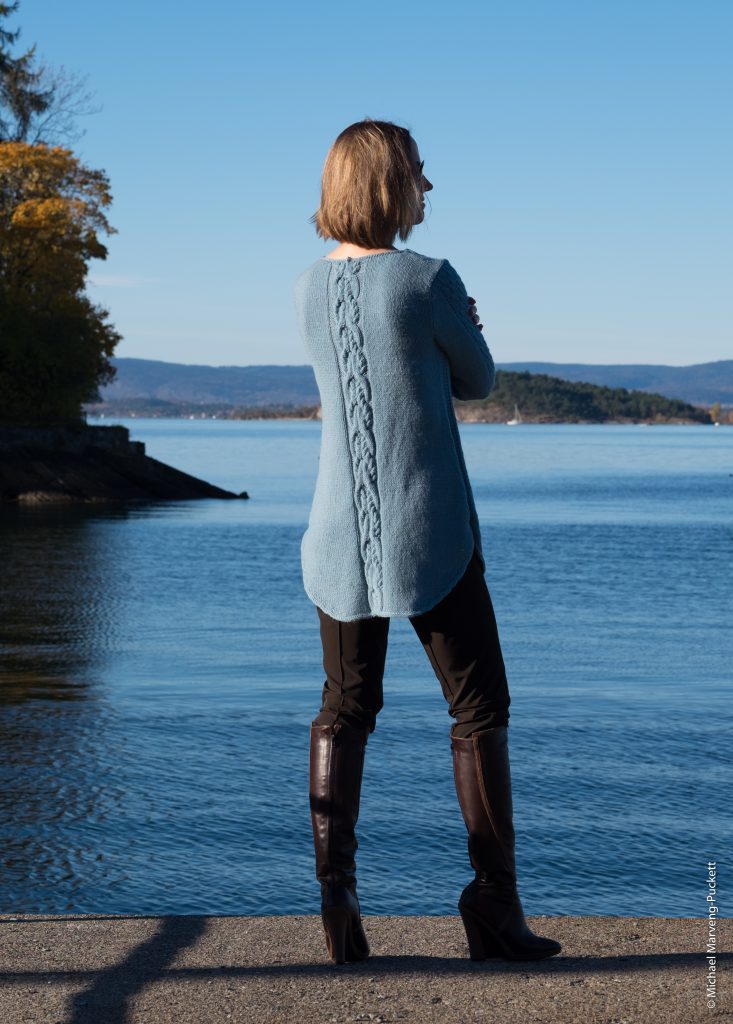 I found the cable too large to fit on the sleeves and chose a check pattern which looks like fake cables on the center of the sleeve. It adds a bit of texture and makes the sleeves more fun to knit. I knitted both flat at the same time. I have graded the sweater in sizes XS to 2XL with a bust circumference of 84 to 126 cm/33 to 49.5″. I am wearing size S in the photos above taken by my husband at the end of October at Ormøya by the fjord in Oslo, close to where we live.