The Norwegian bimonthly magazine Familien, well known for their handcraft pages, has 40 extra pages with knitting, sewing, embroidery and crocheting in their next issue number 12/2017 out on Monday 12. June. On the cover at the bottom is my design Sarya, earlier self published on Ravelry in both English and Norwegian. It was brilliantly photographed by Eivind Røhne, worn by the beautiful model Alexandria Eissinger/Nordic Model Agency, with hair & make up by Sissel Fylling and statement jewellery by Kaja Gjedebo Design, at my photoshoot at the Ekeberg Restaurant in Oslo. You will find the Norwegian magazine for sale in selected supermarkets and news agents. If you live abroad you can order the Norwegian special magazine by e-mailing kari.bachke@egmont.com and then transfer payment into their bank account.
A beautiful lace pattern adorns the lower part of this jacket with overlapping fronts, while garter stitch rules on the top part. The stitch patterns are divided by a tuck and the jacket has identical hems. A deep elegant v-neck allows it to be worn loose creating waterfall fronts. Or you can close it with jewelry or a shawl pin for a more tailored look. The jacket is named Sarya; the night traveler hence knitted in the stunning Jagger Spun Zephyr Wool-Silk Lace, held double, because of its luster and drape.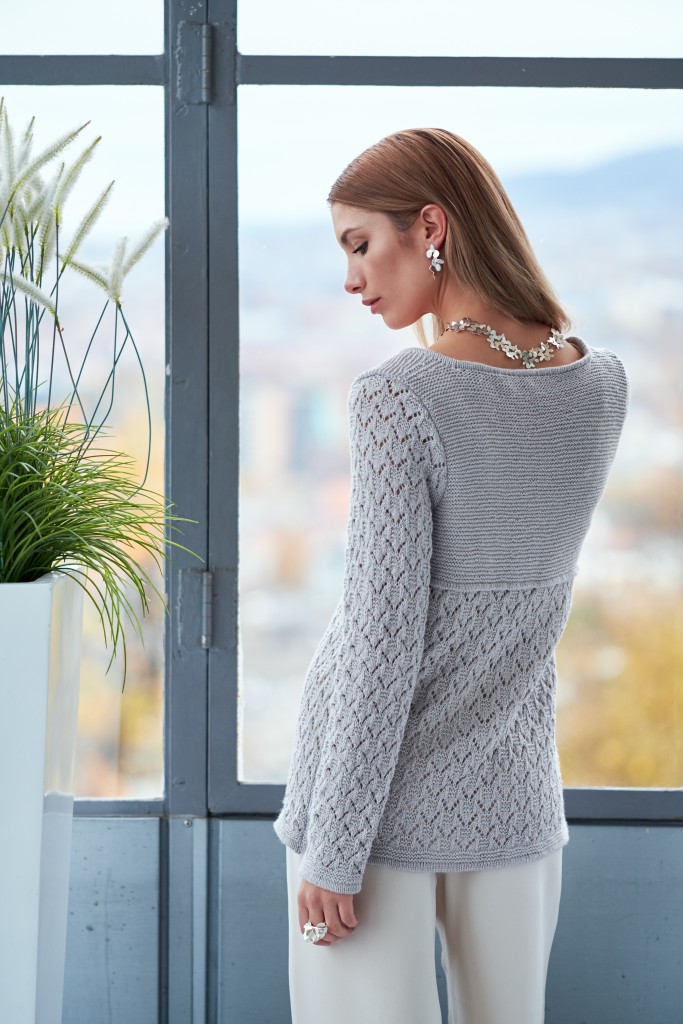 You will find the English pattern for sale at Ravelry and on Loveknitting.