New brilliant photos have been taken of the Kohno Kimono, this time by my magnificent team: photographer Eivind Røhne, model Alexandria Eissinger, hair & makeup artist Jens J. Wiker and jewellery designer Kaja Gjedebo Design at Ingierstrand Bad in late May. New, because the kimono was first photographed by Harper Point Photography for Interweave's magazine knit.wear Fall/Winter 2016 and the rights will reverted to me in October. Inspired by the sculptural aesthetic of architect Hugo Kohno's work in Tokyo, is this oversized long kimono style jacket with short wide raglan sleeves. It is adorned with a domed check pattern ending in wide moss stitch borders at the front, bottom and in the sides.
The Kohno Kimono is knitted in The Fibre Company Acadia made of 60% wool, 20% alpaca, 20% silk with 133 meters/145 yards on each 50 gram skein using a 4 mm/US 6 needle and a 21 stitches and 32 rows in Moss stitch measuring 10 cm/4″ square. The silk noil in Acadia's rustic blend of silk noil, baby alpaca and fine merino wool, makes if feel so luxurious and lovely to both knit with and wear. Yes, I wanted more of this yarn and choose enough for a long cardigan as part payment for the designs I made for the Fibre Company this spring: See Beckside and Dash Falls. The Kohno sample is knitted in Sea Lavender in the third size (of six) with a bust circumference of 124.5 cm/49″ and modelled with 38 cm/15″ of ease.
I chose to style the kimono with wide cream coloured silk trousers and a matching top for an elegant but comfortable style. The grey-blue-soft lilac shade of the yarn needed to be shown off at its best.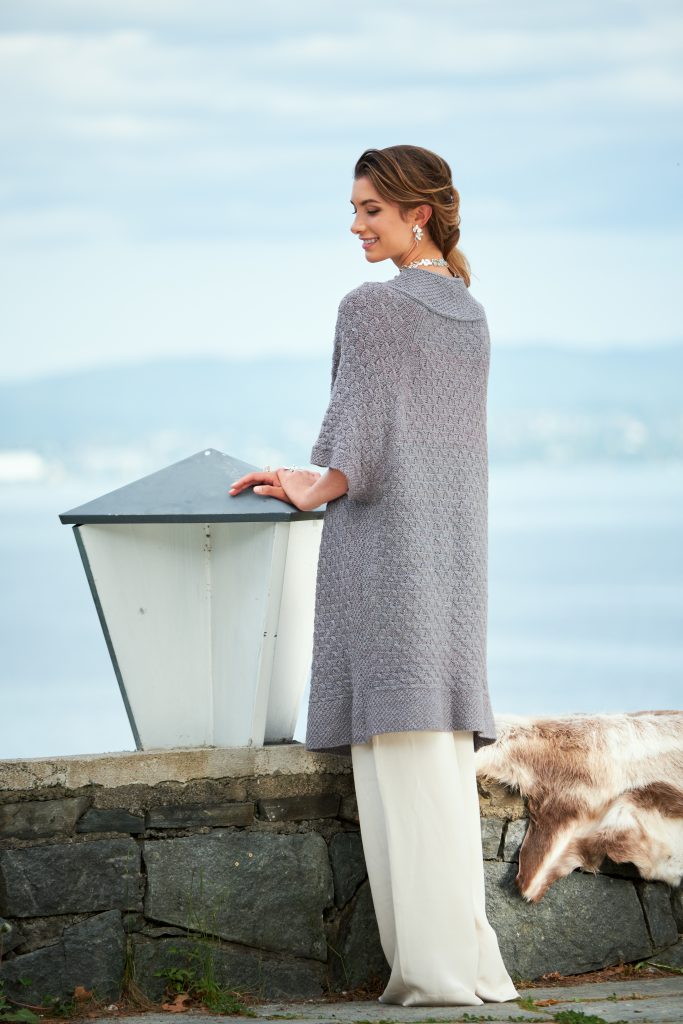 The kimono is worked back and forth in separate pieces and seamed. The front band is worked at the same time as each front. The sleeves have raglan shaping. When working in Domed Check pattern, if there are not enough stitches at the sides to work a complete cable crossing, work the stitches of the partial cables as they appear.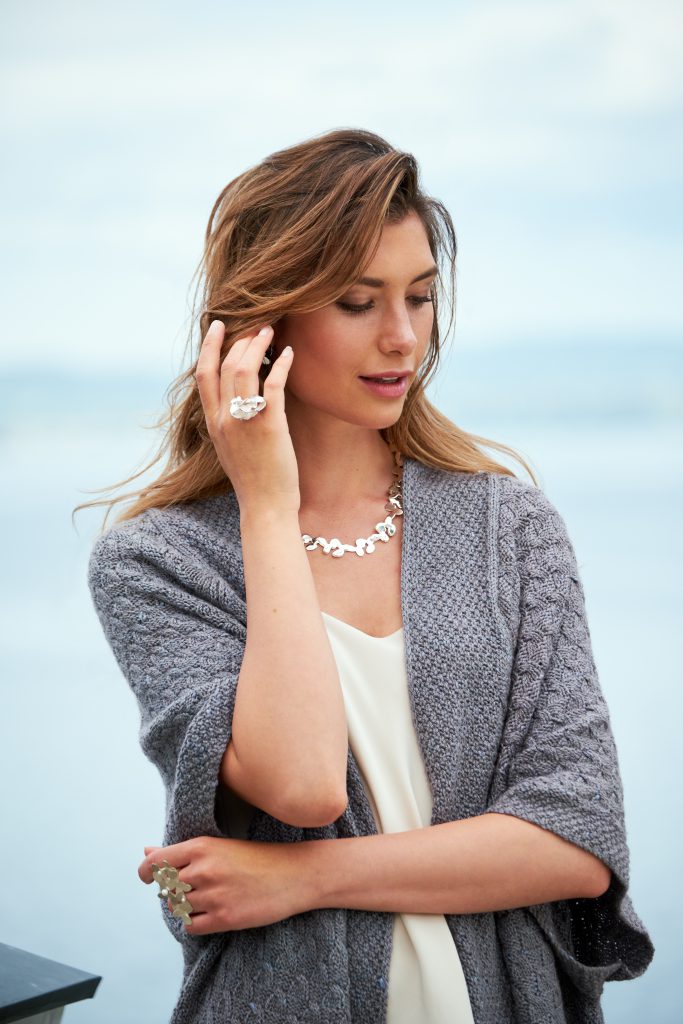 After mid October you will find the English pattern in my Ravelry store and on Loveknitting, while the Norwegian pattern will be published in the magazine Familien at a later date. Yes, the next design in Acadia is nearly ready, as knitting this kimono created a crave for more of this yarn.
SaveSave
SaveSave
SaveSave
SaveSave
SaveSave
SaveSave
SaveSave
SaveSave
SaveSave
SaveSave
SaveSave
SaveSave