Next series of brilliant photos taken by Eivind Røhne at Ingierstrand Bad of the gorgeous model Alexandria Eissinger/Nordic Model Agency, with makeup & hair by Jens J. Wiker and jewellery by Kaja Gjedebo, is the Patent Poncho. It is not a new design, but the poncho was only previously photographed by the Norwegian magazine Familien back in 2013. I wanted to style it my way and with Alex modelling it. I was very flattered that Alex liked it so much that she had to take a selfie, see my blogpost here: Behind The Scenes Photoshoot at Ingierstrand Bad.
Inspired by all the Fisherman's rib patterns in fashion, I have designed a poncho in an oversized sweater style with longs splits in the side. The poncho is knitted in parts to create a contrast between the unstructured cable and the linear rib, called patent in Norwegian. The large splits on the sides make the poncho less voluminous. The sleeves are knitted long, to keep you warm on cold days. The poncho is knitted in a beautiful camelbrown Ask-Hifa 2, a pure wool with plenty of bounce.
Ask-Hifa 2 from Hillesvåg Ullvarefabrik is made of 100% wool with 315 meters/344 yards per 100 g skein. The poncho in one size takes 6 skeins of Camelbrown sh 6098: 1890 m/2067 yds. The bust circumference is 150 cm/59". The gauge is 16 sts and 20 rows in Fisherman's rib, 24 sts and 32 rows in st st using 3 mm/US 2.5 circular needles equals 10 cm/4" square.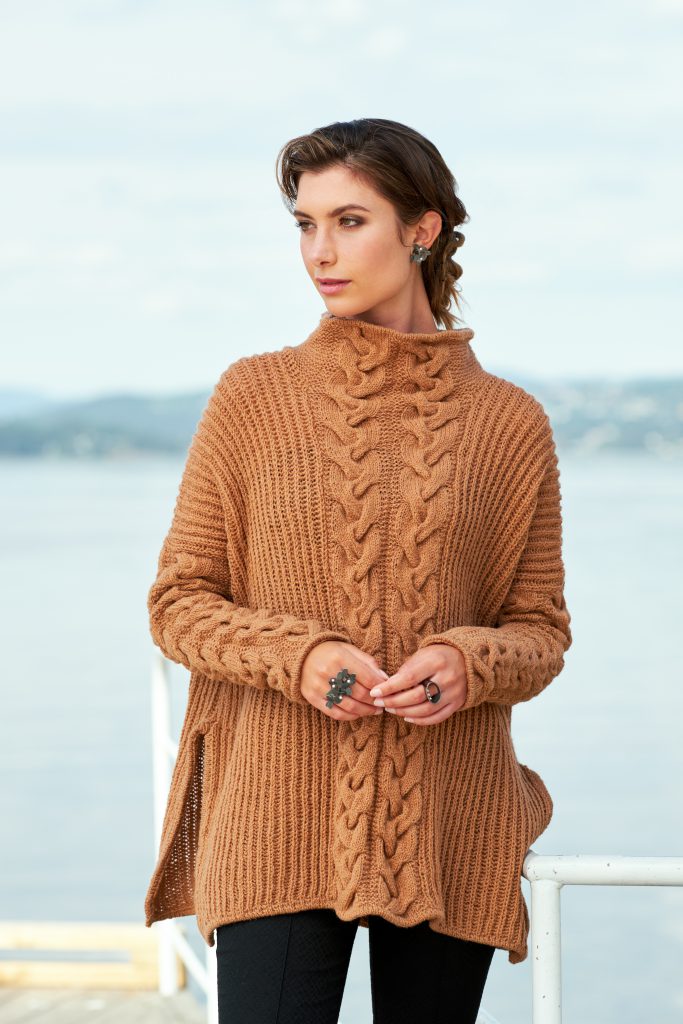 The poncho is knitted in 4 identical Fisherman's rib side panels and 2 cable panels where the front is one pattern repeat shorter than the back. The sleeve is an extended cable panel with 3 cables instead of 2 and worked in the round. Just as the cable collar which is a continuation of the cable panels. The length, including sleeve length, can easily be adjusted by knitting the panels/sleeves longer or shorter. Please note that if knitted in pure wool the panels shrink in length, but grows in width.
The pattern is currently with my technical editor for a review, and will be updated as soon as I receive it back. You will nevertheless find one project made from it on Ravelry.
While I was on holiday, my husband completed my studio. When I have finished cleaning the building dust away, you will see it finished. It is so light and neat! And I cannot believe all the space I have in my studio and the yarn bunker (storage room), next door. I look forward to showing it to you!