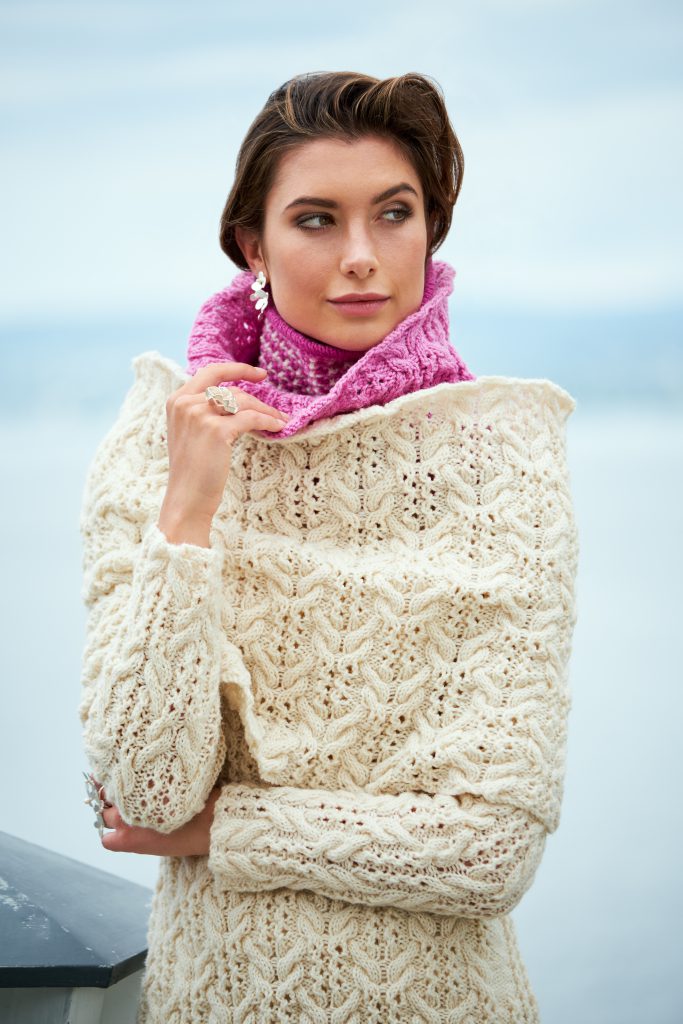 As promised here are the new photos taken of the Cablewing Accessories worn by the gorgeous Alexandria Eissinger with hair & make up by Jens J. Wiker and jewellery by Kaja Gjedebo Design, taken by Eivind Røhne at Ingierstrand Bad in late May. It was a very hot day so we had to avoid including the sunbathing women in our photos, but Alex managed to looks so cool, while the rest of us suffered in summer clothing. Alex did not however enjoy getting dressed with three layers of cowls perfect for the Norwegian Winter on a sweltering summer day. But the photos do not tell. Here is my introduction to the pattern: Cablewings surrounded by lace gives these accessories a flowery expression. They coordinate with the Cablewing Sweater; for a wonderfully regal look pair the wrap with the sweater. It is warm, practical but also decorative. All accessories are knitted in a pure wool with bounce, Embla from Hifa. I chose an irresistible purple-pink shade, well suited for the stitch pattern, for the cowl and the wristwarmers.
The wrap, the cowl, the tweed cowl and the wrist warmers are all made in Hillesvåg Ullvarefabrikk, Embla Hifa-3, a pure wool with 210 meters/229 yards on each 100 gram skein. All the accessories are knitted using a 4 mm/US 6 needle with a 20 stitch and 25 rows in Stocking stitch gauge measuring 10 cm/4″ square. They all come in one size but are easy to adjust by adding a pattern repeat or extra reverse stocking stitches or lace if preferred.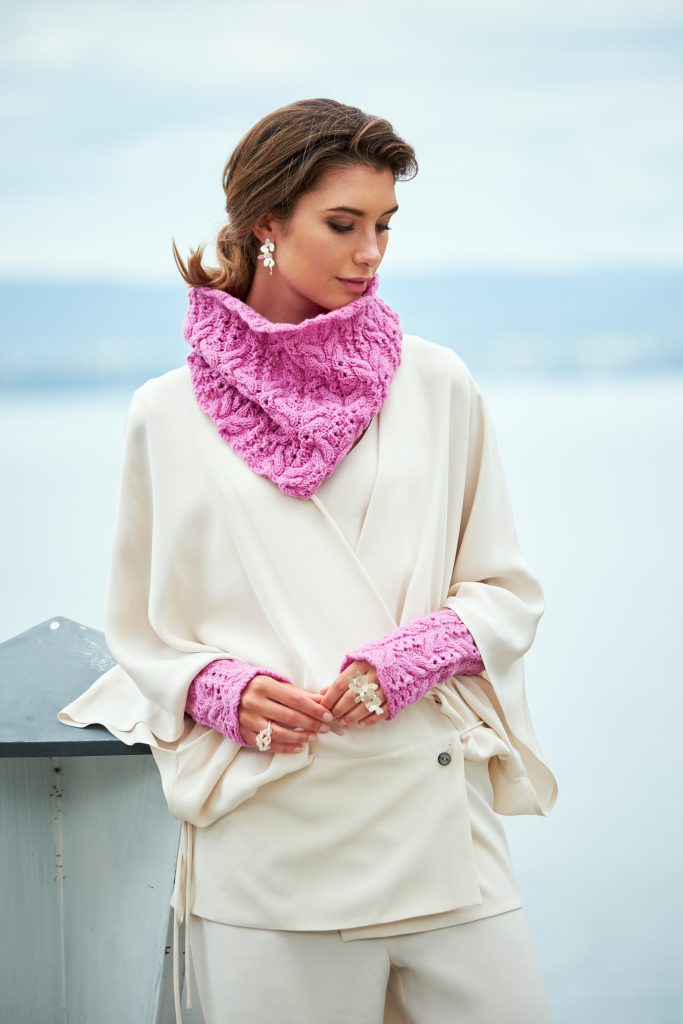 Why so many extra parts, you may ask. There are two reasons: One, I thoroughly enjoyed knitting this stitch pattern. Two, the winters in Norway are very cold so two or three layers are essential to keep warm. The tweed cowl was made to connect the colours of the wrap and the cowl and it is the warmest of the three. The pattern has been revised by my technical editor, Corrina Ferguson, Picnic Knits and has been given a new layout. The Norwegian pattern was first published in Familien Strikkebok 2013 with photos taken by Familien. Both the Norwegian and the English pattern is available from Ravelry and Loveknitting. Now, there is only one more set of photographs from our photoshoot you have not seen; The Juul Cardigan.
SaveSave
SaveSave
SaveSave
SaveSave
SaveSave
SaveSave