Next out is the Rørbye Cardigan made for knit.wear Fall/Winter 2017 modelled by me and photographed by my husband in mid April at the Boat Café in Ørje. Rørbye Cardigan was submitted as Anuri: In a contemporary style with provocative visual lines – created by the sideways knitted cable panel to make a waterfall bottom – is this long cardigan. The body is all in stockinette stitch to offset the cables. Eventhe sleeve has a cable panel knitted sideways as a cuff. Anuri is Eskimo for wind, just as this long cardigan will blow around you.

The sample is knitted in Dale Garn Eco Wool made of 70% wool, 30% alpaca, 112 meters/122 yards per 50 g skein in 1233 grey green knitted using 4 mm/US 6. The cardigan shown is the second size and measures 46.5 cm/18.25″ back width. The smallest size has a back width of 44 cm/17.25″ and the largest 64.5 cm/25.5″, and there are three sizes in between. Above you see the collar worn flat with the interfacing in rib shown, while it is folded over as intended in the top photo.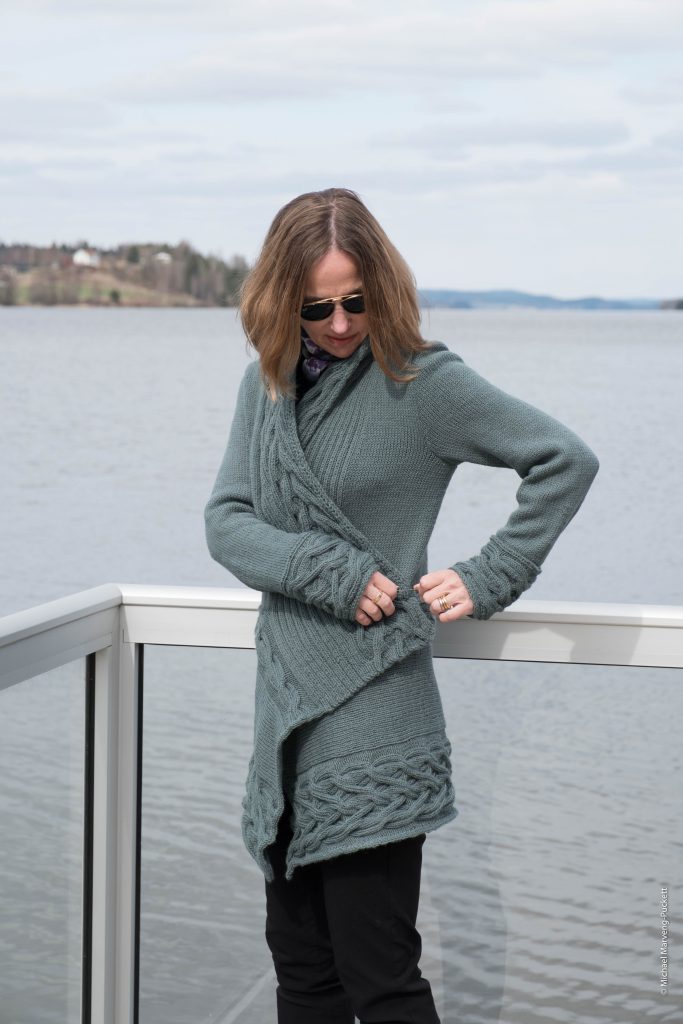 The reversible cable is from Norah Gaughan's excellent Knitted Cable Sourcebook. The back view shows 3 cables at the bottom and one at the top of the lower body. It does take a second to distinguish the single cable in the panel with the three. The cable is worked in rib and not as difficult to knit as it looks. Here you see me using a shawl pin to close the cardigan in the side.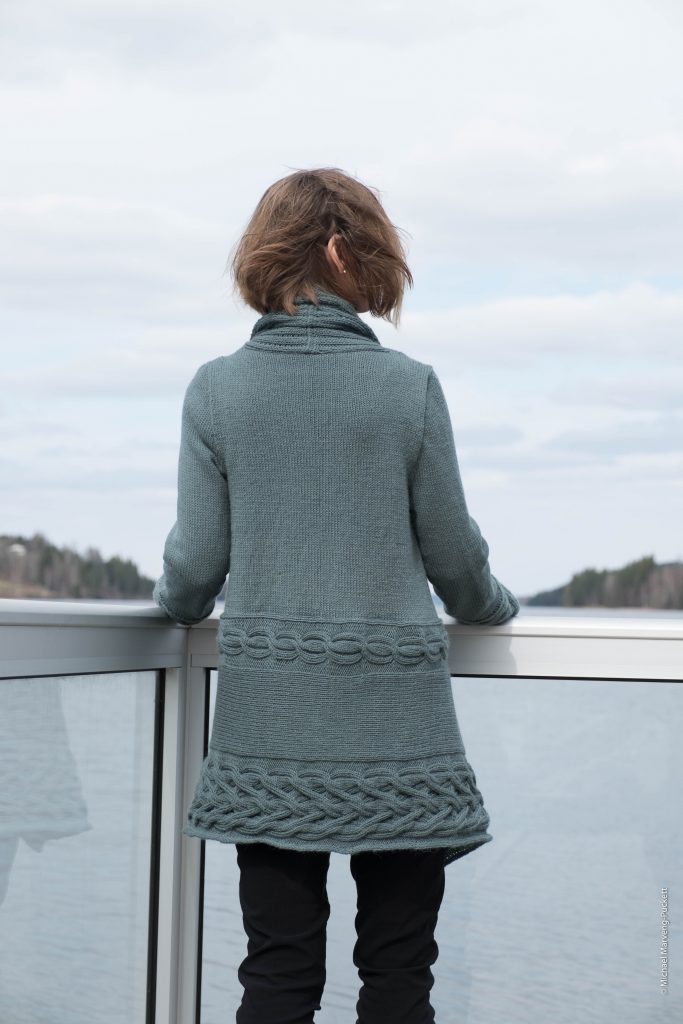 The lower body of this cardigan is worked from side to side. The upper body is worked back and forth in one piece from the pick-up on the lower body to the underarm, then the upper fronts and back are worked separately. The sleeve cuffs are worked from side to side, then the sleeve is worked in the round to the underarm. The collar is worked back and forth in two pieces.
The knit.wear Fall/Winter 2017 is available in a digital edition and in a print edition. In Norway you can soon buy the magazine at the larger Narvesen kiosks or ask your local one to order it for you.
SaveSave
SaveSave