Finally, the last set of photos taken at our photoshoot in late May at Ingierstrand Bad of my Juul Cardigan made for Interweave Knits Winter 2017. The gorgeous model is Alexandria Eissinger, with hair & makeup by Jens J. Wiker and jewellery by Kaja Gjedebo, is wearing it over Judith Bech's wonderful skirt. Alex is captured brilliantly by photographer Eivind Røhne.
This is my introduction to Djuser Cardigan, the working title for the design: A reversible lace pattern reminiscent of the step pyramid of Djuser in Egypt, is the focus point of this straight cardigan with a generous cowl collar and cuffs made of tucks. A fake garter stitch seam add a bit of structure to this cardigan. The cowl collar can be worn loose behind the neck, folded once around the neck or twice in front or three times around the neck in a ballerina style hence perfect for a Winter Bride.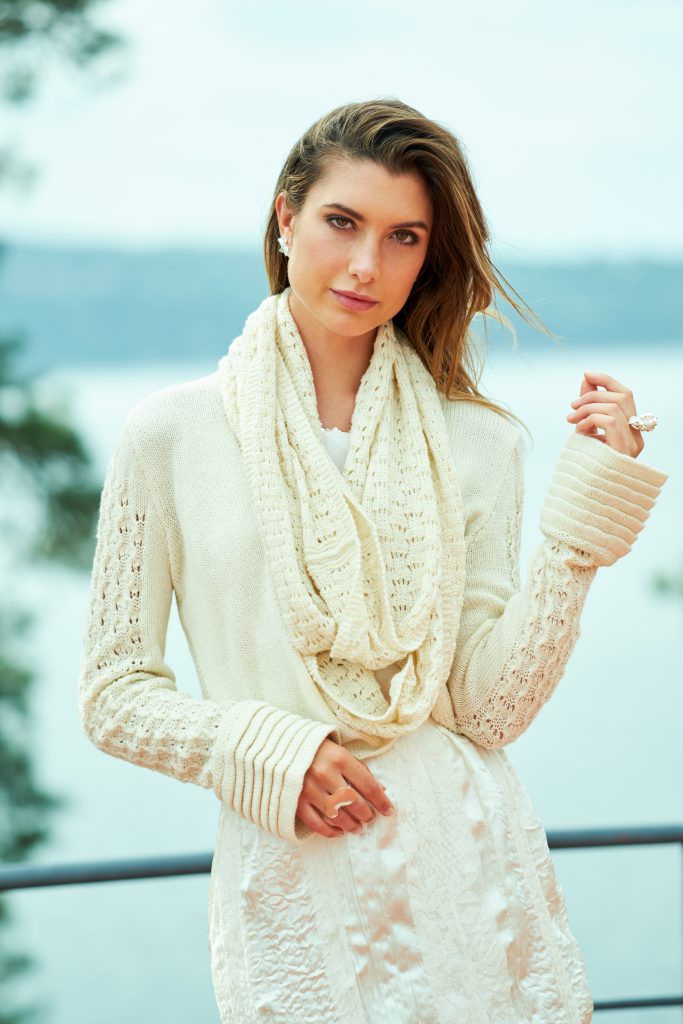 The cardigan is knitted in the lovely Jaggerspun Zephyr Lace 2/18 (50% tussah silk and 50% merino) held double for its crisp stitch definition, lusciousness and softness. It is knitted using 3.25 mm/US 3 needle with a gauge of 24 sts and 32 rows measures 10 cm/4" in Lace pattern with 2 strands of yarn held together.
The Juul Cardigan is worked from the bottom and up. The body is worked in one part to the armhole and then separated into 3 parts. I worked the sleeves in the round but the technical editor at Interweave suggests only working the tucks in the round and add a seam for stability to the sleeves. The extra long cowl is knitted separately in two parts and then joined together and sewn in place around the opening.
The sample is knitted in the third size, with a bust measurement of 104 cm/41″, worn with 20 cm/7.75″ of ease. So it came out looser than intended, the same with the sleeve length, that had to be pinned up during photography. The sleeve length has been adjusted in the pattern. The cardigan is available in six sizes. Here is the Interweave introduction to the cardigan:  "This unusual cardigan will draw every eye with its striking features. The tucked stitch cuffs and long attached loop collar add sophistication to the already beautiful lacework that adorns the back and sleeves."
The Juul Cardigan will soon be available in my Ravelry store. At the moment it is available as an individual download  pattern or as part of the Interweave Knits Winter 2017 magazine available both digitally or in print. In Norway you will find the printed magazine in the larger Narvesen, or order it from your local one.
SaveSave
SaveSave
SaveSave
SaveSave