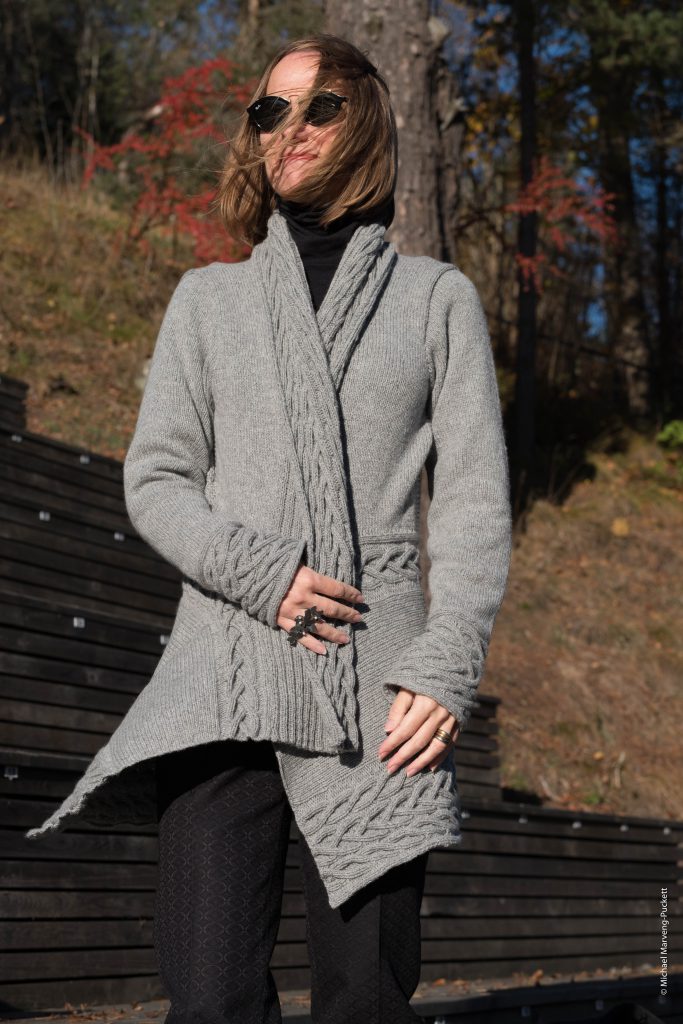 I am excited to show you another new design, this is Airic knitted in the divine Di Gilpin's  Lalland Lambswool in Silver Birch. As you might recall I met Di for the second time around in Vienna in April, the first time we met was at the Knitting and Stitching Show in London years back when I was at the Rowan Yarns' stand and she was launching her first book. Di creates amazing stitch patterns as well as designs. So I was thrilled to meet her again and even happier to take home a selection of colours in her lovely yarn to test. Lalland Lambswool has a unique twist that makes it look felted when knitted up, an extreme length of 175 meters/191 yards per 50 gram ball and knits up with a 3.75 mm/US 5 needle to a 24 stitches and 30 rows gauge. I had several ideas for the yarn but this is my initial one. This sample is beautifully knitted by Kristin Nygård, aka Quiltefeen on Ravelry and Instagram.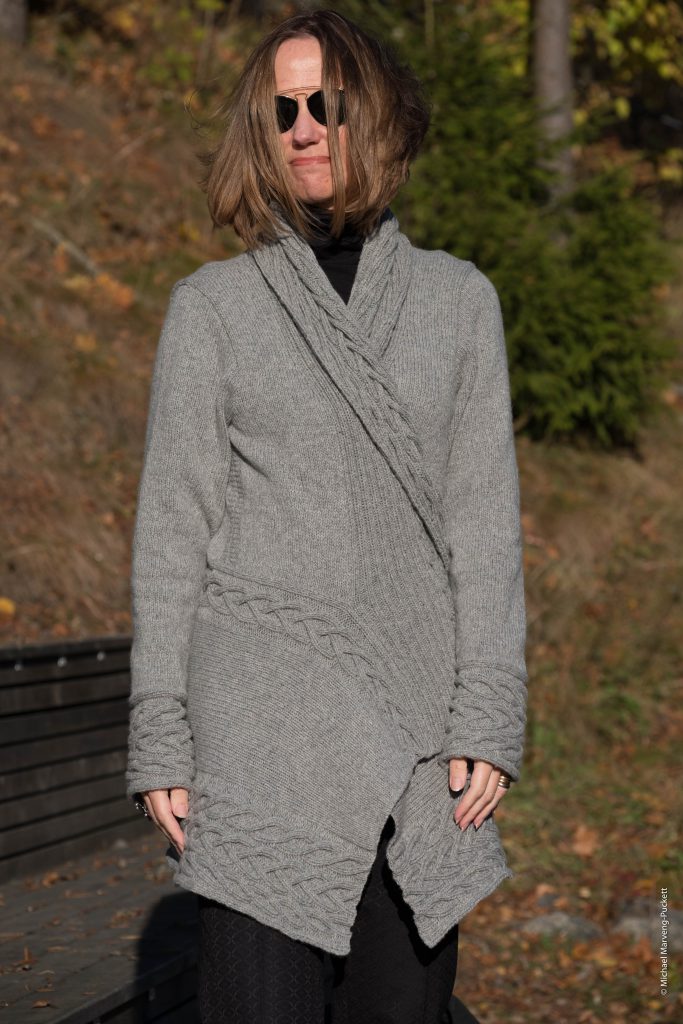 In a contemporary style with provocative visual lines – created by the sideways knitted cable panel to make a waterfall bottom – is this long cardigan. The body is all in stockinette stitch to offset the cables. Even the sleeve has a cable panel knitted sideways as a cuff. Airic is Celtic for agreeable, just as this long cardigan will cover you up. It is knitted in the divine Di Gilpin, Lalland a Scottish lambswool with a magical twist.
As you can see it has the same silhouette as the Rørbye Cardigan recently published in knit.wear Fall/Winter 2017 knitted in Dale Garn Eco Wool. These magnificent rib braids are also found in Norah Gaughan's Knitted Cable Sourcebook. I chose to add garter stitches to the sides to this one and knitted the last stitch on the Lower Body instead of making an I-cord edge.
The cable panel on the lower body is worked sideways, then the upper body is picked up and knitted along the long side of lower body and worked from the bottom and up. The upper body is worked back and forth in one piece with false seams from the pick up on the lower body to the underarm, then the upper fronts and back are worked separately. The outer 20 cm/7.75″ on each side of the lower body will be attached to the collar. The cuff is worked sideways, while the remaining sleeve is worked back and forth from the cuff. The collar is worked back and forth in two parts with an interfacing, beginning with a RS row across cable and a WS row across interfacing. The parts are joined with a 3-needle bind off and attached along opening and outer side of lower body.
My husband has photographed me at the outdoor stage next to Ørje Brug, today a museum called Haldenvassdragets Kanalmuseum on a very windy day in October. I am wearing size S with a finished bust circumference of 92 cm/36.25″ with the collar overlapping and closed, but the cardigan will be available in sizes XS to 2XL. The pattern will be released in April after the test knitting, which begins 26th February in my Ravelry group, is finished. But before that I will show you how stunning professional model Emma Ross looked in this.
SaveSave
SaveSave
SaveSave
SaveSave
SaveSave
SaveSave
SaveSave
SaveSave