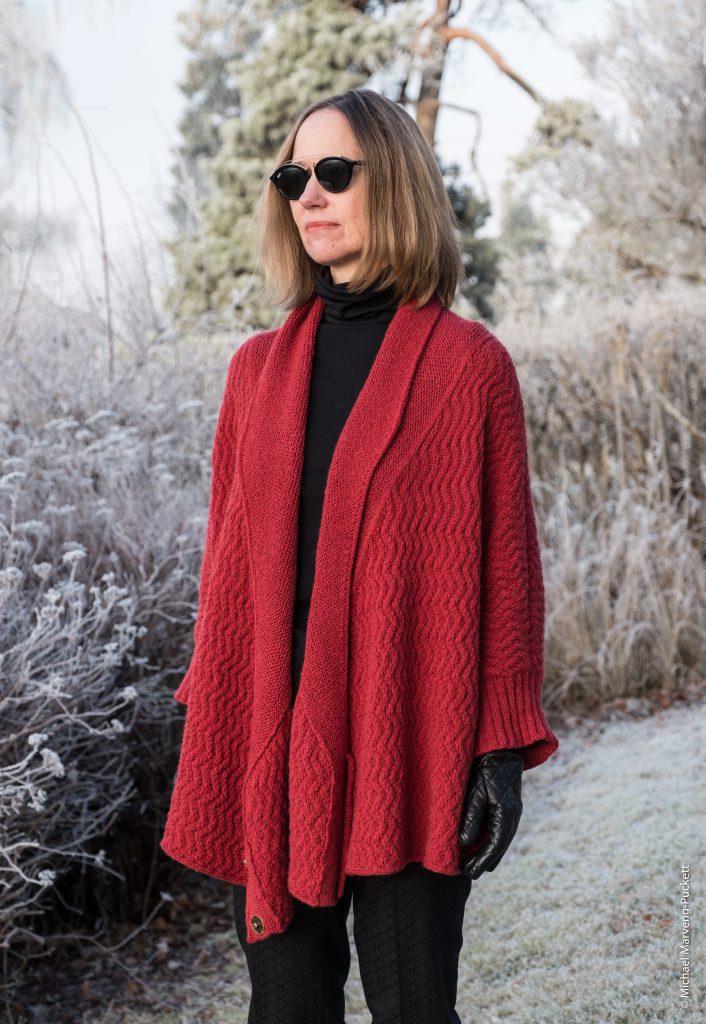 Let me show you the photos Michael took of me wearing the White Mountain Ruana, recently published in Interweave Knits Winter 2018, in our old garden in January. In the photo above you see me wearing it open so you can see the snap fasteners and the I-cord tie. This is how the editor introduced the ruana: "Voluptuous, luxurious, and enveloping, the White Mountain Ruana is a chic layer perfect for winter wanderings. The overlapping fronts can be worn loose or closed with snap fasteners and an I-cord tie. An easy-to-knit allover ripple rib pattern gives this ruana an elegant texture; garter stitch on the collar offers contrast to the body."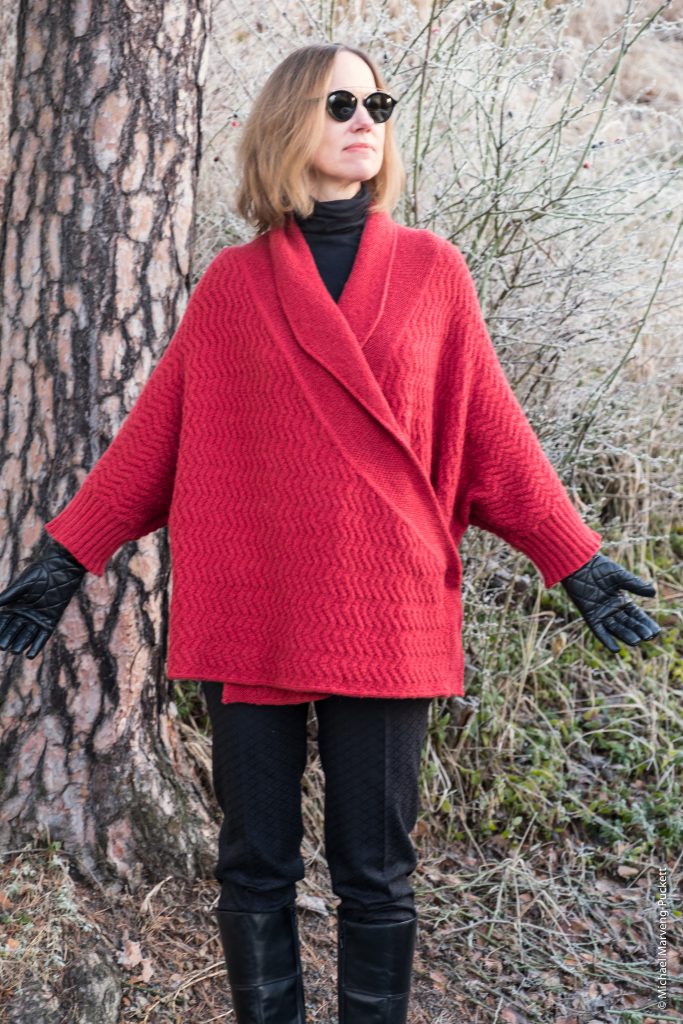 For the first time I could knit with the lovely Shibui Knits Maai yarn. It is a chainette yarn made of 70% super baby alpaca, 30% fine merino with 160 m/175 yds per 50 g skein and knits to a 24 stitches gauge to 10 cm/4″ gauge using 4 mm/US 6. I am wearing the smalest size with a lower edge circumference of 151 cm/59.5″ and have a 88 cm/34.75″ bust. The ruana pattern also includes 2 larger sizes with a lower edge circumference of 167.5 (184) cm/66 (72.5)". I am stretching out my arms so that you can see the shape of it a bit better.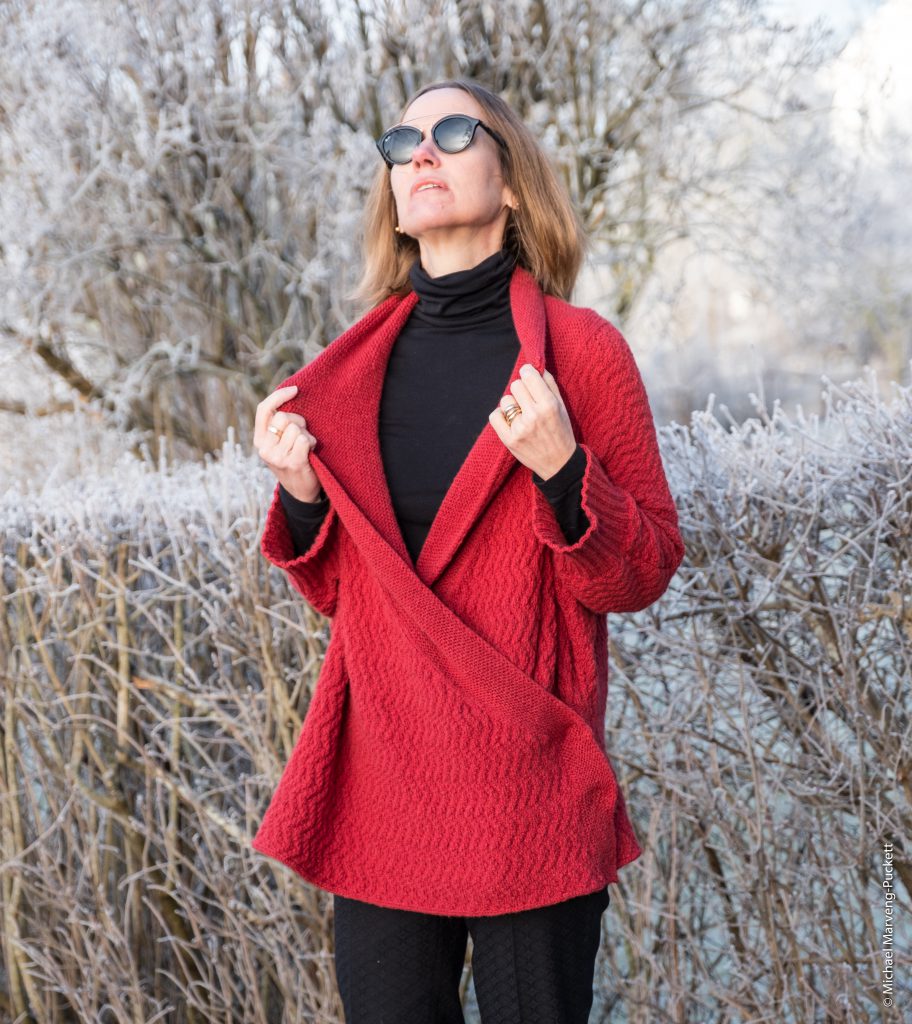 The back and each front is worked from the bottom and up flat. A provisional cast on is replaced by an I-cord bind off, at the end. Stitches are cast-on for the width of the sleeve parts. The shoulders are shaped with short row shaping and bound off using a 3-needle bind off. The shawl collar is picked up and knitted at the end and worked with short row shaping, ending in an I-cord bind-off. The sleeve parts are identical for all sizes but the larger sizes end in a shorter rib that are picked up and knitted at the end. Two I-cords are made for a tie; one part is attached to the collar and the other to the inside seam. Three snap fasteners are sewed on along seam under arm on Right Front with the corresponding parts on the inside of the collar.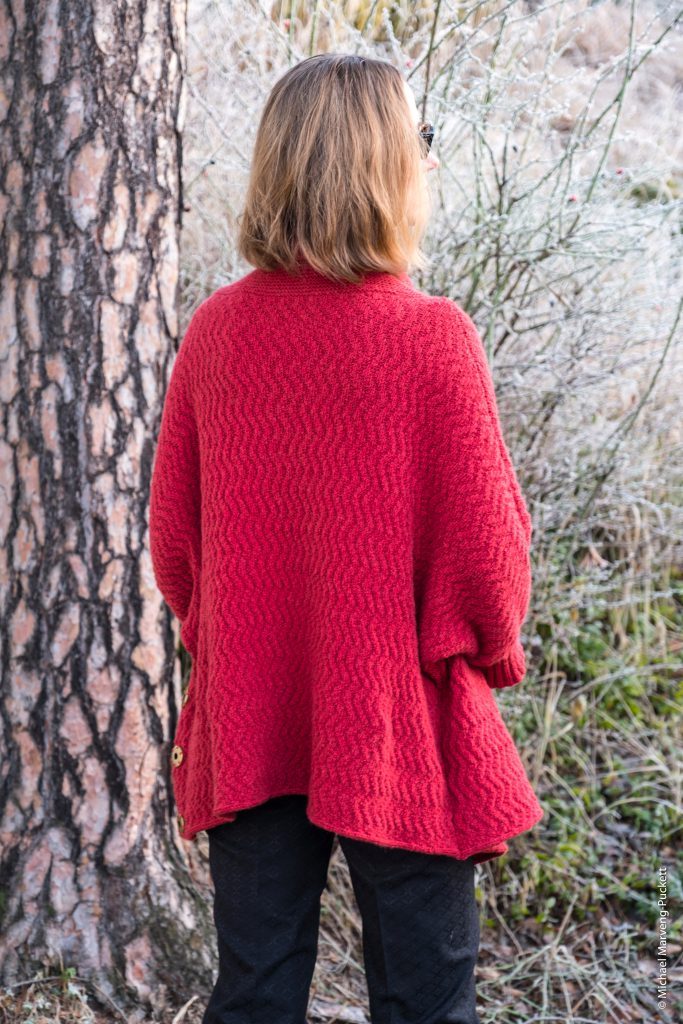 The shade is a warm Brick (115) and closest in colour in the top photo. The Interweave Knits Winter 2018 magazine is available both digitally or in print. In Norway you will find the printed magazine in the larger Narvesen stores, or order it from your local one.
SaveSave
SaveSave
SaveSave
SaveSave
SaveSaveSaveSaveSaveSave
SaveSave