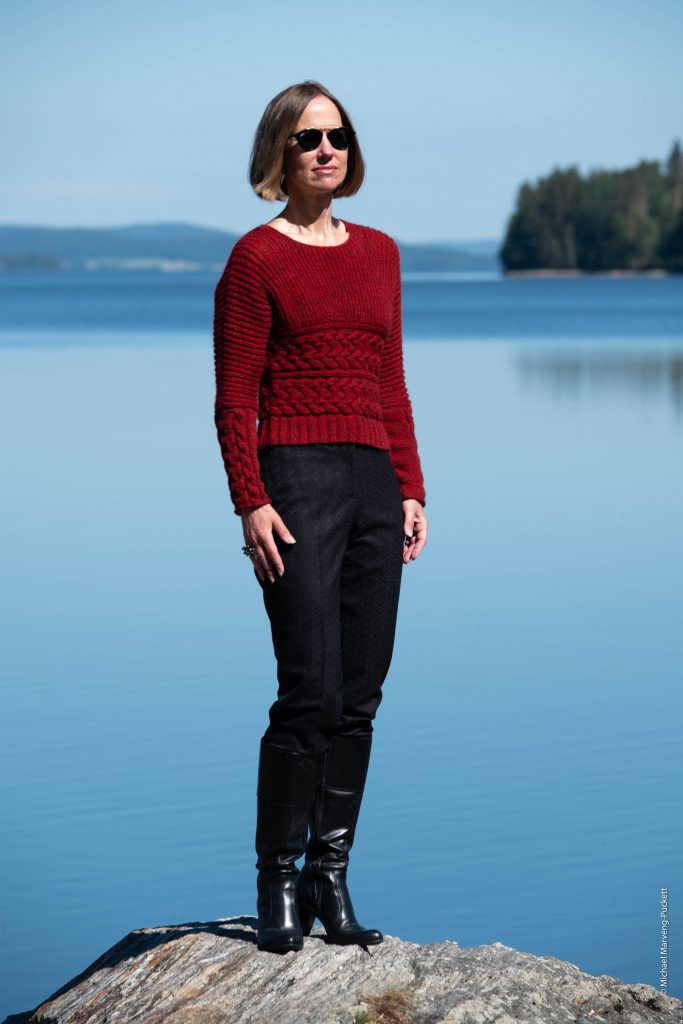 Here is the final new design – for now – a pullover called Lofn made for Hillesvåg Ullvarefabrikk. Lofn is Norse for praise. This pullover is praising texture with its sideways voluptous cables and welt pattern that works like a rib. The upper part is picked up andknitted in Fisherman's Rib and increased into top part of sleeve, while the bottom part of sleeve is knitted separately. As you can see the bottom part with the cable is very tight, and was meant to be 92 cm/36.25″ and not 80 cm/31.5″ wide and 30 cm/11.75 instead of 25 cm/9.75″ in size small. There is a very good reason for that and it is that turbo knitter Grete Jenssen, aka ma9 on Ravelry, made this pullover in only 1 week's time using a 3 mm/US 2.5 so it made it to the photoshoot. We lost several weeks due to an incredibly slow mail service and I had to find a new sample knitter to make this. So all in all I am delighted that Grete knitted it at such an amazing speed and that it made it to the photoshoot.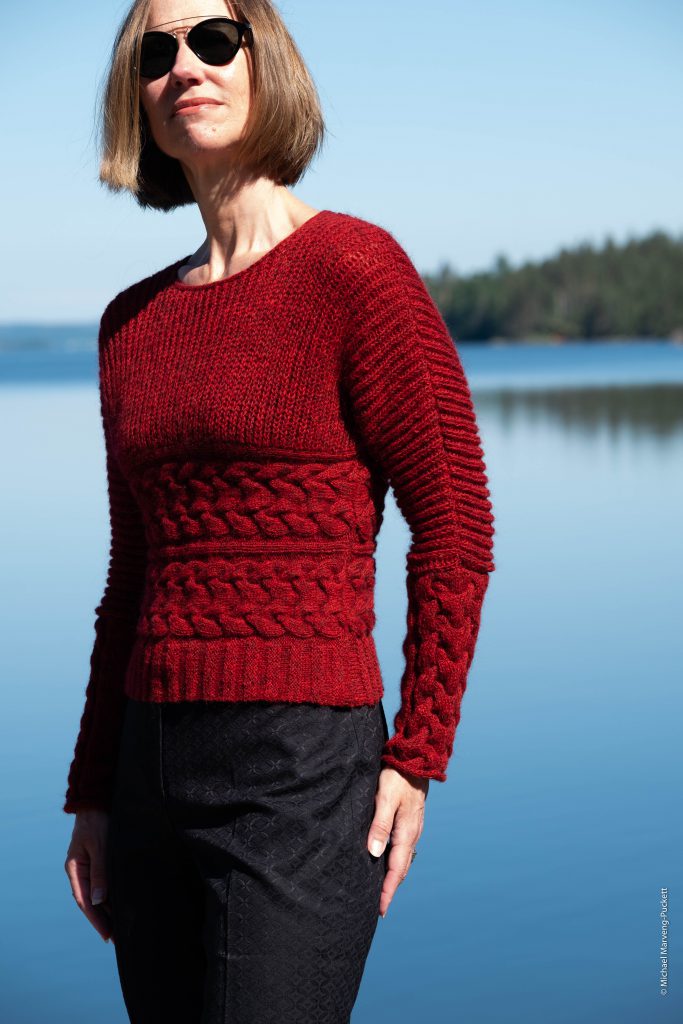 Lofn is knitted in Hillesvåg Ullvarefabrikk, Sølje Pelsull/Pelt wool made of 100% pelt wool, with 350 meters/383 yards per 100 gram skein. The sample is knitted in a stunning Red; 2132 in size S, but with a bottom width of 80 cm/31.5″ and height of 25 cm/9.75″ due to a tight gauge. The pattern gauge is 24 stitches and 32 rows in stockinette stitch per 10 cm/4″ square. I have graded the pattern in sizes S to 2XL with bottom width of 92 to 132 cm/36.25 to 52″.  I could just squeeze into the bottom part of the pullover and I did provide entertainment for the bikini clad women sunbathing next to me at the beach in Ørje. It was a sweltering day, so I am pleased that my husband took this photos quickly so I could change back into my summer clothes.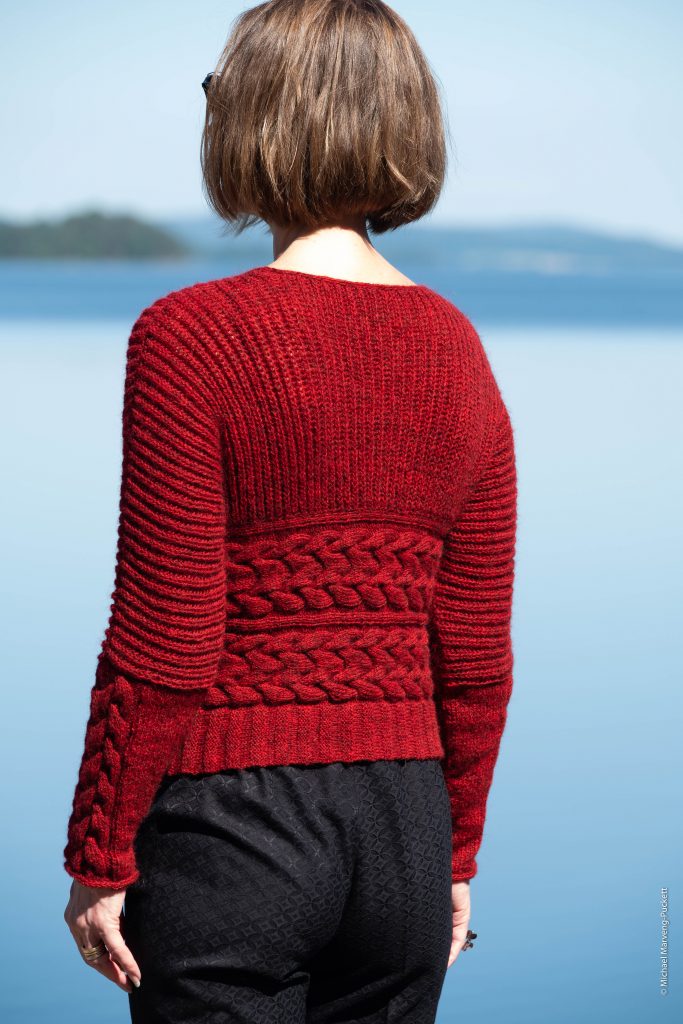 The body is knitted in four parts with cables and welt pattern on the bottom part and Fisherman's rib on the upper part. Increases are made in each side of the upper part for top of sleeve part. Bottom sleeves are worked flat separately. If you want to shorten or lengthen the sweater, adjust the height of the lower panel, adjust the stitch number in Welt pattern, e.g. to 24 sts for 3.5 cm/1.5″ extra length and allow more yarn.
The Norwegian pattern and yarn kit will be launched at Oslo Design Fair at the end of August, while the English pattern will be test knitted in my Ravelry group – beginning on 15th October – before its release. As you can imagine, this pullover fitted modell Emma Ross better since she is a size smaller than I am and she totally owns it. You wait and see!
SaveSave
SaveSave
SaveSave
SaveSave
SaveSave
SaveSave
SaveSave
SaveSave
SaveSave
SaveSave
SaveSave
SaveSave
SaveSave
SaveSave