It is showtime. Well, that is how it feels like to me, revealing all the amazing photos Eivind Røhne took of gorgeous modell Emma Ross at Villa Malla at the end of May. Her hair and make up was styled by Sissel Fylling and her jewellery is by Kaja Gjedebo Design. Here you see Em wearing Ogma – an a-line pullover. The fantastic hand dyed colours in The Blue Brick, Escarpment DK yarn, looked stunning on Em. I chose to style the a-line raglan sweater with wide navy silk trouser. As always I had difficulties picking photos and ended up with ten photos, due to the two extra cowls.
We actually photographed Ogma last in the sweltering heat, just above the small beach at Villa Malla. The summer light was very bright so Eivind made sure Em was in the shadow made by one of his reflectors. Eivind did fetch his sand bags, so none of us had to hold onto his reflectors, I am pleased to say.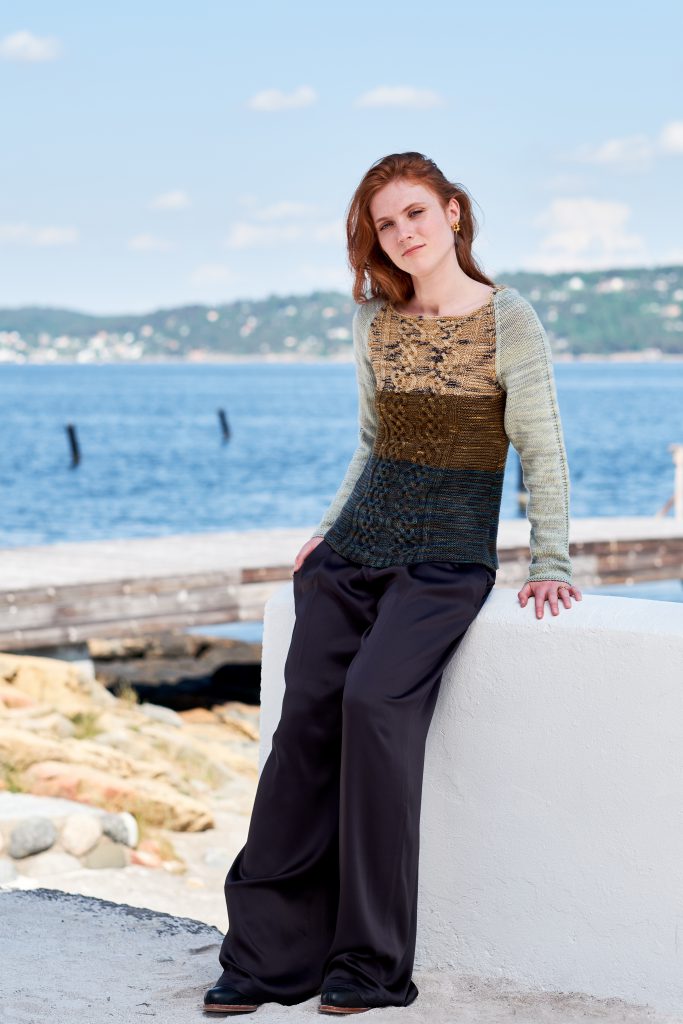 Named after the Celtic goddess who rules over inspiration and spells is this a-line raglan pullover, which began as a fade project but ended on the wild side. The Blue Brick's divine Escarpment DK in four handpainted colors was my epiphany. From darkness to lightness and with sleeves knitted in Succulent, a pale green with a grey tinge. A regal cable adorns the center body, surrounded by garter stitch and ends in a square front neck. To crown the pullover, make a small cabled cowl and a larger garter stitch cowl.
Em is wearing size S, but I have graded it in sizes XS to 2XL with a bust measurement of 80 to 124 cm/31.5 to 48.75″. I knitted this sample using 4 mm/US 6 needle and a gauge of 20 stitches and 28 rows in stockinette stitch to 10 cm/4″ square. This pullover is knitted in 4 colours and my initial plan was to make a fade. I had only seen the divine colours online and realised that it would be more colour blocking than fading. The pullover is currently being test knitted in my Ravelry group, both in a solid colour and in different fades. I am so excited to see the progress of these projects.
I have added the fade/colour block progression in the pattern and added both rows of cable as well as centimeters/inches worked. The pattern will also include details of The Blue Brick, Escarpment DK yarn which is made of 100% superwash merino in skeins of 105 g with 267 meters/260 yards. The colours used in the sample are: COL1: Cobblestone. COL2: Bauline. COL3: Winter Grass/Muddy Husky and COL4: Succulent.
The colours were different from what I had in mind, so I decided to use Succulent – a pale green with a grey tinge (read: and not the opposite way around) – on the sleeves. But I do know from the test knit that the sleeves look great in a fade. Both the English and the Norwegian pattern will be released after the test knit is completed on Ravelry.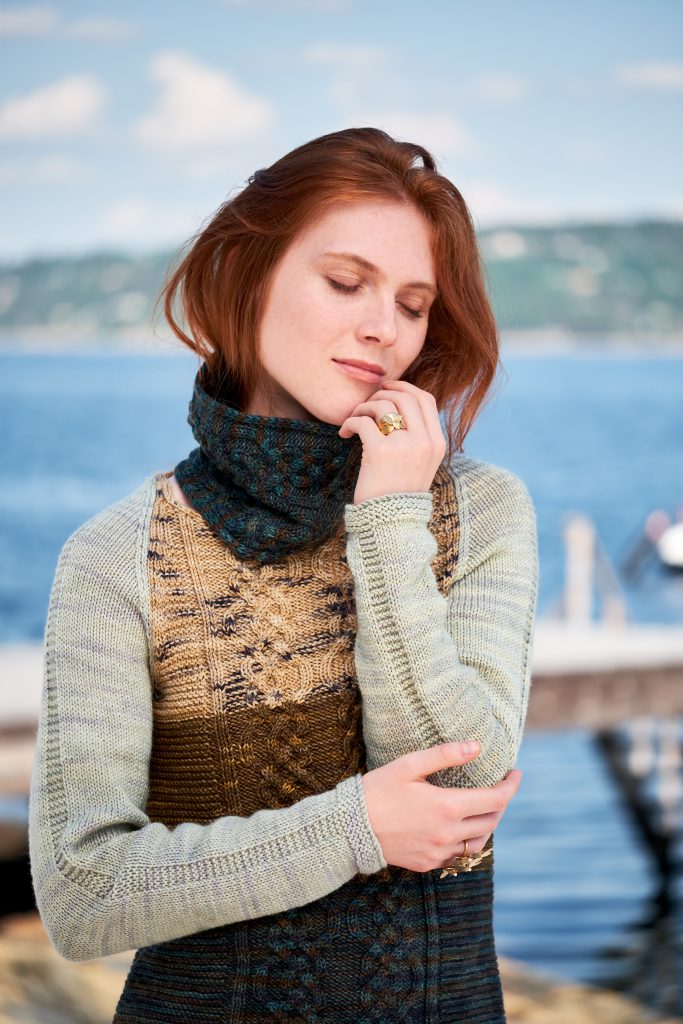 I wanted to make a cowl or two to join the colours at the top, so in the end I made one cabled cowl which I preferred to wear folded and one large garter stitch cowl that can be worn twice around the neck. The Cable Cowl is worked back and forth using a 4 mm/US 6 needle and is 57.5 cm/22.75″ wide and 20 cm/7.75″ high.
The Garter Stitch Cowl is worked in the round with the same needle has a 80 cm/31.5″ bottom circumference, 70 cm/27.5″ top circumference and is 25 cm/9.75″ high.
With one small and one large cowl they can be worn one over the other, essential during the spring and fall in Norway. But far from necessary in nearly 30 degrees celsius at Villa Malla. So Em was happy to change out of wool sweaters into her own summer clothing. We ended the day having champagne on our back terrace. That was the perfect celebration of a wonderful photoshoot and day!
SaveSave
SaveSave
SaveSave
SaveSave
SaveSave
SaveSave
SaveSave
SaveSave
SaveSave
SaveSave
SaveSave
SaveSave
SaveSave
SaveSave
SaveSave
SaveSave
SaveSave