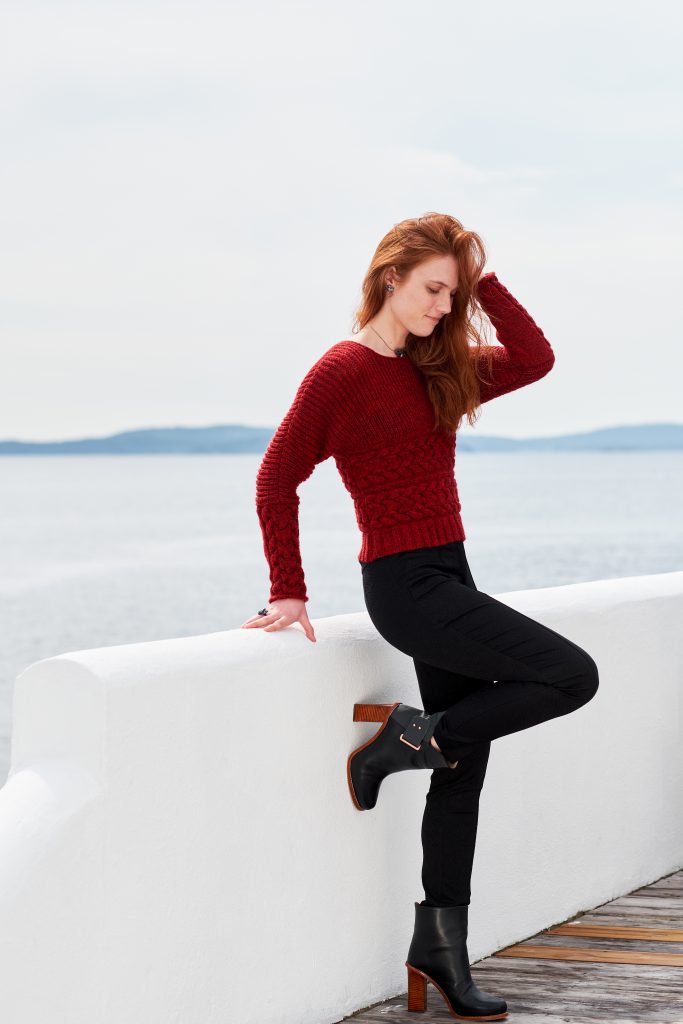 I knew red would look marvellous on model Emma Ross. This particular red has a grey core and is a wonderful pelt wool from Hillesvåg Ullvarefabrikk called Sølje. The pullover Lofn is the last of four new designs made for Hillesvåg Ullvarefabrikk and the Norwegian pattern and yarn kit will be launched at Oslo Design Fair at the end of August. The English pattern will be test knitted in my Ravelry group, beginning in mid October before it is released. Lofn is Norse for praise. This pullover is praising texture with its sideways voluptous cables and welt pattern that works like a rib. The upper part is picked up andknitted in Fisherman's Rib and increased into top part of sleeve, while the bottom part of sleeve is knitted separately. Photographer Eivind Røhne brilliantly captured this moment at Villa Malla in late May. Sissel Fylling styled Em's hair and makeup. The statement jewellery is by Kaja Gjedebo Design and the ankle boots by Monica Stålvang.
The sample is brilliantly knitted by Grete Jenssen in size S using 3 mm/US 2.5 needle but with a bottom width of 80 cm/31.5″ instead of 92 cm/36.25″ and height of 25 cm/9.75″ instead of 30 cm/11.75″ due to a tight gauge. However, it did fit Em perfectly. Lofn will be available in sizes S (M, L, XL, 2XL) with a bottom width of 92 to 132 cm/36.25 to 52″ and a wingspan (without the lower sleeve) of 71 to 91 cm/28 to 35.75″.
The body is knitted in four parts with cables and welt pattern on the bottom part and Fisherman's rib on the upper part. Increases are made in each side of the upper part for top of sleeve part. Bottom sleeves are worked flat separately. If you want to shorten or lengthen the sweater, adjust the height of the lower panel, adjust the stitch number in Welt pattern and allow more yarn. Lofn was the last of the new designs we photographed at Villa Malla. I also decided to photograph three old designs: The Free Falling Pullover returned from Interweave, The Tau Scarf returned from Vienna Wool & Design Festival as well as the Merino Omslagsvest/Merino Wrap Around Vest from my Norwegian knitting book. So stay tuned to see how these photos turned out. But next on my blog I will show you two new designs to be released on Thursday 2nd August in the Interweave Knits Fall 2018 issue.