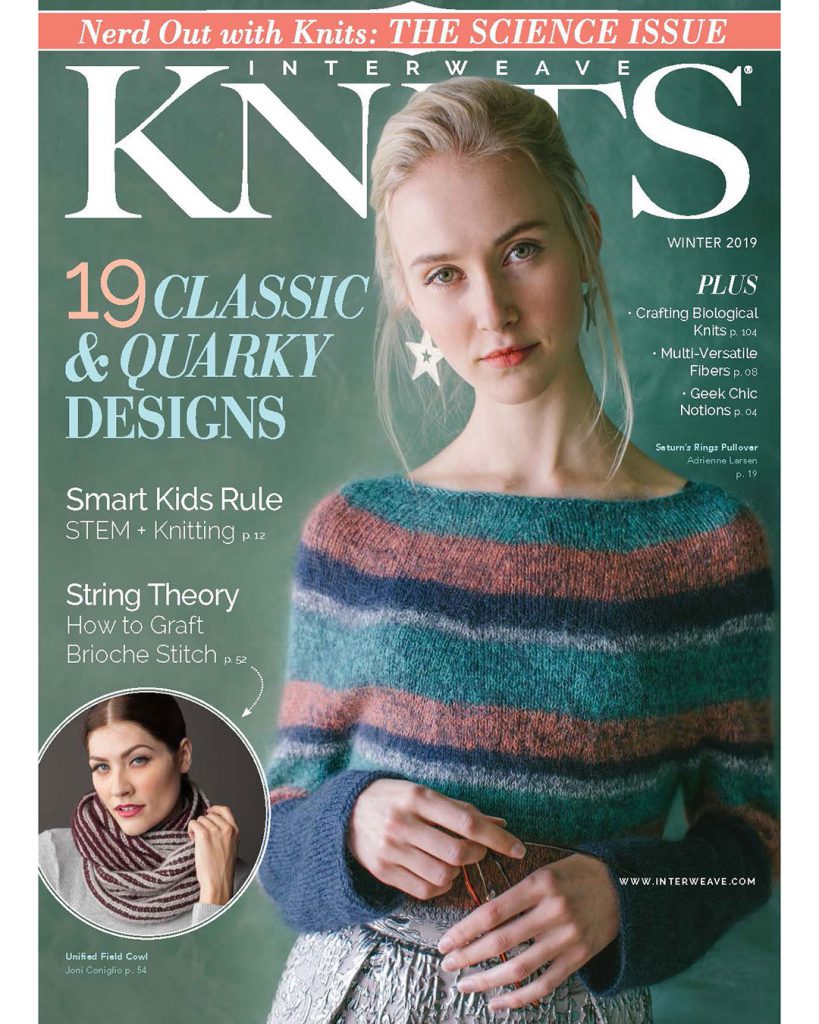 I am so thrilled to have my design O-Chem Tunic in Interweave Knits Winter 2019. It was yet another design submission that was accepted by editor Meghan Babin. Yes, this is the Science Issue, hence the name O-Chem Tunic. In the intro, Meghan writes: "We've curated a collection of 19 designs inspired by the natural sciences and astrophysics." My tunic is introduced as follows: "The O-Chem Tunic features a striking central panel of knotted hexagonal cables inspired by organic chemistry compounds. For visual balance with the three cables in the body, the sleeves have one main cable running down the arm, and all the cables in the sweater are framed with rope cables. The sweater sports a cozy standing collar and side vents in the rib at the bottom for a relaxed fit." On the cover is Saturn's Rings Pullover by Adrienne Larsen.
The tunic is knitted in the lovely soft Tahki Yarns Alden made of 50% merino wool, 25% alpaca, 25% acrylic with 229 meters/250 yards on each skein in 06 wine colour, using 3.75 mm/US 5. The yarn is distributed by Tahki Stacy Charles. As usual I have knitted the tunic in parts and seamed them together for the ultimate fit. The standing collar is knitted with an interfacing which is folded down.
The pullover shown measures 94 cm/37″ (the third size) and is modelled with 7.5 cm/3″ of positive ease. I have graded the tunic to these underarm circumferences:  86.5 (87.5, 94, 104, 114, 124.5) cm/32 (34½, 37, 41, 45, 49)". I enjoy the college setting and Tina Gill's superb photostyling. You can also study the beautiful hair & makeup by Janie Rocek in the close-ups below.
I found the gorgeous cables in Norah Gaughan's inspiring Knitted Cable Sourcebook. I placed three at the center of the front and the back for balance and one on the sleeve. I decided to frame them using a basic cable and continue the cables up on the collar but use reverse stockinette stitch instead of stockinette stitch as on the body. Finally, I want to thank the team at Interweave and Harper Point Photography for making my design look so fantastic!
The Interweave Knits Winter 2019 issue is available in a digital edition or print edition. In Norway you can buy the print issue at larger Narvesen stores or order it at your local one. I will show you the photos Michael took of me wearing this design, but if you do not want to wait, you can have a look here: O-Chem Tunic.