The last new design for Hillesvåg Ullvarefabrikk for autumn 2019 is a swoncho, named Gillah, knitted in their divine Tinde Peltwool. I have made several ponchos earlier, most of them with sleeves so they are easier to use, but this time I wanted to make a narrower version and use the fairly new garment type name of Swoncho. It is after all a combination of a sweater and a poncho hence a swoncho. Gillah means joy in Hebrew and well suited to this swoncho tribute to Dorota Kowalczyk, aka Devorgilla on Ravelry, whose stunning cable adorns the centre body. Above you see me wearing it photographed by Michael at the The Halden Canal Museum in Ørje. I was just saying that I should take a step up on the ladder to the boat…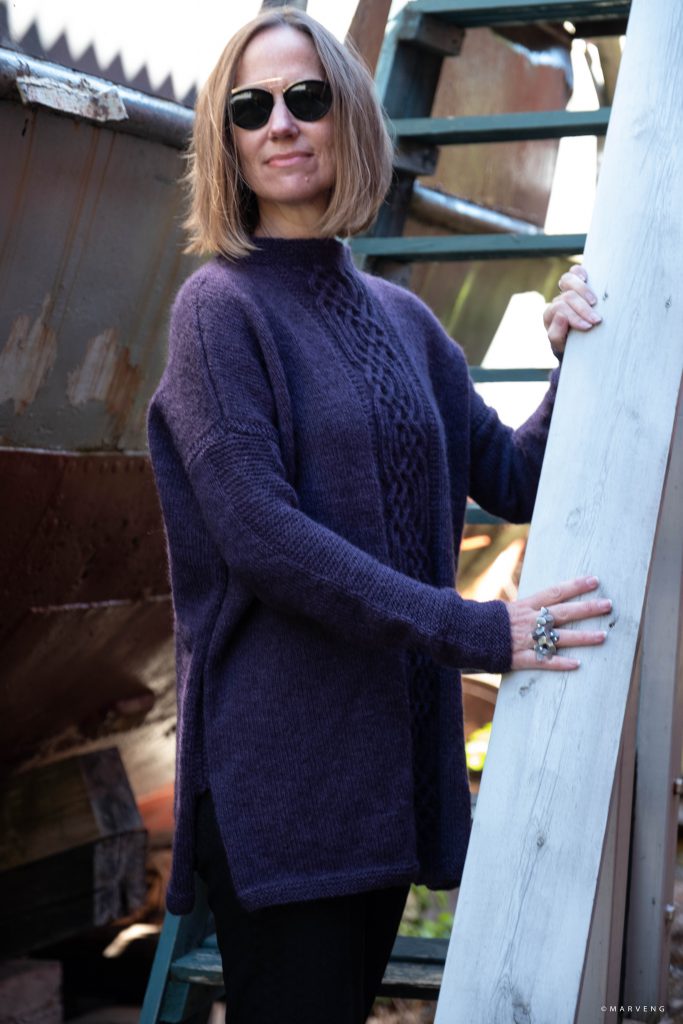 The colour I choose for it is a grey purple in the Tinde Peltwool yarn. I had Kristin Nygård, aka Quiltefeen, knit the sample for me, while I did the finishing. Kristin did a brilliant job as usual! It is knitted in pieces, back and forth, with vents in each side and shoulder shaping. The collar ends in a I-cord bind off to crown the playful center cable. The cable was too wide for the sleeve so I choose to make a wide garter stitch band in the centre instead. The stunning ring is designed by Kaja Gjedebo Design and fits so perfectly to my cable designs.
The Gillah is knitted with a gauge of 21 stitches and 30 rows in stockinette stitch using 3.5 mm/US 4 needle measures 10 cm/4″ square. The Back and the Front is identical, with the cable ending on row 17 (or 37: 7 cm/2.75″ difference in length). I have graded the pattern in three sizes: XS/S (M/L, XL/2XL). I am wearing size XS/S with a bust circumference of 144 cm/56.75″, while the next sizes measure: 152 cm/59.75″ and 160 cm/63″.
 I also wanted to show you how it looks with a belt and moved into the shadow from the boat so that the rich colour would be correct. Above you see me straightening the garter stitch edge on the sleeve.
The yarn kit with the Norwegian pattern will be launched at Oslo Design Fair in August by Hillesvåg Ullvarefabrikk, while the English pattern of Gillah will be test knitted in my Ravelry group beginning 4th of November.
A longer version of this post with more photos can be found on my Patreon page, available for patrons only together with monthly rewards such as a free pattern, newsletter and video. See www.patreon.com/lindamarveng. Thank you!