I am thrilled to show you the two stunning Epona pullovers that Birgit made, one for each of her daughters for Christmas last year. German knitter Birgit is a skilled test knitter who first made one version in Cascade 220 Sport in Olive Heather, then the second in Debbie Bliss Fine Donegal in Blue. Both pullovers are knitted in size XS, with a bust circumference of 84 cm/33″, using 3 mm/US 2.5 and a gauge of 24 stitches and 32 rows in stockinette stitch measuring 10 cm4″ square. I love these photos of them together wearing their sweaters, so beautifully knitted! Birgit, aka blumi1412, writes on her project page on Ravelry: "I really loved this project!". That is fun to hear, thank you so much, Birgit!
Birgit and her husband have three alpacas on their property in Leutersdorf, Sachsen in Germany, which include a lot of meadow, as you can see and read more about on their website "Alpakawiese Blumrich".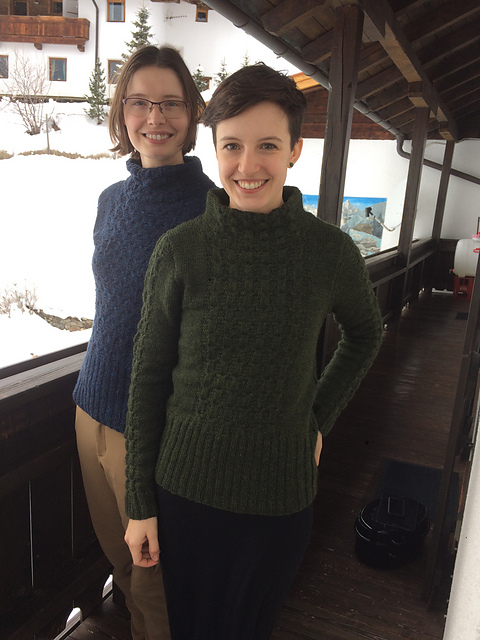 Here is my introduction to the Epona pattern: Graceful cables run along the center of this pullover with a high rib, creating a narrower waist. A sweater perfect for riding or worn together with a skirt, it is crowned by a high collar with interfacing to make it stand up. Epona is Celtic for the Goddess of horses and knitted in Sølje Pelsull from Hillesvåg Ullvarefabrikk in a deep bottlegreen shade.
The English and Norwegian Epona pattern in sizes XS to 2XL, with bust circumference of 84 cm/33″ to 124 cm/49″, is available in my Ravelry store and on Love Crafts, while a yarn kit can be bought directly from Hillesvåg Ullvarefabrikk.